Creating high-quality content takes a lot of time and effort.
That's why it's crucial that, before you start writing a blog post, you have a clear promotional plan — not just for each article, but for the blog as a whole.
Marketers clearly realize this, with two in five respondents to SEMrush's 2022 State of Content Marketing 2022 survey citing "content promotion and distribution" as a key area for investment.
Wondering how to get your blog noticed? Here are eight content promotion ideas you can start using right now:
Share Content With Your Email List
No other channel can match email marketing when it comes to ROI, with research from Litmus revealing it delivers an average return of $36 for every $1 spent. So it makes sense to use email as a distribution channel for your blog content.
There are a couple ways to do this. If you've invested a lot of time and money into creating a long-form blog post, you can build an email campaign to promote that one piece of content, like Tripadvisor does here: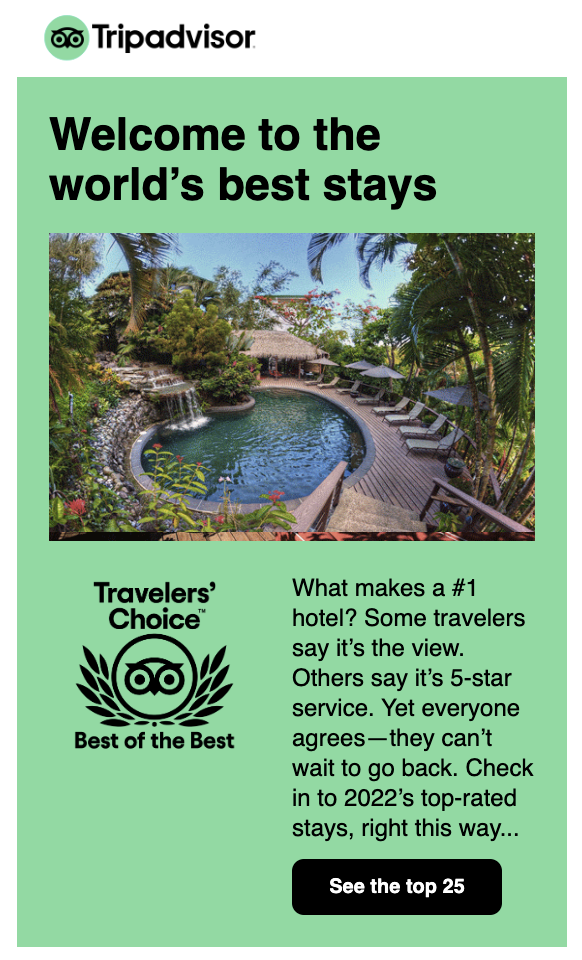 Alternatively, you can try sending weekly or monthly newsletters rounding up all of your latest articles, or perhaps grouping them together by theme.
Leverage Influencer Marketing
You might associate influencer marketing with promoting products rather than content.
But according to research from Mailmunch, it's actually the most popular strategy for content distribution: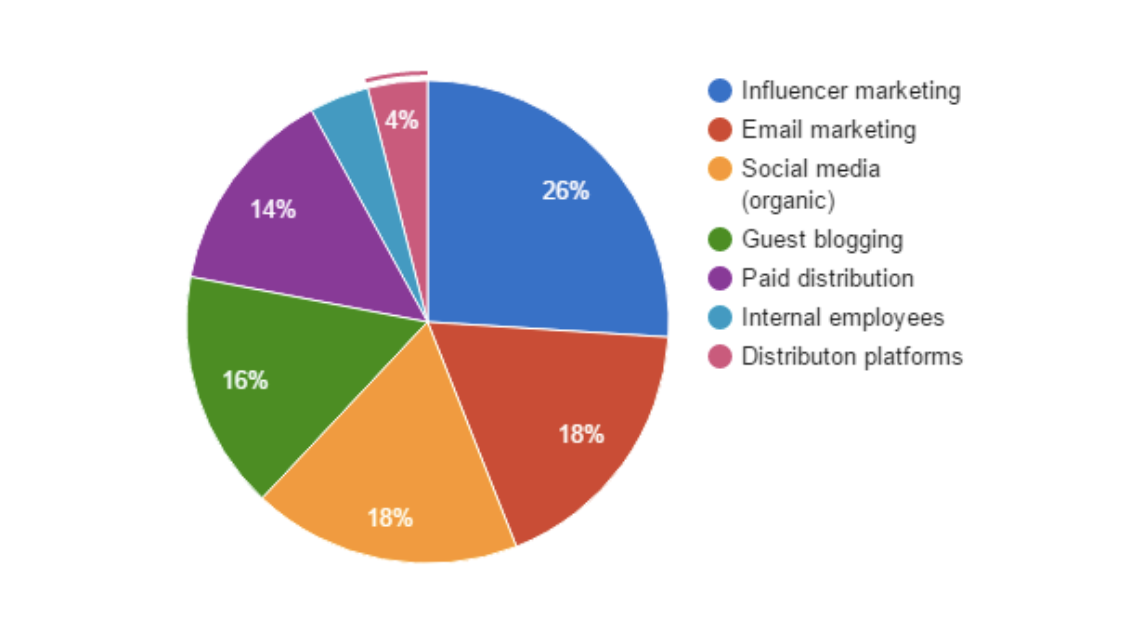 When we use the word "influencer", we're not just talking about healthy-looking yoga fanatics on Instagram. From a B2B context, influencers might also include:
Associations

Events

Industry websites

Thought leaders
Whoever they are, the strategy is essentially the same: create a piece of content and ask influencers to share it with their audience via their social media accounts, newsletters, and other channels. These influencers might also have free guest posting opportunities or media packages that let you pay to place your content in front of their followers. You might even be able to "buy" leads as part of your agreement.
There's one important point to consider here. Influencers are understandably eager to protect their "brand," so they won't share just any old blog post. Consider reaching out before you've started the content creation process to gauge their interest and find out if your content could be better tailored to their audience.
Reaching out early in the process also gives you the option of interviewing influencers and including their quotes in the finished article, which might make them more likely to share it.
Invest in Guest Blogging
Guest blogging involves writing content for relevant third-party websites. 
To be clear, this strategy is more about promoting a new piece of content rather than something you've already created, as most publishers will want to feature exclusive content. Done well, it can be a highly effective way to get your blog noticed. Indeed, GrooveHQ claim they've reached more than one million people through guest blogging for high-profile sites, leading to big upticks in traffic and trial signups: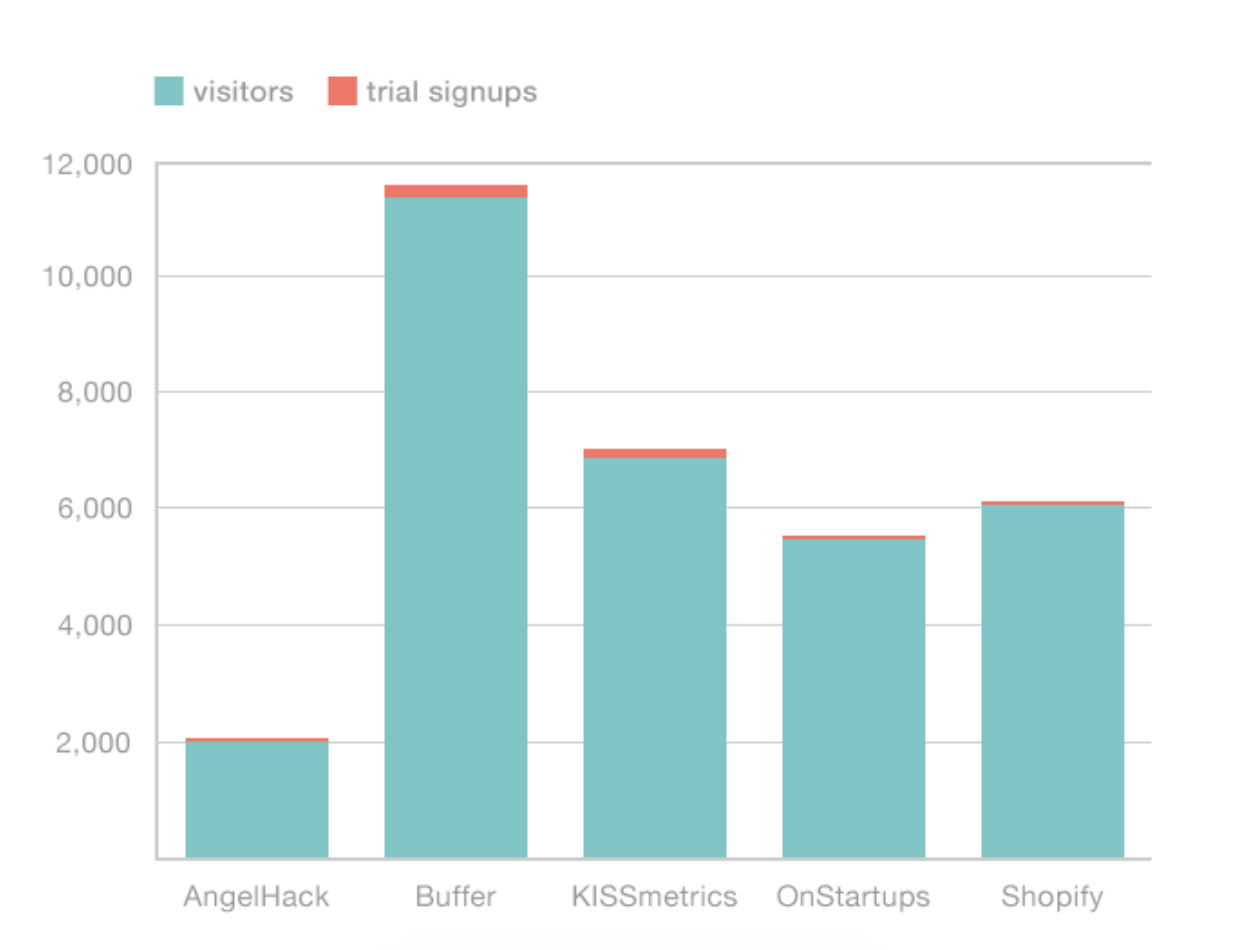 We know what you're thinking: How does writing content for someone else help to promote your own blog?
There are a couple approaches you can take, but one of our favorites is to create "teaser" content for external websites. For instance, if you've carried out some original research, you can write up one of the key findings as a guest post, then link back to the full research and analysis on your own site.
Make It Easy for Readers to Share Content
We get it: you're busy. So you may be wondering how to get your blog noticed without spending a ton of time finding influencer partnerships or guest blogging opportunities.
One of the simplest content promotion tactics is to make it as easy as possible for people to share your content. Let your readers do the work for you.
For instance, Moz adds social share widgets to the sidebar of their blog posts: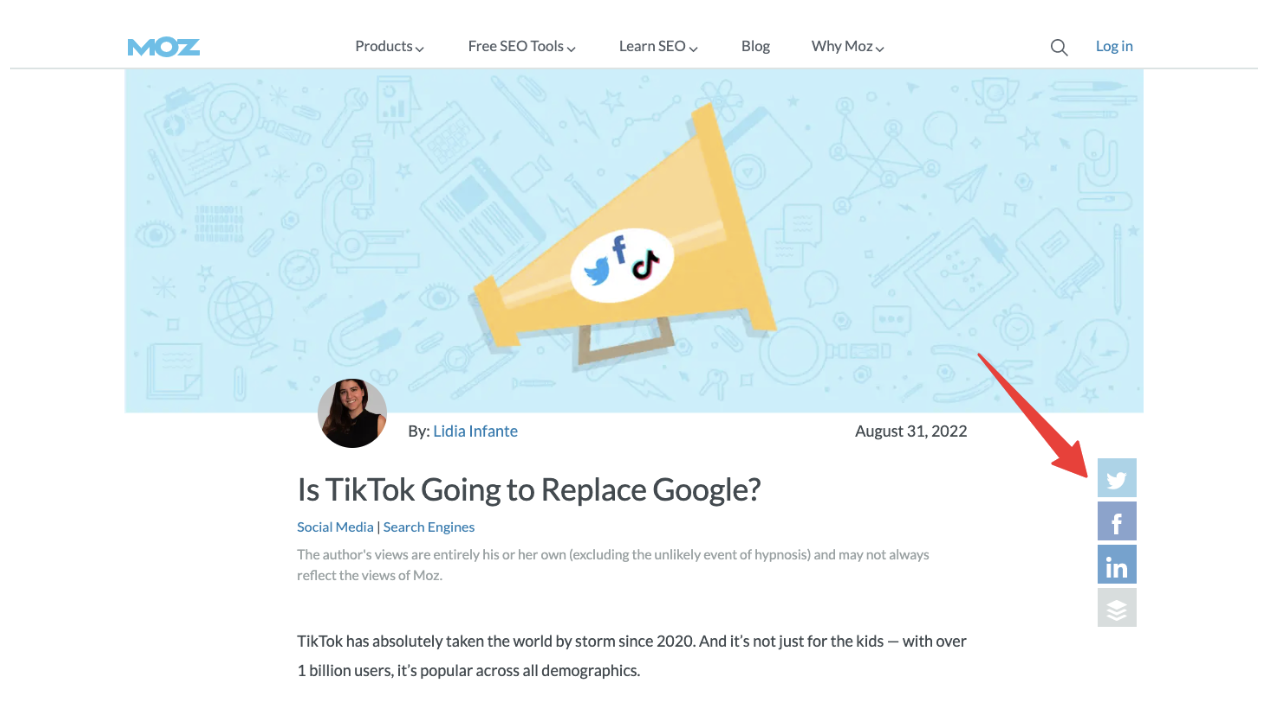 Not only that, but when users click one of those sharing buttons, they're presented with a pre-written post they can share with their followers in seconds: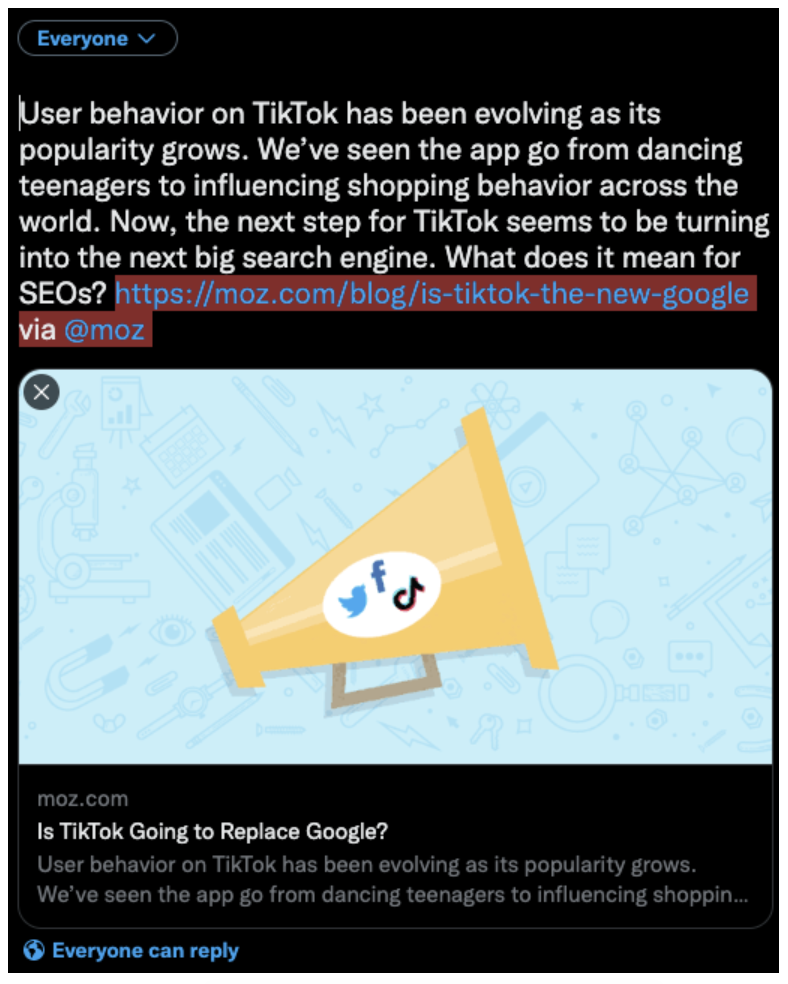 Reach Out to People Who Share Similar Content
Chances are there are some big names in your industry. Thought leaders with big followings often strive to share the latest information and trends with their audiences.
Rather than just hoping these high-profile figures will stumble across your blog by chance, why not get proactive and reach out to them?
In our experience, this approach works best when you take the time to research the types of content they've shared in the past. 
For instance, maybe they start every year by sharing a trends and predictions roundup. If you can produce a better, more in-depth roundup than anyone else and share it with them, there's a fighting chance they'll amplify it to their followers.
Rewrite Your Content for Other Platforms
This tactic is similar to guest blogging, except you're not relying on someone else to post your content on their site. Instead, it involves rewriting your blog posts for third-party blogging platforms, such as:
The idea here is pretty simple: the more places your content appears, the more people will see it. Just be sure to link back to your own website if you want to use this tactic to grow your traffic.
At this point, you might be thinking: "Why do I need to rewrite anything? Can't I just publish my existing content on other platforms?"
Well, yes and no. You can repost your blogs in full on LinkedIn or Medium (or anywhere else). The problem is that duplicate content confuses Google, which could hurt your rankings. So we'd recommend giving your content a significant refresh before posting it elsewhere.
Repurpose Your Content
This approach is all about repurposing your blog content for external platforms and getting new eyes on your site — and there are lots of ways you can do it. 
One of our favorites is to transform written blog posts into slideshows and post them on SlideShare. According to SimilarWeb, SlideShare attracts more than 60 million visitors a month, so it gives you the opportunity to reach a huge audience.
As an added benefit, SlideShare automatically transcribes the decks you create, which allows Google and other search engines to index and crawl it. That way, your content will show up for relevant searches.
However, it's worth pointing out that SlideShare isn't exactly built with referral traffic in mind. You can't add clickable URLs to slideshows or descriptions on SlideShare, which means there's no easy way to send people from a slide deck to your website.
For that reason, it makes sense to add a memorable, easy-to-type vanity URL to your deck, like HubSpot does here: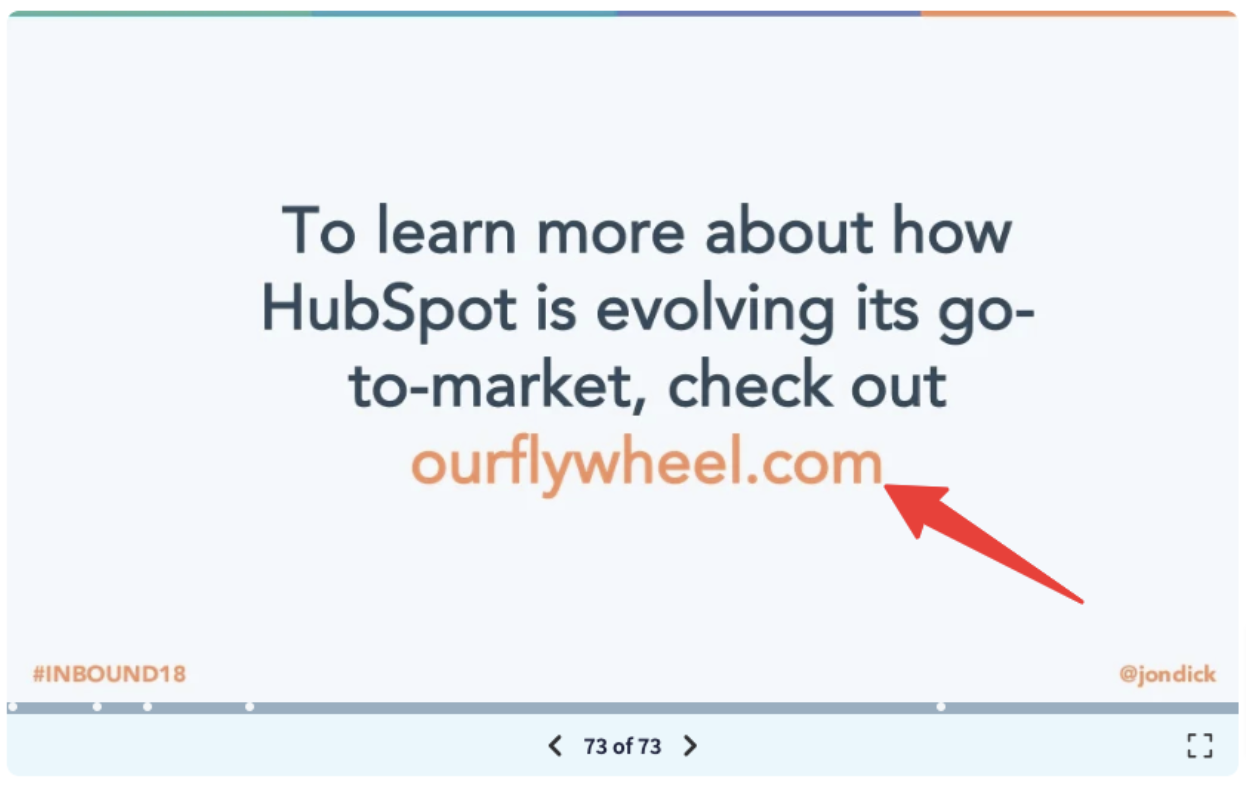 Of course, Slideshare isn't the only option for repurposing content. You can turn your existing blogs into social graphics, podcasts, videos, ebooks, webinars… the list goes on. The best choice of channel for repurposing will vary from post to post. For instance, a how-to guide might make for an effective explainer video. 
Post Your Blogs on Social Media
This is another simple but effective content promotion tactic.
You almost certainly have multiple social media profiles already. You need content to share on them. So why not kill two birds with one stone by using them to amplify your blog posts?
The best thing about this approach is that it's extremely scalable, because the more profiles you have access to, the more people will see your content. For that reason, it makes sense to go beyond sharing from branded channels and encourage your employees to become advocates as well.
According to LinkedIn, employee networks have 10 times as many connections as companies. And while just 3% of employees currently share content about their company, those shares drive a 30% upturn in their companies' total engagement.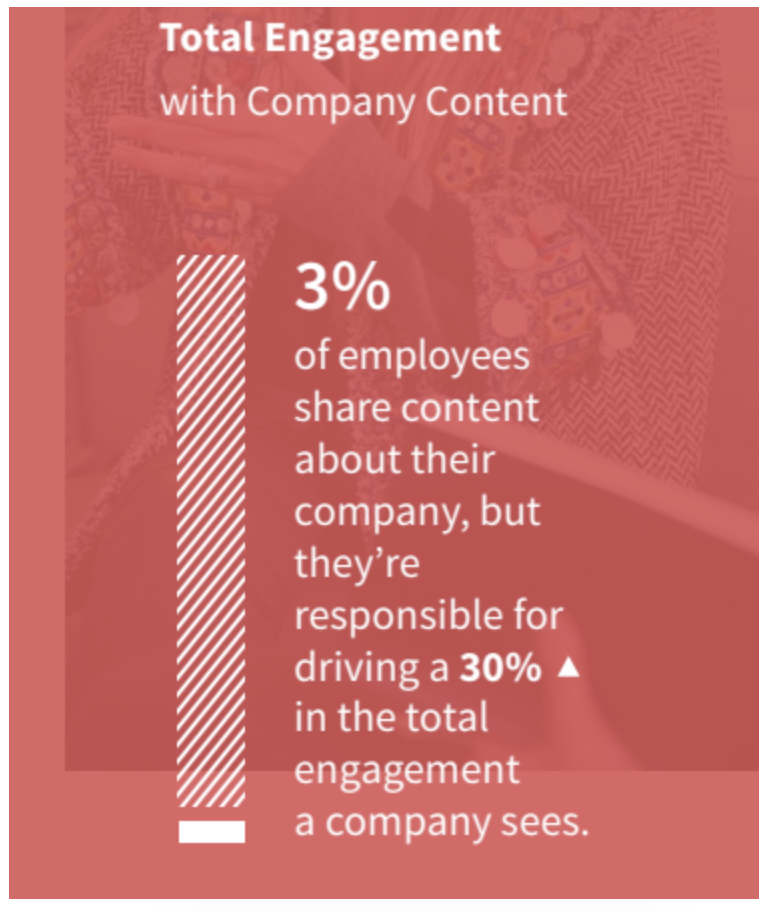 However, as with pretty much everything in the world of digital marketing, this simple-sounding content promotion idea is actually a little more complicated than it seems.
That's because evidence suggests that some social platforms prefer posts that don't contain links. It's easy to figure out why: links take people off-platform, which is the opposite of what the social network in question wants.
It seems this is a particular issue on LinkedIn. HootSuite carried out an experiment to assess the performance of link-free posts vs. posts with links and found that those without links generated:
6X more reach

4X more reactions

18X more comments
Unless you can persuade the various social networks to change their algorithms, your best bet is to craft a mixed-use social media strategy that incorporates a mix of link-free and link-inclusive posts. Save the linked posts for content promotion, and use the others to drive on-platform engagement by:
Running surveys

Asking questions

Posting native content (like images and videos)
Of course, even if you have the world's most sophisticated promotion strategy, it won't work if your blog content isn't up to scratch. And writing high-quality content is tough.
Get in touch with Content Conquered today to learn how we can help you create better content that supports your marketing objectives.