We're no longer on the cusp of an AI revolution in content marketing — it has well and truly arrived.
Three out of four marketers already use AI tools for work purposes. And while concerns still exist about quality, one-third of marketers believe AI-written content is just as good as human-written content, and a further one-third insist it's better than human content.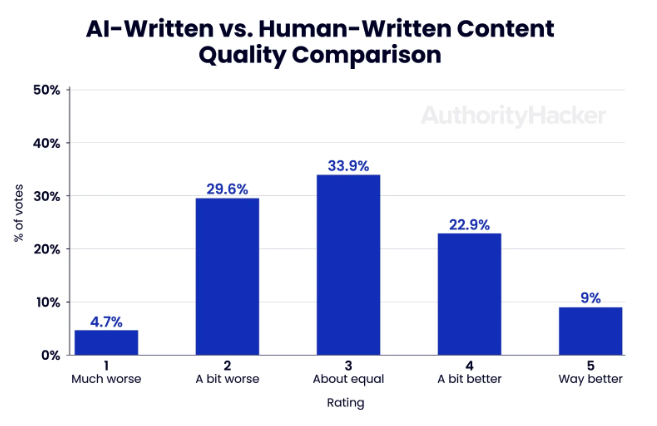 As a content marketing agency, we're well placed to assess the potential of AI for content creation. Read on and we'll discuss:
Our policy for writers using AI tools

Our thoughts on the current state of AI content tools

Where we see the most value in using AI for content creation
Our AI Content Policy for Writers
Cards on the table: this article isn't written by AI.
We're very much open to the potential of generative AI, and we don't explicitly prohibit our writers from using AI content tools — even if we did, it'd be near-impossible to police.
Still, none of this changes our expectation that all content we produce must be:
Accurate

Well-written

Plagiarism-free

Able to pass AI content-checking tools

Reviewed by at least two (human) members of our team
If a piece of content created with the assistance of AI ticks all of those boxes, it's good with us. But in our experience, that's currently not the case.
The State of Current AI Content Tools
We've extensively tested existing AI content tools to see how they might fit into our formal workflows at Content Conquered as we're always looking for ways to increase efficiencies and improve content quality.
So far, we don't feel any of the current AI options are able to match the quality and insights of a human writer. That's especially true of more technical subjects, like IT, a field that's relevant to a lot of our clients.
Here are the biggest limitations we're seeing…
Knowledge Limitations Eat Into Efficiency Savings
AI content tools are only as accurate as the datasets on which they're trained.
That means the content they produce isn't always current. 
ChatGPT — comfortably the most popular AI content tool — has limited knowledge of world events after 2021, which is a big issue in fast-changing industries. For instance, it happily says the now-collapsed Silicon Valley Bank "may be a good fit" for startups, venture capitalists, and private equity firms:

Because we can't rely on AI tools to produce up-to-date, accurate content, we still need a qualified human to review and correct it. That's no small task, which massively reduces the time and cost savings associated with generative AI.
Failure to Pass Plagiarism Tests
Some of the AI tools we've tested have created content that didn't pass plagiarism reviews through platforms like Copyscape and Grammarly.
For instance, we asked ChatGPT to tell us about the works of Ernest Hemingway, and Grammarly flagged 7% of the content as plagiarized:

Sure, that sounds like a pretty low score, but as a general rule you want all copy to be plagiarism-free.
Inability to Reproduce Human-Grade Thought Leadership
Even when AI tools pass plagiarism tests, we find they aren't capable of creating the kind of thought leadership content our clients demand.
That's a big problem, because thought leadership is extremely valuable. 
Three in five B2B buyers say thought leadership builds credibility for brands entering a new category, while one-third of B2B and professional services buyers view subject matter expertise as the most useful way to evaluate providers.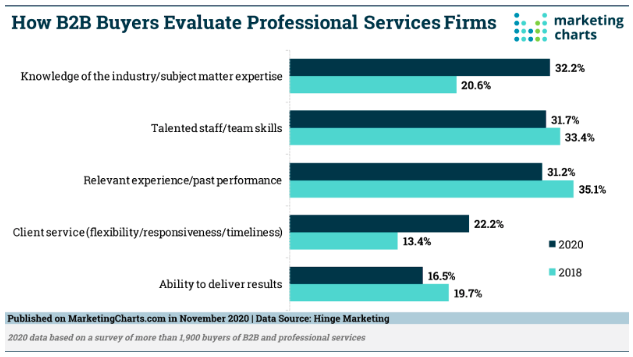 While (most) AI content reads perfectly coherently, we find AI tools just can't interweave thoughts like a human writer can, which limits their effectiveness in creating genuine thought leadership content.
Also, by design, tools like ChatGPT don't offer opinions — they just regurgitate what they find from other sources:

That's a massive barrier to producing the type of innovative thought leadership content buyers are looking for.
Doubts Over Long-Term SEO Value
At this point, we simply don't know about the long-term SEO value of content produced by AI. But we have reasons to be hesitant.
Google (and other search engines) aren't actively opposed to AI-generated content. Indeed, Google's public liaison for search, Danny Sullivan, is on record as saying AI content isn't intrinsically bad.
We haven't said AI content is bad. We've said, pretty clearly, content written primarily for search engines rather than humans is the issue. That's what we're focused on. If someone fires up 100 humans to write content just to rank, or fires up a spinner, or a AI, same issue…

— Danny Sullivan (@dannysullivan) November 7, 2022
As Danny explained, the problem isn't the method of production; it's the result.
Google has consistently sought to deprioritize content written for search engines rather than for humans. They're equally likely to punish spammy AI content as they are spammy human content.
However, it's worth noting that, in December 2022, Google added a second "E" to the start of its E-A-T Quality Rater Guidelines acronym, which now stands for:
Experience

Expertise

Authoritativeness

Trustworthiness
The new "E" — experience — indicates that Google believes content is higher-quality when it's produced by writers with first-hand experience of the subject matter. It's hard to see how content created solely by AI could pass that test.
This leads us to conclude there's a real risk AI-generated content will be deprioritized in search in the future, which devalues producing a high volume of it now.
Of course, you might be thinking, "AI content is cheap. So what if it loses value in a couple years?"
Unfortunately, in organic search, things are never quite that simple. Anyone who's worked in the industry for a while will remember the days when SEO was basically synonymous with building as many backlinks as possible, as quickly as possible.
This ultimately led to Google penalizing spammy links, causing many sites to tank. Some are still feeling the repercussions to this day.
So if Google does eventually take a similar stance on AI content, don't assume you'll be able to course-correct overnight.
Concerns About Public Perception of AI Content
Google doesn't just make algorithmic changes on a whim. Their decisions are ultimately driven by two factors:
Delivering high-quality search results

Making money
If they don't get #1 right, they can't achieve #2.
So if searchers don't want to see AI content, it's in Google's best interests to hide it away.
As humans, we're often averse to change, and it may well be that given time, we all come around to the idea of AI-produced content.
However, at present, it's fair to say AI content has a broadly negative public perception. Sites like CNET and Bankrate have pulled the plug on AI content creation for fear of alienating readers, while over half of respondents to a TechRadar survey made it clear they want AI content to be clearly labeled as such.
Where We (Currently) See Value in AI Content Tools
None of this is to say that there's no value whatsoever in AI — quite the opposite. There are lots of ways to use AI tools to boost content quality and productivity, with more innovative benefits emerging every day. 
Here are six ways content marketers can currently use AI to get ahead: 
6 AI Hacks for Content Marketers
Summarize large datasets.

Got a spreadsheet full of survey responses to write up? AI tools can summarize the findings and pick out the main themes, saving you a lot of time.

Get over writer's block.

Hit a wall with your latest piece of content? Ask AI to expand on a sentence, theme, or paragraph, then use the results as a jumping-off point back into your content.
Read podcast notes and video transcripts (so you don't have to).

Video transcripts can run to tens of thousands of words. AI tools can sift through them, fast, and pull out the key takeaways.

Provide inspiration for blog titles.

Writing eye-catching headlines can be tricky, so why not get ChatGPT (or similar) to do the legwork for you?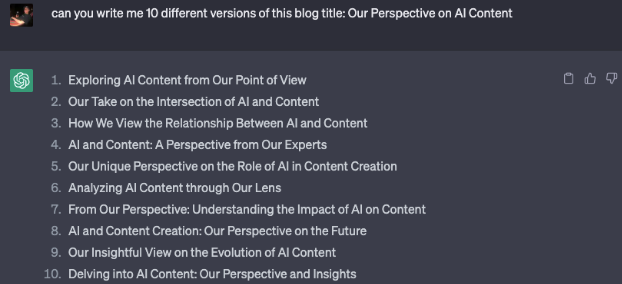 Edit and rewrite your content.

Written a blog, but want to make it more succinct or tinker with the tone of voice? Get an AI tool to rewrite it for you, using key pointers like:

"Write this in a more persuasive style."

Find real-world examples.

Tracking down IRL examples to illustrate key points in your content can take a lot of time. Again, AI can help you out here.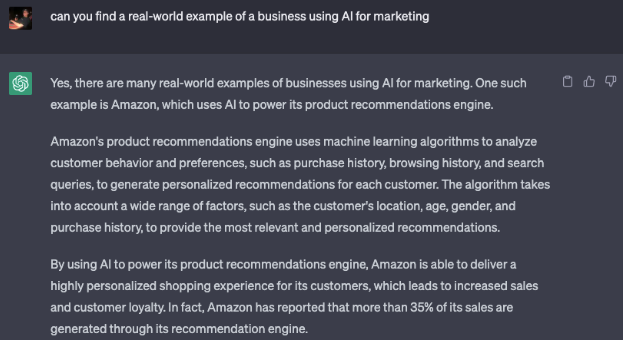 Where Do We Go From Here?
To be clear: 
At Content Conquered, we aren't using generative AI in any kind of formal way in our content creation, as of now.
And we haven't changed our expectations for writers, or our process of having at least two humans review every piece of content we produce.
But we're keeping an open mind and staying on top of the emerging technology. 
We'll continue to look for ways to improve our processes, the quality of our content, and the value we offer our clients. If AI plays a part in that, we're very open to using it.
Get in touch with Content Conquered today to see how we can support you by creating high-quality, search-friendly, human-friendly content.