Creating high-quality content takes a lot of time and research. So why put all that effort in without a clear plan for getting it in front of as many people as possible?
Unfortunately, content isn't an "if you build it, they will come" situation. Without a robust content amplification plan, you're essentially hoping visitors will stumble across your articles by chance.
That's why you need to start thinking about amplification before you've even picked a theme for your next piece of content. Read on to learn:
Why planning content amplification from the start is so important

What strategies you can employ to amplify your content

Our top tips for content amplification success
The Benefits of Planning Content Amplification From the Start
There are dozens of options for content promotion, millions of websites and social media accounts that might publish and share your content, and countless ways to repurpose existing articles into something shiny and new for amplification purposes.
But your strategy needs to be a little more thoughtful if you want to be effective and efficient with your amplification spend.
The fact is, if you know which content amplification channels you're going to use from the outset, you can figure out the types of content that perform well on each platform and with each strategy — so you're not trying to jam square pegs into round holes.
Simply put, better planning allows you to be more deliberate about not just amplification but content creation as well, helping you get the best results.
9 Content Amplification Strategies to Consider (From the Start)
As we've already noted, there's no shortage of content promotion methods — we shared some of the best in our guide on how to get your blog noticed.
Rather than just listing a bunch more methods, in this section we'll discuss how you can generate stronger results from various content amplification strategies by planning them from the start.
Influencer Marketing
It's no secret that influencers can help you get more eyes on your content. In fact, influencer marketing is the most popular content amplification strategy, according to Mailmunch: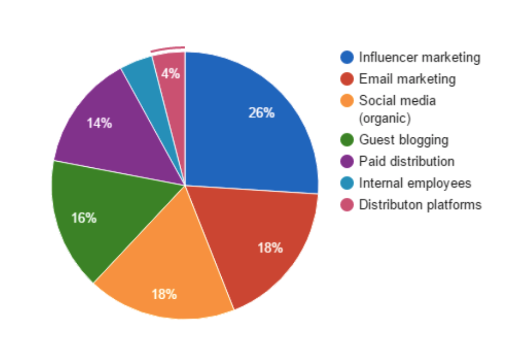 That's all well and good. But how can you plan to create content with influencer amplification in mind?
Turns out, there are a couple of different methods. If you plan to publish to LinkedIn, can you get quotes from influencers ahead of time so you can tag them in your eventual post? You could also email them after you publish and ask them to share your content. Or, at the very least, can you tag them (and their product) in your post increasing the likelihood that they'll share it?
For instance, Mariya Delano published a LinkedIn post about how to categorize marketing software that begins like this: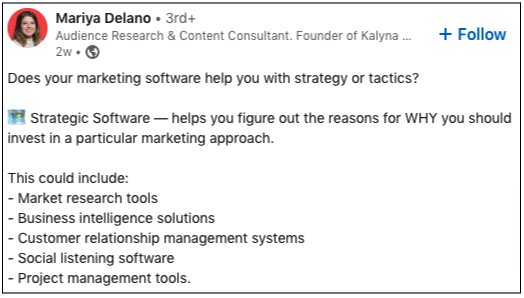 In it, she mentioned (and tagged) a specific product, SparkToro…

…which just happens to be co-founded by one of the biggest thought leaders in the digital marketing world, Rand Fishkin. Who saw Mariya's tag, reposted the content, and added his own thoughts: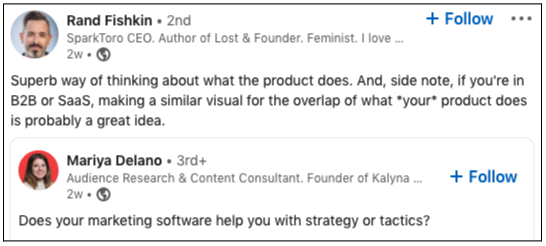 All of which meant Mariya's post got shared to Rand's audience of almost 140,000 LinkedIn followers — almost 100 times larger than Mariya's following. Talk about amplification! 
Collaborative Content Creation
A somewhat similar approach is to create your content in partnership with another brand in your space. Not a direct competitor, but a company your audience would be interested in (and whose followers you'd be eager to reach).
For instance, Nvidia and World Wide Technology recently collaborated to produce a piece of thought leadership on the hot topic of AI:
Both brands shared the content, thereby significantly increasing the reach.
This is a relatively simple and highly effective strategy, but there's clearly no way you can leverage it unless you plan your promotion from the start.
Content Syndication
Content syndication is all about repurposing your existing content so it can be re-published by third-party platforms. Again, the thinking here is pretty simple: the more places your content appears, the more people see it.
​There are plenty of sites and platforms out there that are ready and waiting to post your published content, such as:
However, before you immediately start pasting your existing content all over the internet, bear in mind there are potential SEO issues to consider. Search engines are generally wary of duplicated content (i.e. identical content that appears in more than one place online), so you want to be cautious with your approach.
Search for legitimate syndication channels and avoid the SEO issues by asking publishers to post your content with a canonical tag (rel=canonical), which tells Google and their peers that your site is the original source.
Sponsored Content
Sponsored content is a way to amplify your work through online publications. It looks like the publisher's standard editorial content, but it's paid for by (and prominently features) a brand. 
The advantages of this approach are obvious: Publishers often have huge audiences, making them a valuable channel for content amplification.
In one high-profile #sponcon example, American Express teamed up with The New York Times for a podcast series — The Next Chapter by American Express Business Class — featuring some of the world's best-selling business authors, with the Times teasing upcoming episodes on its website and social media accounts.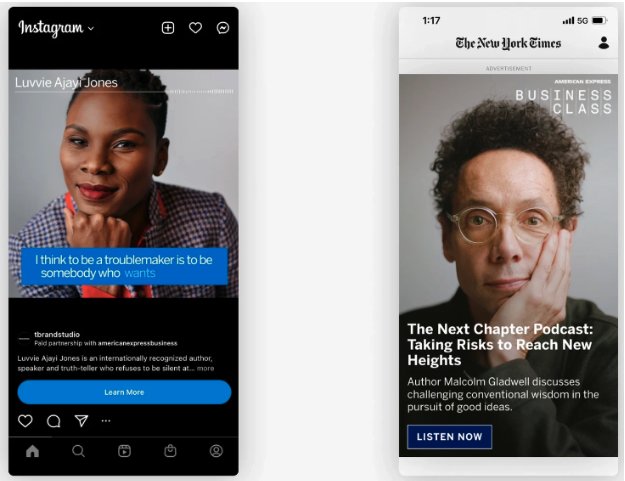 Of course, your own sponsored content campaign doesn't need to be quite so sophisticated (or expensive). Most niche and regional publishers are open to sponsored content placements, so draw up a list of publications that resonate with your audience and reach out to them before working on your next article.
Paid Social and Search 
Google Ads and paid social campaigns are another highly effective way to extend the reach of your content — provided you're happy to commit some money to your amplification efforts.
When it comes to B2B marketing, LinkedIn often plays a key role in these campaigns. That's unsurprising given that the network is home to 63 million decision makers, with 80% of B2B leads from social media coming via the platform.
In this example, ecommerce personalization platform Monetate demonstrates how to use LinkedIn for both amplification and lead generation: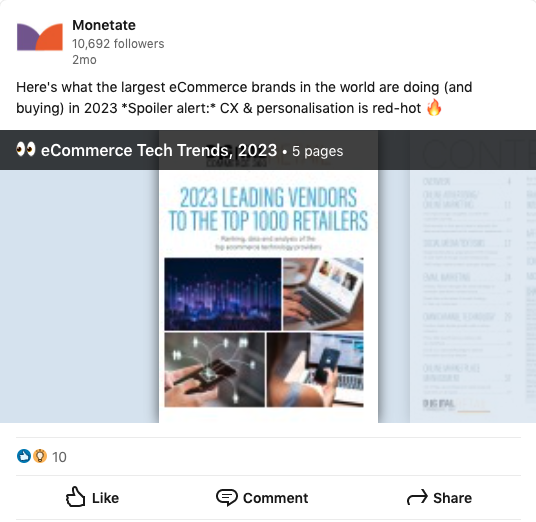 Clicking the CTA takes you to a lead capture form, where you're asked to submit your email address and phone number to access the full document.
Of course, if anyone's going to hand over their precious personal information in return for your content, you need to do your homework. Find a topic that's relevant to the people you're hoping to reach, and build a target audience that matches the buyer persona you're targeting.
Remarketing Campaigns
Remarketing campaigns are all about targeting people who've previously visited your website, with the goal of bringing them back to complete a desired action. 
Depending on the visitor's stage in the buyer cycle, they may not be ready to book a demo or speak to your sales team just yet. But you still want to find out more about them, while nudging them closer to the point of conversion.
That's why it often makes sense to use remarketing campaigns in your content amplification strategy. Combining this approach with the lead generation tactic we mentioned in the previous point helps you gather valuable lead data — names, contact details, pain points — in exchange for a piece of content, like Tableau does with their white paper in this retargeted ad: 

Existing Customers
Your current client base can be an invaluable tool in your content amplification efforts.
Think about it: these are people who use your product or service and (hopefully) love what you do. They're at least somewhat bought into your success. So why wouldn't they help you out by sharing your content?
Make it easy for your existing customers to share your content by installing social share buttons on your blog or creating ready-made social posts they can easily share with the click of a button, like Content Marketing Institute does: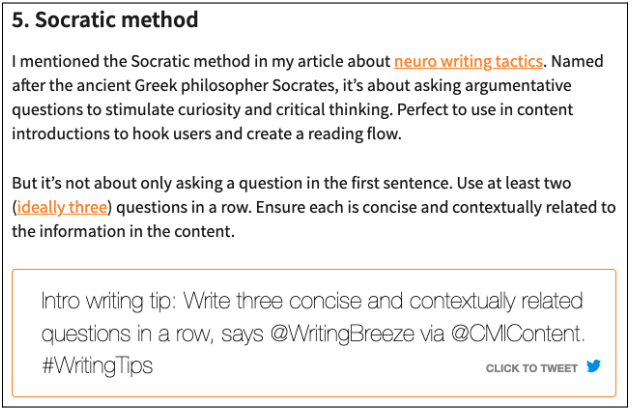 Also, there's a good chance your customers' networks are made up of other people like them. When they amplify your content, there's a good chance it'll be seen by a bunch of prospects who fit your ideal customer profile.
Trade Shows
The world of sales and marketing is becoming ever more digital, yet in-person trade shows still play a key role in the lead generation process for many businesses.
And while covid put a lengthy halt on in-person events, signs are the industry is recovering. Nearly half of exhibitors say attendee quality is somewhat or significantly higher than before the pandemic, while 41% say they're seeing the same or higher ROI.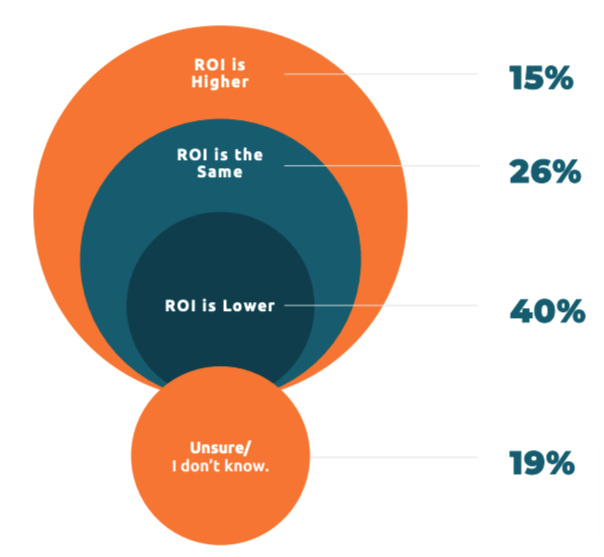 Trade shows aren't a typical amplification strategy. But if you're presenting at a conference, it makes perfect sense to repurpose existing content as the basis of your talk.
This approach works especially well with original research. Your presentation can discuss a handful of key takeaways — then you can point attendees toward your website to download an ebook containing all the other data points and insights.
Hashtags
Opinion is somewhat divided on hashtags, with Instagram chief Adam Mosseri even suggesting they don't actually affect the reach of your posts (#whoops). 
Obviously, this situation varies from one platform to another, but research broadly indicates that hashtags are a good thing from a content amplification perspective. 
For instance, Later analyzed 18 million Instagram posts and found that reach as a percentage of followers generally increases in line with the number of hashtags, with 20 hashtags delivering the best results: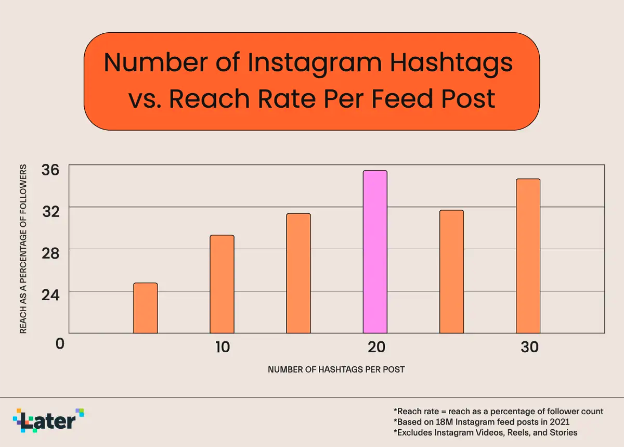 So it seems hashtags are still a viable content amplification strategy, at least for the time being.
However, it makes sense to factor hashtag research into your production process. Better to pick out some juicy tags upfront than to discover there are no relevant hashtags once you've already completed an article.
3 Pro Tips for Better Content Amplification
Whichever strategy you use, there are a few best practices to bear in mind to support your amplification efforts.
Only Amplify Your Best Content
Without sounding unkind, not every piece of content you create is worth amplifying. Because amplification often costs money, it's probably not worth promoting every single top-of-the-funnel blog post unless you have an unlimited budget.
However, you should still have some sort of promotional plan for every piece of content you produce before you start creating, even if it's just targeting a low-competition keyword.
Produce Amplification-Worthy Content
Your amplification strategy is only as good as the content you produce. Or, to put it another way, if people don't want to share, publish, or otherwise promote your content, you're going to struggle to amplify it.
That's why it's often appropriate to take a low-volume, high-quality approach to content production. Focus your resources on creating the very best content you can muster; it'll make amplification far easier.
Take an Audience-First Approach
In a similar vein, it's a whole lot easier to get your content shared if you write with your audience in mind. Cover topics they're interested in; solve real-world problems they face; provide valuable tools and tips they can use day to day.
If you're not sure what that looks like, speak to your sales team, or interview your best clients.
Don't have the resources to produce the high-quality content your amplification strategy requires? Get in touch with Content Conquered today to see how we can help you create high-quality content that resonates with your audience.