Blogging might be one of the oldest digital marketing tactics around, but it's still hugely popular. In fact, half of all the companies that have developed content marketing strategies include blogging in their campaigns.
Yet an astonishing 90.63% of all content gets absolutely zero traffic from organic search, according to a study of more than one billion pages by Ahrefs.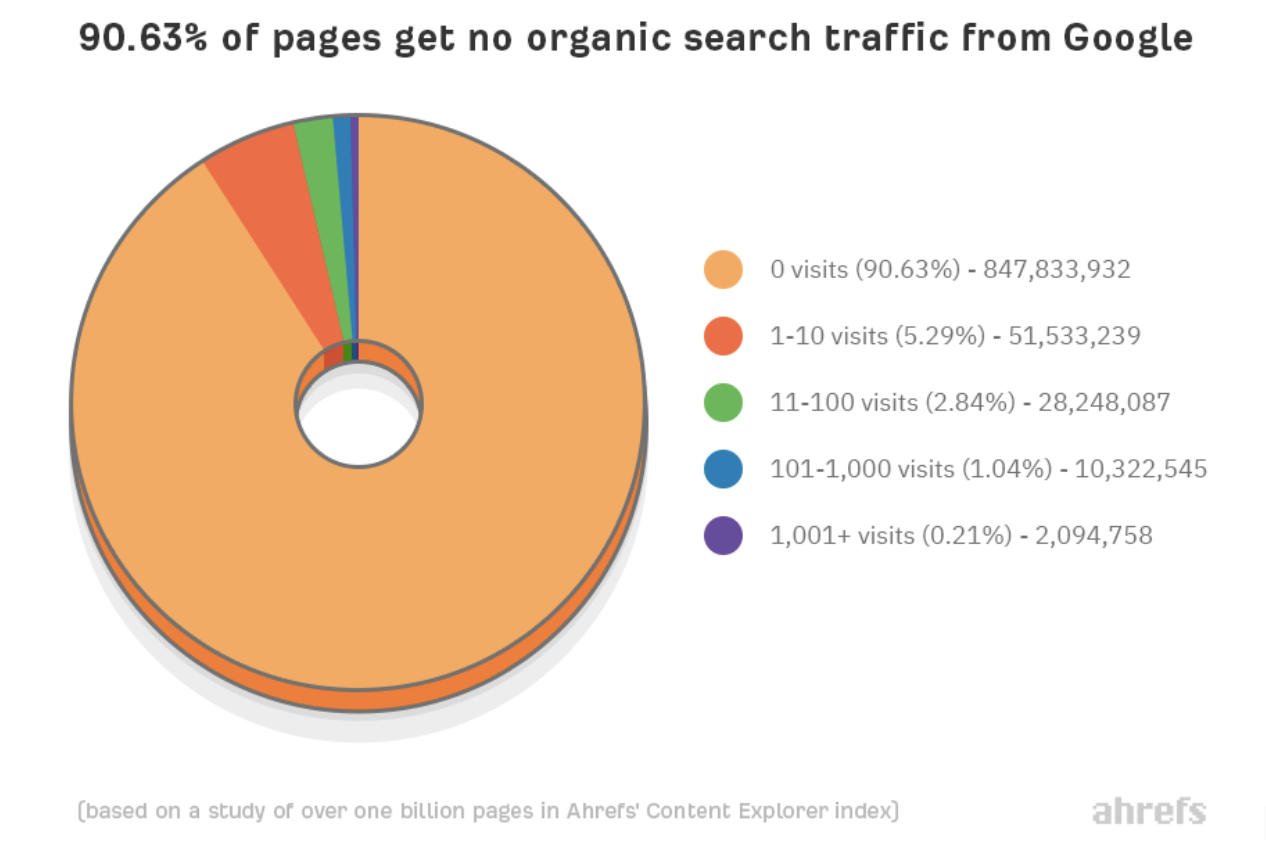 That's… not great.
Blogging is hard work. Data from Orbit Media shows that the time taken to write an average blog post increased by 67% between 2014 and 2021. If you're going to invest all that effort into blogging, you want to see results.
And, for many brands, "results" means search traffic — and lots of it.
To help you up your site's organic traffic, we've raided our internal vault of content marketing best practices to create this definitive guide on how to write an SEO-friendly blog post in 2022. Hope you find it helpful!
How to Write SEO-Friendly Blog Posts: 6 Best Practices
1. How Frequently Should You Include Keywords?
Unfortunately, we can't give you a definitive answer here.
There's no blanket rule for how frequently to include keywords in content. Your best bet is to measure keyword density to ensure the keyword appears in the content enough without being over-optimized. 
Fortunately, keyword density is easy to calculate. Here's the simple equation:
Keyword density = Number of times the keyword is used / Total word count * 100
In other words, if you use a keyword 10 times in a 1,000-word blog, that's a keyword density of 1%.
So what is considered "good" keyword density?
As a general rule, aim for 1% – 3%.
But remember: your primary goal is to write naturally for readers. Include keywords when necessary (and relevant) to optimize for search engines, but not at the expense of natural writing. A "perfect" keyword density of 2.9% will count for nothing if your blog is totally unreadable.
Also, bear in mind that you'll inevitably end up using multiple variations on your primary keyword, such as:
Long-tail variants (e.g.

"how to write an SEO-friendly blog post"

rather than

"blog post"

)

Keywords in plural / singular (e.g.

"blog posts"

rather than

"blog post"

)

LSI keywords

(e.g.

"blog writing"

vs.

"blog post"

)
Those examples may not count toward your keyword density if you're using a tool that looks for one single keyword, but they will count in Google's books. So your blog may be better-optimized than you think.
2. Where Should Keywords Be Included In a Blog Post?
Guess what: there's no hard-and-fast rule for this point either (sorry!).
The best we can do is to offer some general best practices on keyword locations:
Use the main keyword in the title

, as well as naturally in H2s and H3s

Within the H2s and H3s,

use long-tail keywords that include and expand on the main keyword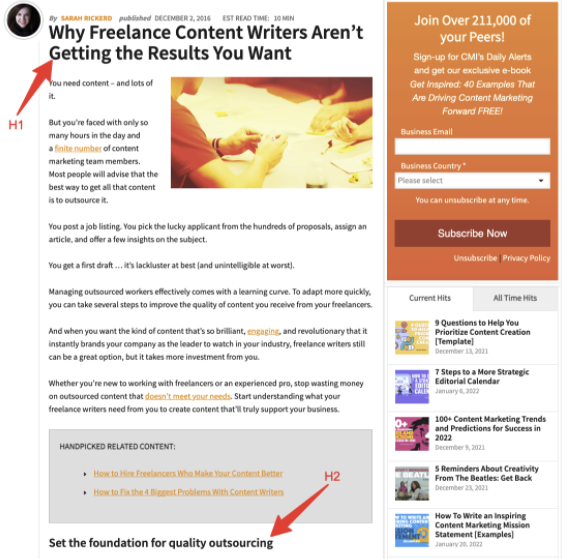 The main keyword may be hard to rank for depending on your site's authority, so try targeting less competitive long-tail variants with lower search volumes
Look at top competitor organic search results for the main keyword

to see how they use the main keyword and long-tail variants in subheadings

FAQs like

"what is [keyword]," "how to X using [keyword]," and "keyword tips for beginners"

are good ways to create subheadings that include the keyword and answer the question while naturally using different variations of the keyword

Add main keywords, long-tail keywords, and LSI keywords naturally

in the title, subheadings, and copy

The only way to determine how often a keyword should be included for any given topic is through tools that use advanced optimization like TF-IDF to look at top competitors, such as

Yoast, SEMrush Writing Assistant for Google Docs, MarketMuse, and SurferSEO
3. When to Add External Links to Authority Sites
When you think about how to write an SEO-friendly blog post, external links likely aren't at the forefront of your mind.
After all, your goal is to generate more traffic to your site, not send traffic to other sites.
But external links actually play an important role in SEO because Google likes to see posts that point to recognized and credible sources (ideally sites with a higher Domain Authority than yours — you can check this using the Moz toolbar). 
Use them for:
Anything that is "uncommon knowledge," such as statistics

Information you had to research from an authoritative source
Don't get too carried away; one or two external links is fine for posts of <1,000 words. If you need to add another link or two, that's okay — but don't overdo it.
As a general rule, don't link out to competitors that sell similar products to you or who are targeting the same keyword you're trying to rank for.
How to Write Anchor Text for External Links
Okay, so external links are important.
But what should your anchor text — that is, the visible, clickable text in an HTML hyperlink — look like?
Try to keep it general, natural, or branded, while excluding keywords for which the website in question is attempting to rank. Or if they're a well-known brand, you can link out using their name. 
Either of these variants is acceptable:
According to

Google

, 82% of consumers say sustainability is more top-of-mind now than it was before COVID-19
According to Google,

82% of consumers

say sustainability is more top-of-mind now than it was before COVID-19
Don't get lazy; always search for the original source, rather than third-party reports or round-ups of statistics. 
And never link to Wikipedia! Sure, it's an amazing resource, but it's never the original source. Check out the sources in the footer section to track down the original.
4. How to Add Internal Links
We've covered external links; now let's consider how to use internal ones.
Internal links play a vital part in blog post (and website) SEO by helping search engines to understand the site's architecture and spreading "link equity."
When it comes to anchor text, internal linking best practices are pretty much the opposite of external links: make it keyword-rich and highly relevant.
One word of warning: Don't link internally to the same main keyword you're targeting in the blog post you're writing. 
For instance, let's say your blog post is targeting the phrase, "how to bake a red velvet cake."
So you wouldn't add an internal link to another page using the anchor text, "how to bake a red velvet cake," since that's the phrase you want your current page to rank for. But you could link to another internal page using a phrase that contains some of the same words, such as, "cake recipes." 
Obviously, you should only link to internal pages or posts that are relevant to the article you're writing.
Make life easier for yourself or your writing team by considering internal linking opportunities during the content strategy phase. 
5. How to Use SEO Tools When Writing Blog Posts
We've mentioned various SEO tools (like Surfer SEO and MarketMuse) throughout this article.
One word of warning: don't use those tools while working on the first draft of a piece of content. 
Why?
Because they give you less creative freedom. Rather than writing the best possible blog post, they force you to focus on crowbarring endless keywords into your content.
This is a particular issue if you're planning to write a shorter blog post than your top competitors. If everyone else is writing 2,000-3,000 words and you're only writing 800, it's going to be near-impossible to include the same number — and range — of keywords as them.
Unless you've used these tools before and understand that they're guidelines rather than strict rules, limit their use to optimizing previously published content that currently ranks lower than page one of SERPs.
6. General Writing Tips for Writing SEO-Friendly Blog Posts
These general best practices don't neatly fit into any of the other sections, but they're still worth raising, so here they are in no particular order:
Keep paragraphs short.

One to three sentences is ideal to keep the content scannable, but more is okay provided you stay on topic and don't switch thoughts.

Use H2 and H3 subheadings with relevant keywords.

This allows readers to easily find the section they're looking for while scanning the page.

Use bucket brigades in the copy.

For the uninitiated, these are punchy one-liners followed by a colon or question mark to keep the reader hooked.

Add interesting facts or statistics in the intro

. This helps to intrigue the reader and encourages them to learn more.

Break up content with numbered lists or bullet points.

 

Include images throughout your blog posts.
Write an enticing meta description (see image below).

Use the main keyword and add a call to action to increase click-through rate.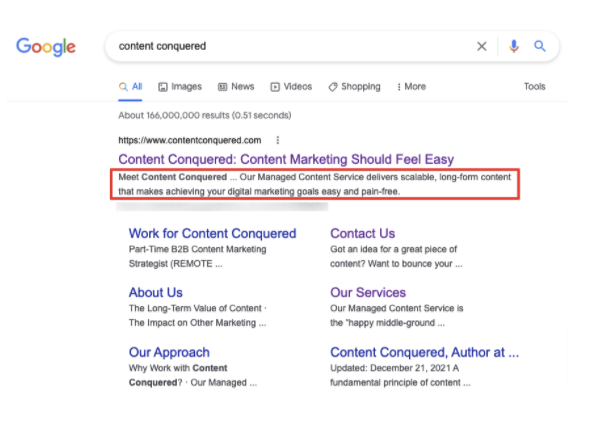 Additional Resources for Blog Post Writers
Optimizing your blog posts takes a lot of effort. Don't want to do it all yourself? Work with Content Conquered to produce well-crafted content that drives SEO results instead.