Small business marketing can feel like a thankless task.
You're facing a ton of competition — some of it from much larger rivals with seemingly endless resources.
And to make matters worse, you've got dozens of other priorities besides marketing. If you don't pay your suppliers, hire a new employee to replace the one who's leaving in a week, and prepare for the big sales pitch that's happening tomorrow, you might as well not bother opening.
With so many demands on their time, it's no wonder that less than half of small business owners believe their digital presence is actually making a positive contribution to their strategic goals, according to research from Duct Tape Marketing.
But it doesn't have to be like that.
It's absolutely possible for small businesses to achieve superb results from marketing — you just need to be smart about it. That means making the best possible use of your limited time and budget by focusing on the actions that will have the biggest impact on your business.
In our experience, the most consistently effective approach is to invest in content marketing for small business. So in this article, we're going to share three of our favorite content marketing strategies for small businesses:
Save time by refreshing and repurposing content for multiple channels and campaigns

Grow your audience by linking social media ads to brand-building content

Drive sales by focusing on conversion-oriented content
3 Content Marketing Best Practices for Small Businesses
1. Save Time by Refreshing and Repurposing Content for Multiple Channels & Campaigns
Lack of time. Lack of budget. Lack of focus.
According to SEMRush, time and resources are the biggest marketing challenges facing small businesses.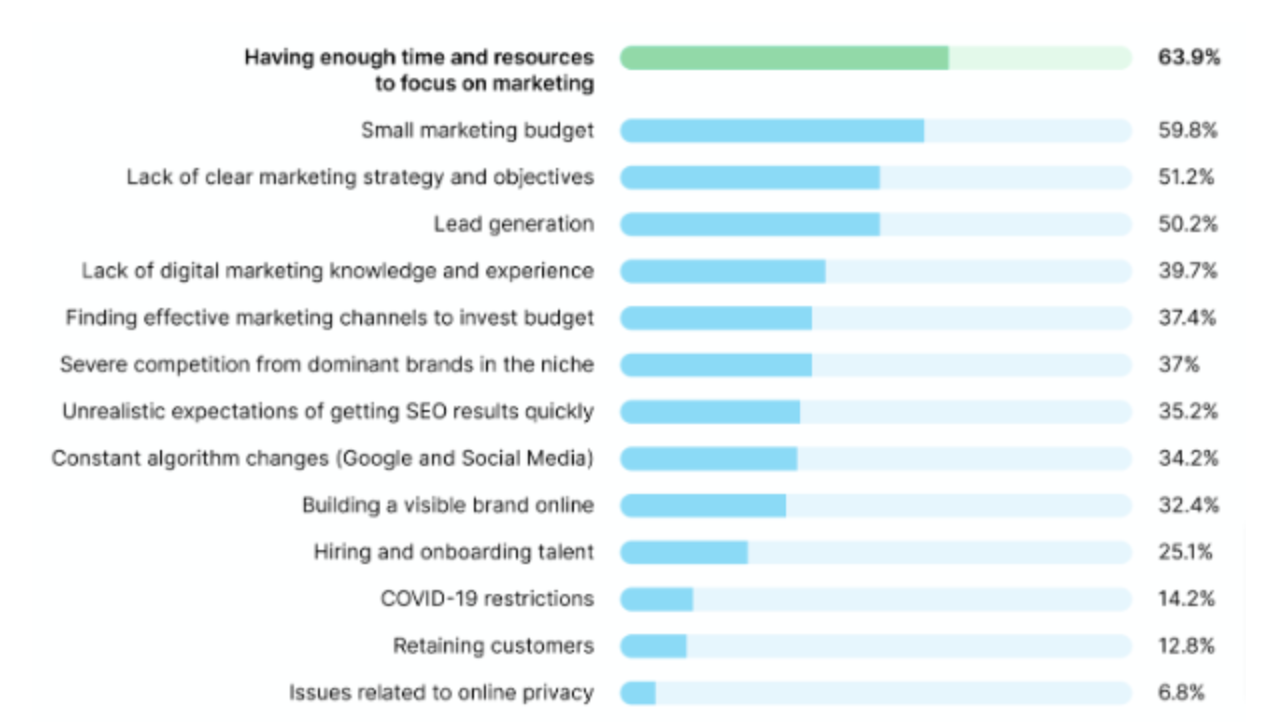 This is hardly surprising. As a small business owner, you likely have too many pressing priorities and too few resources to do the marketing work required to hit your growth goals.
That's why we recommend saving yourself a bunch of time by making your existing marketing assets work harder for you.
Unless you're a brand new business, there's a good chance you already have some content laying around on your website, taking up space but doing little to bring in traffic, leads, and sales.
Rather than spending your time writing new blog posts, why not focus on improving the content you've already got?
Not only is this approach more efficient, but it can also yield fantastic results. For instance, after optimizing some of their old content, HubSpot found that their refreshed posts:
Generated twice as many leads per month

Attracted an average of 106% more organic search traffic
One small business that understands the value of refreshing content is Kitely Tech, a mobile app and software development company.
According to Ahrefs, one of its top traffic drivers is an article first published back in 2017 about the stages of software development. Thanks to the Wayback Machine, we can see what that article originally looked like: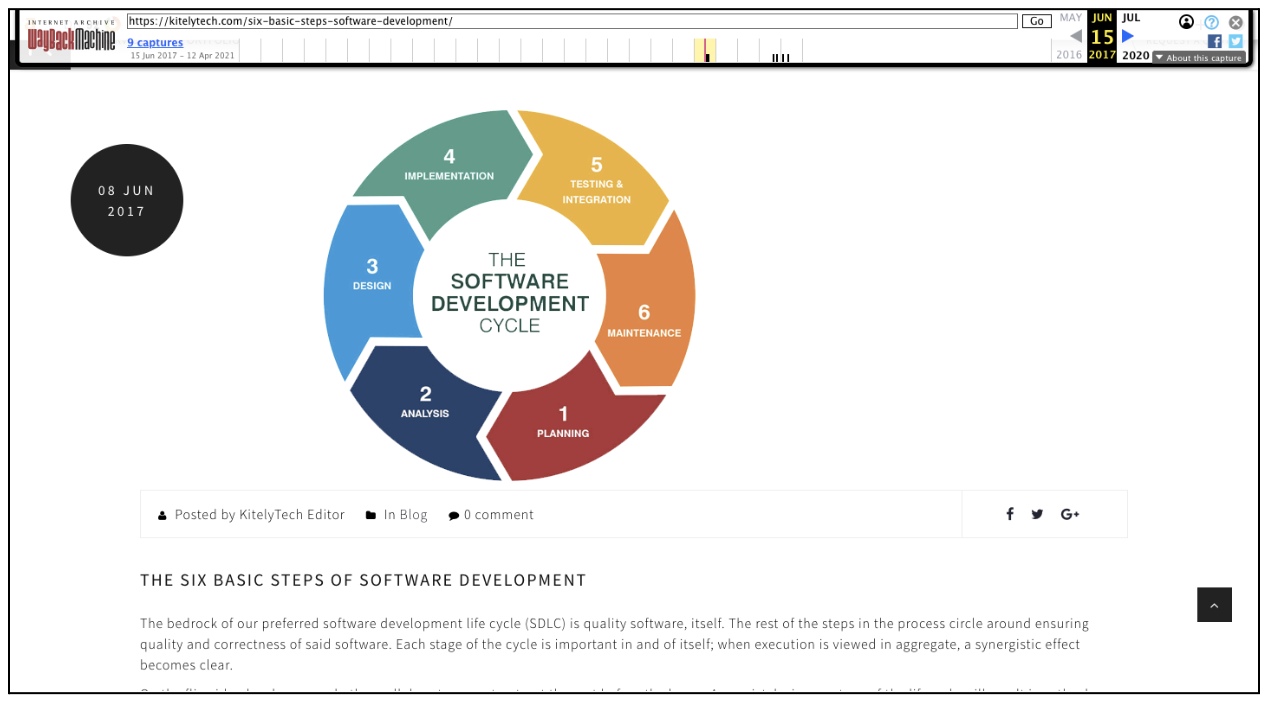 Since then, the article has been through at least one major update. Whereas the original was effectively a long, bullet-point list, the current version is far more weighty, features actionable takeaways at each stage, and has been reformatted with H2 subheadings, which help Google (and other search engines) understand what a piece of content is about.
The results have been impressive. As you can see from Ahrefs, the original version of the article dropped out of the top 100 ranking positions altogether. But since being updated in March 2021, it's consistently ranked at #5 or higher:

Save yourself even more time and effort by not only refreshing old content, but also repurposing that content for other channels.
Literally any content assets you've created can be turned into something shiny, new, and valuable for your small business.
Got an old sales deck? Try turning it into an infographic that explains who you are and what you do. Have you written an ebook? Go back through it, add new stats, case studies, and examples, and republish it. And why not slice it up and turn it into a series of blog posts too?
The more old assets you can refresh and repurpose, the less new content you have to create from scratch. That's a massive efficiency gain.
Key Actions
Look through all your existing marketing collateral — blog posts, sales decks, infographics, videos, whitepapers, etc. How much of it is still relevant? How much could

become

relevant with a little TLC? How much could be turned into something totally new, like a podcast or webinar?

Create a priority order for refreshing and repurposing your existing content, based on the expected impact your work will have. For instance, prioritize a blog post that's already generating traffic over one that hasn't had a single view for six months.
2. Grow Your Audience by Linking Social Ads to Brand-Building Content
Let's take another look at the results of SEMRush's survey into small business marketing challenges.
There's a common thread linking the four issues highlighted below: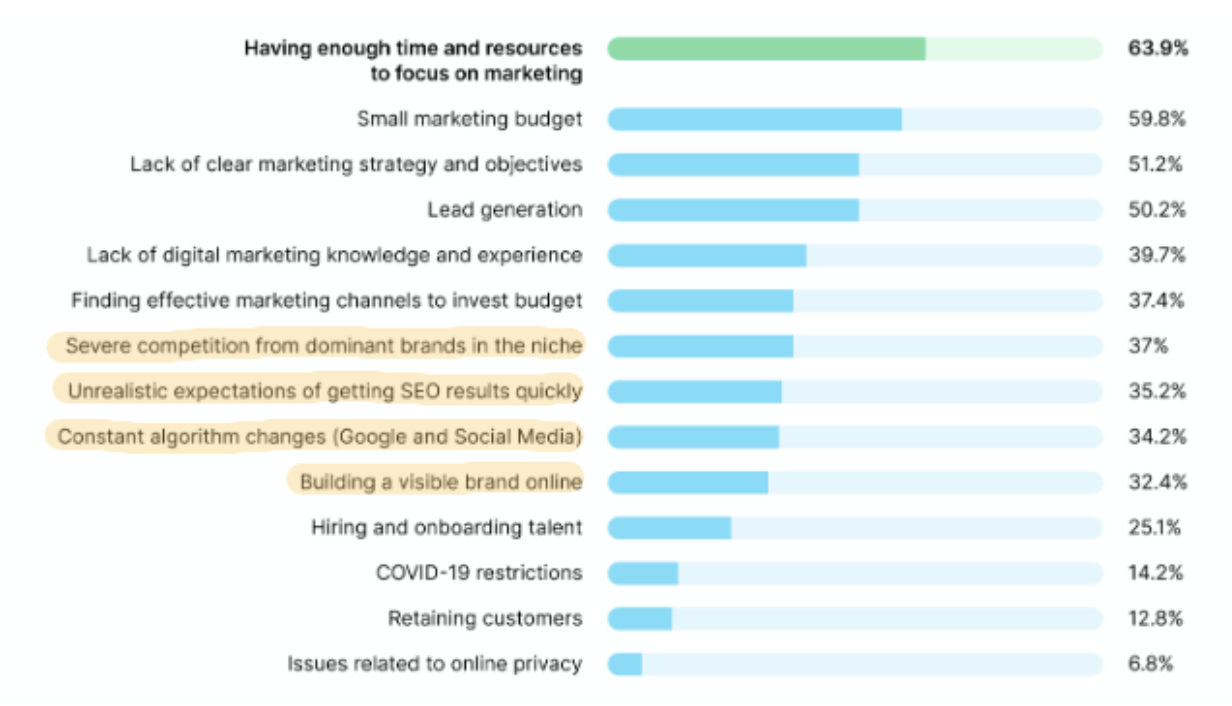 Let's dig into this.
As a small business, you likely have a bunch of rivals, some of whom are better known than you. Many customers in your niche have never heard of you — and they may have little incentive to search for an alternative to the big incumbents.
So you try to increase your online visibility, but SEO is taking too long. Indeed, research from Ahrefs found that almost 95% of newly published web pages don't reach the front page of Google within a year.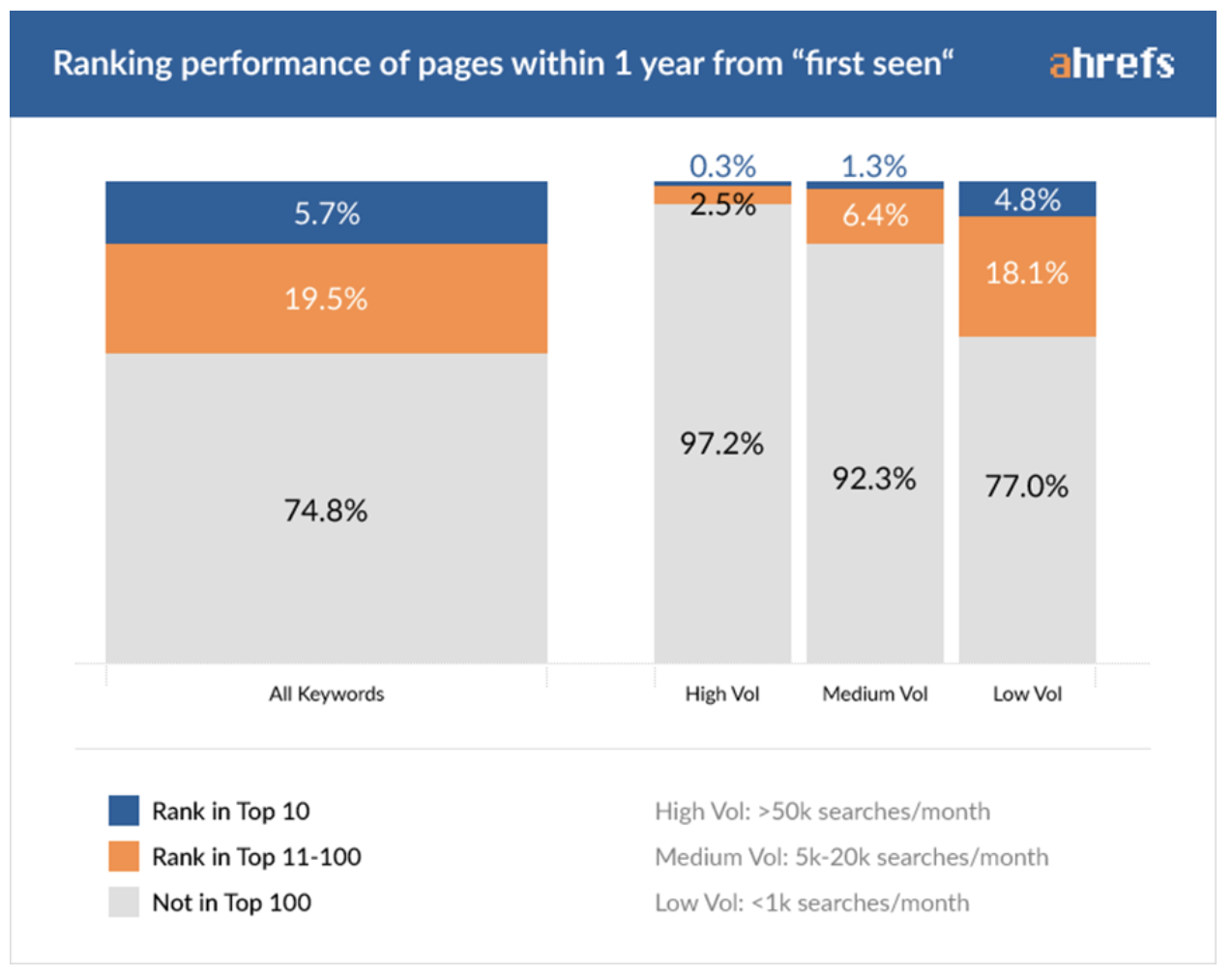 And with search and social algorithms changing constantly, the problem of getting your brand in front of new audiences can seem insurmountable.
One solution is to get in front of new audiences via social media ads.
But don't just go for the short-term play. Use your social ad campaigns to drive would-be customers toward content that explains who you are, what you do, and why they should care.
In short: Give them a reason to come back to you time and time again.
That's what Rebel Hard Coffee did. They launched a Facebook ad campaign designed to drive new audiences toward their brand story landing page.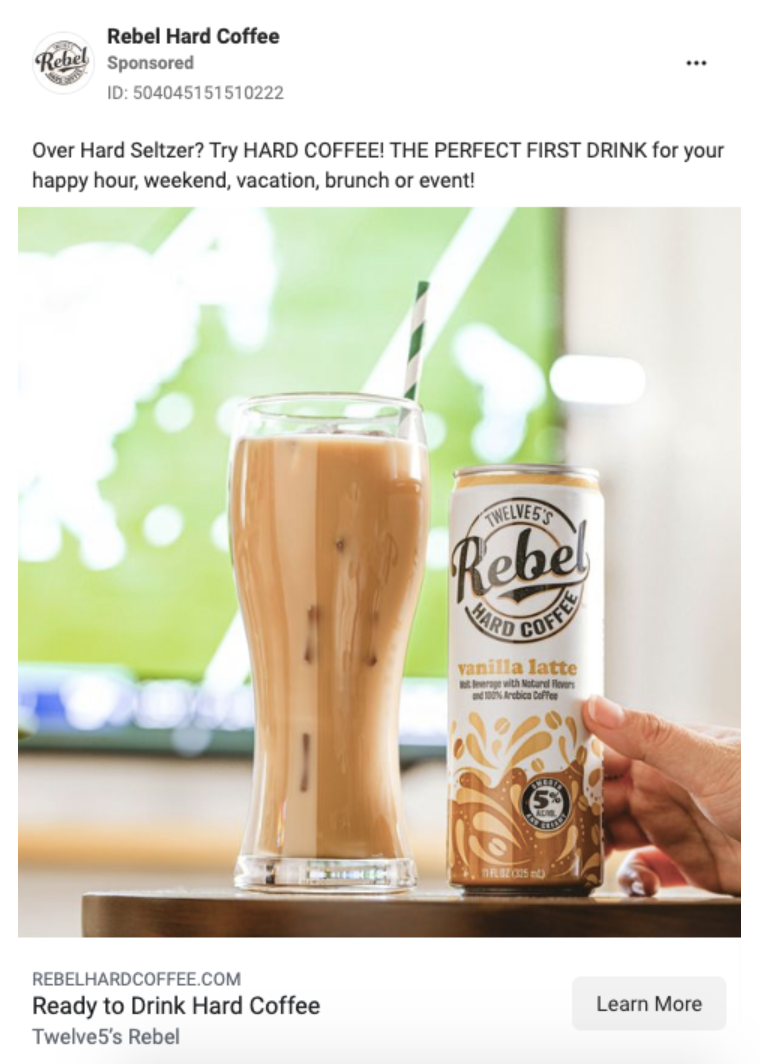 Once on the site, readers learn about the company's roots and how they came up with the concept of "hard" coffee.
And, of course, the landing page incorporates prominent calls-to-action that compel visitors to check out Rebel's full range of products and find nearby retailers that stock them.

Key Actions
Choose the social platform that best aligns with your audience (e.g. LinkedIn tends to be best for B2B sales and lead generation, whereas Instagram works well for B2C audiences).

Build an ad that (briefly) explains what you do, then target it at people in your location who fit your customer profile.

Link to a piece of content or brand story page that sets out what your company is all about, explains your brand proposition, and gives people a reason to remember you (and come back for more).
3. Drive Sales by Focusing on Conversion-Oriented Content
Most articles about content marketing for small business will tell you that you simply must have a blog.
What they won't tell you is that blogging for the sake of blogging won't get you anywhere close to hitting your business goals.
We already know your time and resources are limited. So if you're going to invest in content creation, wouldn't it make sense to concentrate all of your efforts on something that's going to produce real, measurable results?
By that, we mean leads and sales — not vanity metrics like website traffic and social media followers.
NOOMA, a small energy drink company based in Cleveland, has done this by creating an interactive quiz designed to encourage new customers to convert themselves.
It's a similar approach to that taken by Dollar Shave Club, one of the biggest small business success stories of recent years.
As you'll see, NOOMA's quiz is the polar opposite of creating content for the sake of it.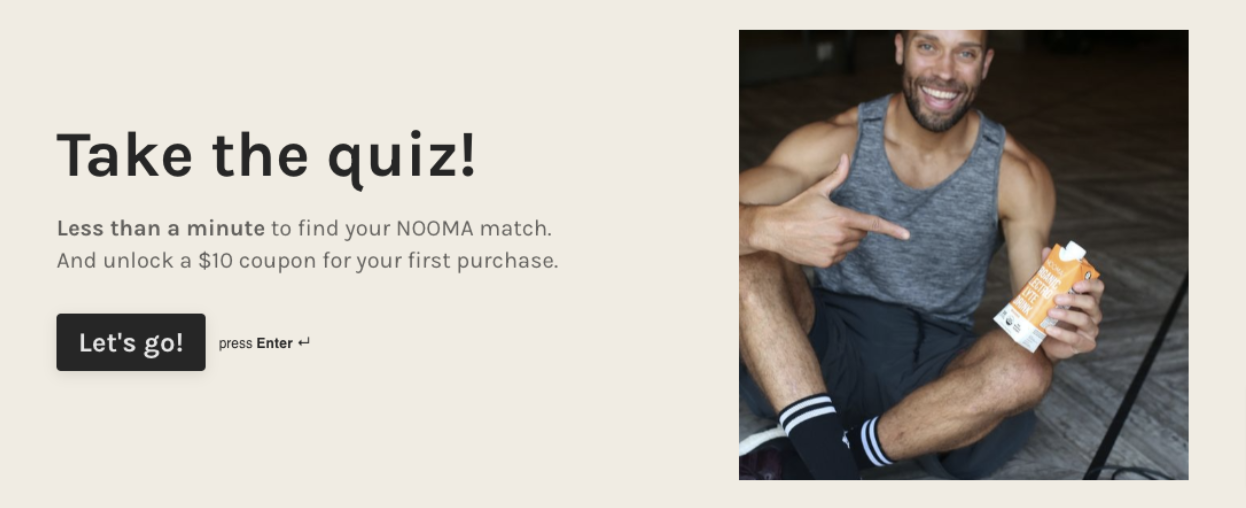 By offering quiz-takers a $10 coupon off their first purchase, NOOMA gives people an immediate incentive to take part.
And by speaking to key audience pain points — such as the amount of sugar they consume — the quiz positions NOOMA as an attractive, healthier alternative.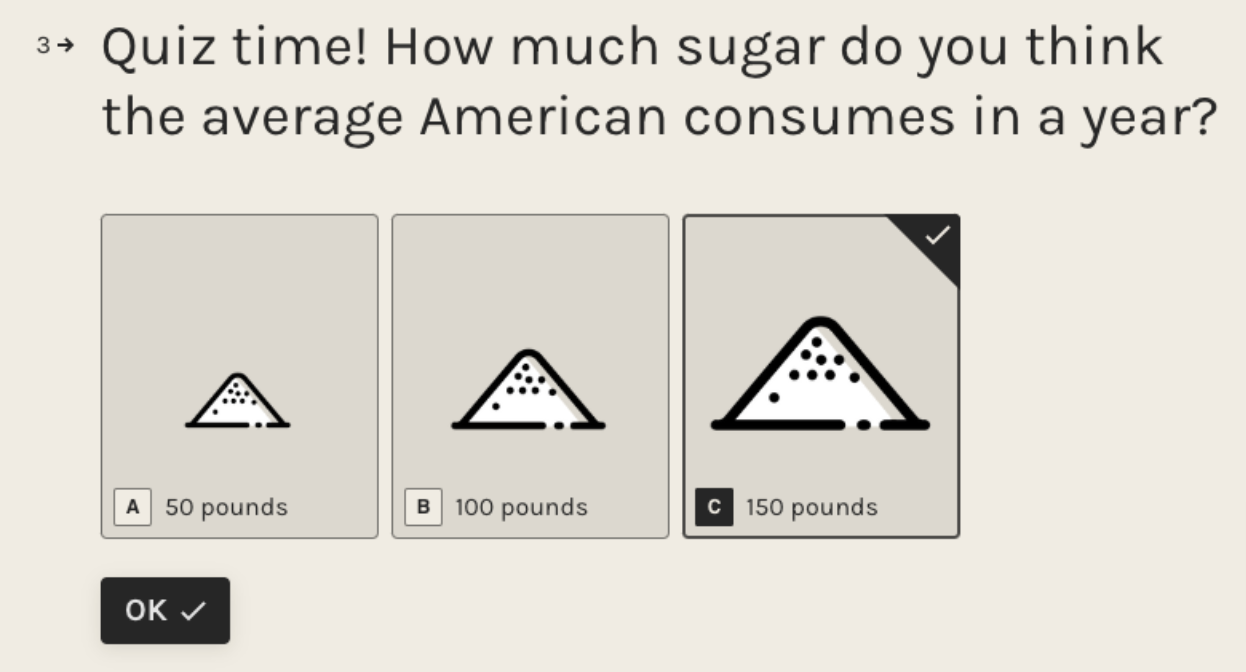 The final key element of this quiz? Customers are asked to hand over their email address to access the discount. That way, NOOMA can add them to their marketing list, allowing the brand to share targeted offers and other conversion-oriented content down the line.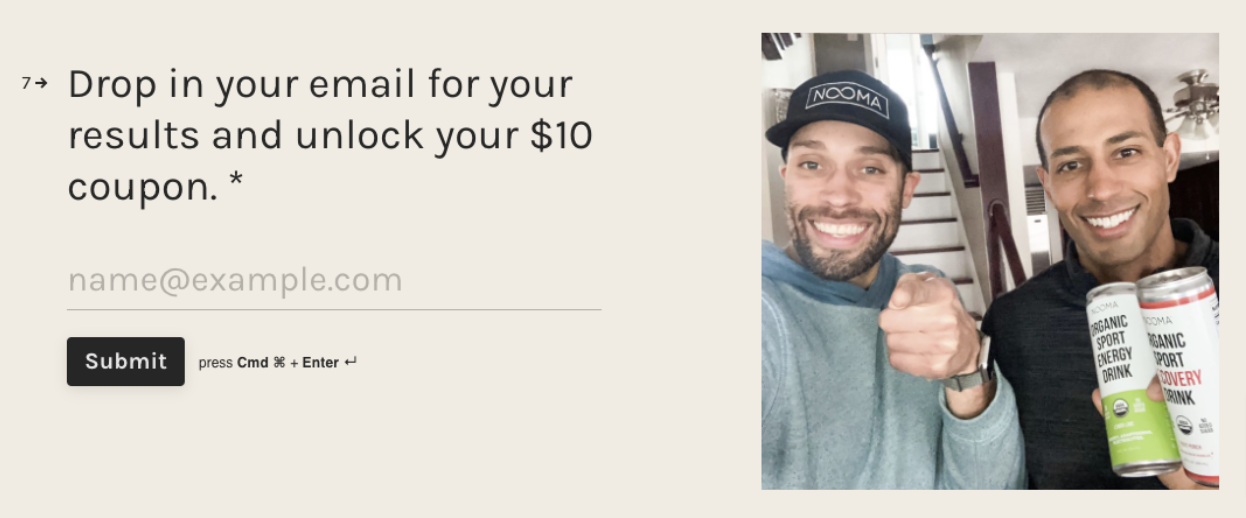 Sure, it takes a little time (and money) to produce a piece of interactive content like this.
But once you've created it, it can pretty much live on your site forever, giving you a truly evergreen asset you can promote time and time again.
Key Actions
Define your biggest audience pain points and how your product offers a solution — essentially, the reasons a customer would choose you over a rival.

Turn these key elements of your value proposition into an evergreen content asset, host it on your site, and promote it via social media.

If possible, offer new customers some kind of incentive — like a discount off their first purchase — for sharing their email address so you can target them with offers via email marketing.
Content marketing for small business is a lot of work. Don't have the resources to do it all yourself? Content Conquered can help! 
Get in touch with us today to see how we can help you do more with less.