Even if you're totally new to the world of content marketing, you've likely encountered dozens (or hundreds, or thousands) of articles discussing the importance of creating a robust content strategy.
According to the Content Marketing Institute, 40% of B2B content marketers already have a documented content strategy. Yet less than one-third rate their content marketing efforts as "extremely" or "very" successful, while one in six say they've had minimal or no success.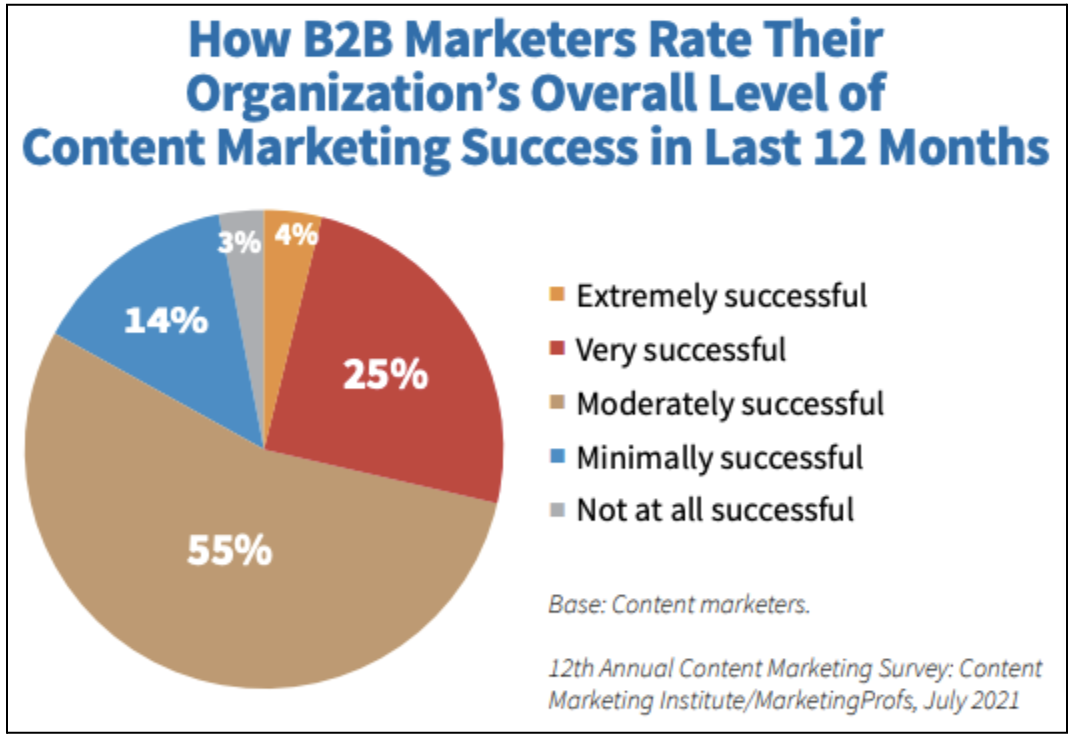 So it seems there's room for improvement on the strategy side.
Which brings us neatly to one of our favorite content marketing strategies: the spoke and wheel model. In this article, we'll explain how it works, how to implement it, and how it can be used to generate results.
What Is the Spoke and Wheel Model (& Why Should You Care)?
The spoke and wheel model — also known as the hub and spoke model — is an approach to content creation that involves writing two types of content:
Long-form "wheel" or "hub" content

targeting a broad, high-volume, high-competition keyword.

Short-form "spoke" content

targeting more specific, less competitive, lower-volume keywords related to the broader "wheel/hub" theme.
Let's say you're a travel brand. You might decide to create a piece of "wheel" content around the broad, high-volume term "visit Hawaii," then support it with lots of shorter "spoke" articles on subtopics like:
Things to do in Hawaii

How safe it is to visit Hawaii

The best islands to visit on a trip to Hawaii
Now for the clever part. 
You'd add internal links to each of those "spoke" articles, pointing back to your long-form "wheel" content. In the process, you pass authority to your "visit Hawaii" article, ideally helping it rank better on Google.
Three Steps to Implementing the Spoke and Wheel Model
It sounds simple, but much like a real bicycle, there are a couple moving parts to the spoke and wheel model that make it a little more complex. In this section, we'll run through three key steps to rolling it out.
1 – Planning: Keyword Research
Keywords are at the heart of the spoke and wheel model. Success rides (pun not intended!) on identifying high-volume "wheel" keywords with plenty of related long-tail queries for your "spoke" articles. Get this step wrong and the whole thing falls down.
First, you need to find a juicy topic for your "wheel" content. If this is your first foray into the spoke and wheel world, don't be afraid to go broad. It could be related to:
The type of product you sell (e.g. car insurance)

The "result" your product delivers (e.g. lead generation)

A pain point for your target audience (e.g. reducing churn)
Use a free tool like SearchVolume.io to check that your target term attracts enough searches. Volumes vary widely by niche, so you'll need to use some judgment here. But as a general rule, if your term doesn't get at least a couple thousand monthly searches, you'll likely struggle to find supplementary "spoke" keywords with decent volumes of their own.
Let's say we've chosen to target "dog food" as our "wheel" keyword. Next, we'd Google that term and look for related questions in the "People also ask" section:

We'd also look for potential terms in the "Related searches" section:

Using that information, we can plan a bunch of potential "spoke" articles, such as:
How to find the best dog food online

What is raw dog food?

What is the healthiest dry dog food?
2 – Execution: Internal Linking
Let's assume you've found your "wheel" keyword and written it up as a piece of long-form content.
As we know, the spoke and wheel model relies on boosting the authority of your "wheel" content through internal linking from all your "spoke" articles.
Unless you have the time and resources to write every single piece of content upfront and set it live simultaneously, you'll likely find yourself writing new "spokes" weeks or months after you first published your "wheel" content. You might even write a couple "spoke" articles, then the main "wheel" content, then several more "spokes."
That can create a bit of a logistical headache. How can you be certain you've added all the necessary links?
For that reason, we recommend creating a spreadsheet to keep track of internal linking progress as new posts go live. Save yourself some time by making a copy of our spoke and wheel model internal linking template spreadsheet.
3 – Iteration: Measure Success
There are no guarantees in SEO. So while the spoke and wheel model can be extremely effective, don't expect every single piece of content to take off.
Get into the habit of using your chosen analytics platform (Google Analytics is the most common) to see which articles are generating traffic. And if you've got the budget, invest in a tool like Ahrefs or SEMRush to track your rankings for the specific keywords you're targeting.
More likely, you'll see great traction on a handful of articles, while others don't rank as high — and consequently bring in little to no traffic.
For that reason, we've come up with our own iteration on the spoke and wheel model.
How Content Conquered Uses the Spoke and Wheel Model
If your website SEO is top notch and your new blog posts routinely bring in lots of search traffic, you can use the spoke and wheel model as outlined above.
On the other hand, if you're a relative newcomer to SEO and blogging in general, we've found it makes more sense to tweak the process a little.
You should still start with the keyword research stage. But rather than finding a single "wheel" keyword and lots of supporting "spokes," try writing multiple pieces of shorter "wheel" content covering a range of broad topics. Keep those articles to 1,000 words or fewer.
The fact is, it can take months for your content to start ranking. Even then, the vast majority of web pages don't make it to the front page of Google within a year of publication.
With our approach, once one of your "wheels" starts gaining traction, you can expand it into a longer form article. You can then create all the supplementary "spokes," knowing that your "wheel" topic is a proven hit with your audience. 
It's a great way to leverage the broad principles of spoke and wheel, without investing a ton of effort into campaigns that never deliver results.
The spoke and wheel model relies on consistently producing high-quality content. That's a struggle for many marketers — but we can help. Get in touch with Content Conquered today to see how we can support your content marketing efforts.