Writing: it's all just words, right?
Actually, not really. 
Some words and phrases might be written, replaced, and generally fretted over for hours, because each one needs to be highly focused and persuasive. 
Other times, the specific words don't matter so much as the broader information they convey. Individual phrases don't need to be sweated on, so long as the "thing" you've written makes sense and communicates something useful.
Which brings us to the issue of copywriting vs content writing. They might sound like the same thing — after all, aren't copy and content basically synonyms? — but they're actually very different.
In this article, we're going to explain those differences and show you the use cases for each.
What Is Copywriting?
The purpose of copywriting is to take the reader on a buying journey and compel them into completing some sort of conversion action. That "action" might be a purchase, but it could also be:
Booking a meeting

Registering for a webinar

Signing up for a newsletter

Requesting a consultation

Downloading an ebook
Or it could be something else entirely. Either way, the copy should be tightly focused and highly action-oriented. There's no room here for veering off on tangents or discussing broad topics.
5 Examples of Copywriting
That's the theory; now let's take a look at five examples of copywriting. To be clear, this isn't an exhaustive list — there are lots of other writing formats that could be classified as copywriting — but it should give you a pretty clear idea of what we're talking about.
Landing Pages
A landing page is the first page a visitor sees on your website after clicking through from some kind of external source, such as an email, advert, or search engine results page.
Having arrived on your landing page, the user is prompted to complete an action. Your aim here is to achieve the highest possible conversion rate (the percentage of visitors who take the desired action).
Importantly, each landing page should only seek to drive one specific action, otherwise you risk confusing or distracting your visitors. For instance, this HubSpot landing page is solely designed to drive demo requests: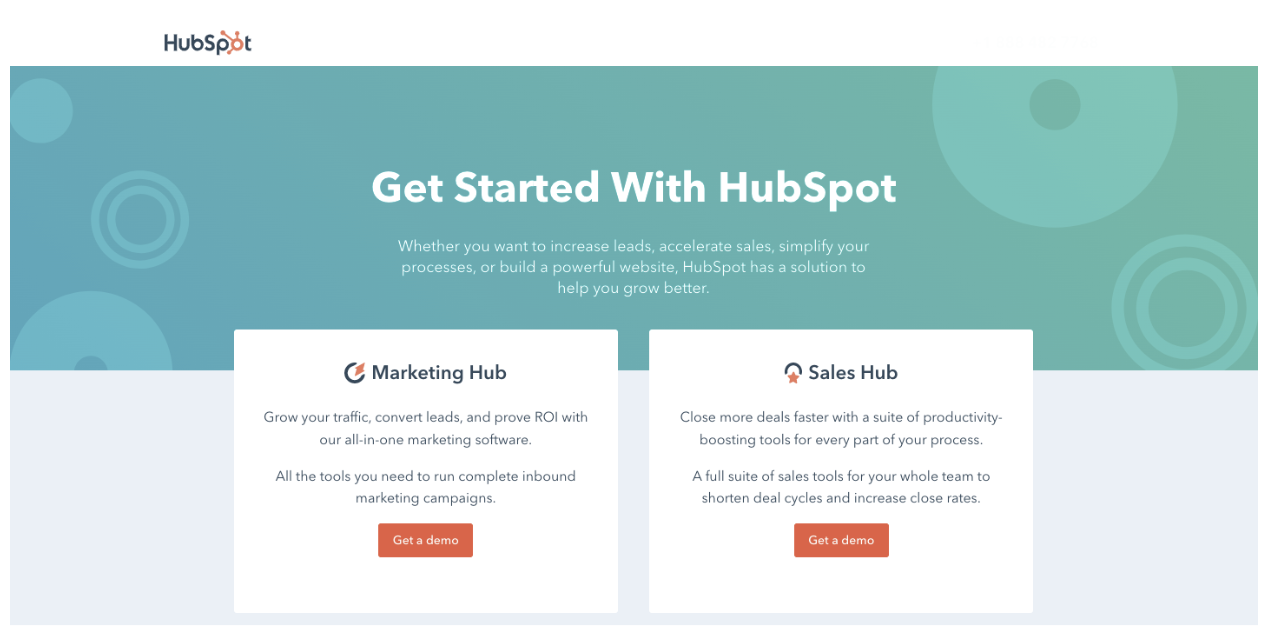 Landing page copy might have an SEO element, too. You'll often find highly keyword-focused content on website category pages, such as this example from petcare brand Paws:

Again, this copy is designed to sell Paws' products, but it also helps to make key landing pages more visible in search results.
Sales Pages
A sales page is a type of landing page. But whereas landing pages exist to drive a range of goals (leads, downloads, meeting requests), sales pages are 100% sales-focused.
The copy on a sales page needs to be super persuasive, highlighting the benefits of your product and how they solve the specific problems your audience is facing.
On its sales page, Authority Hacker — a company that sells marketing courses — does this effectively by setting out its value proposition in the header: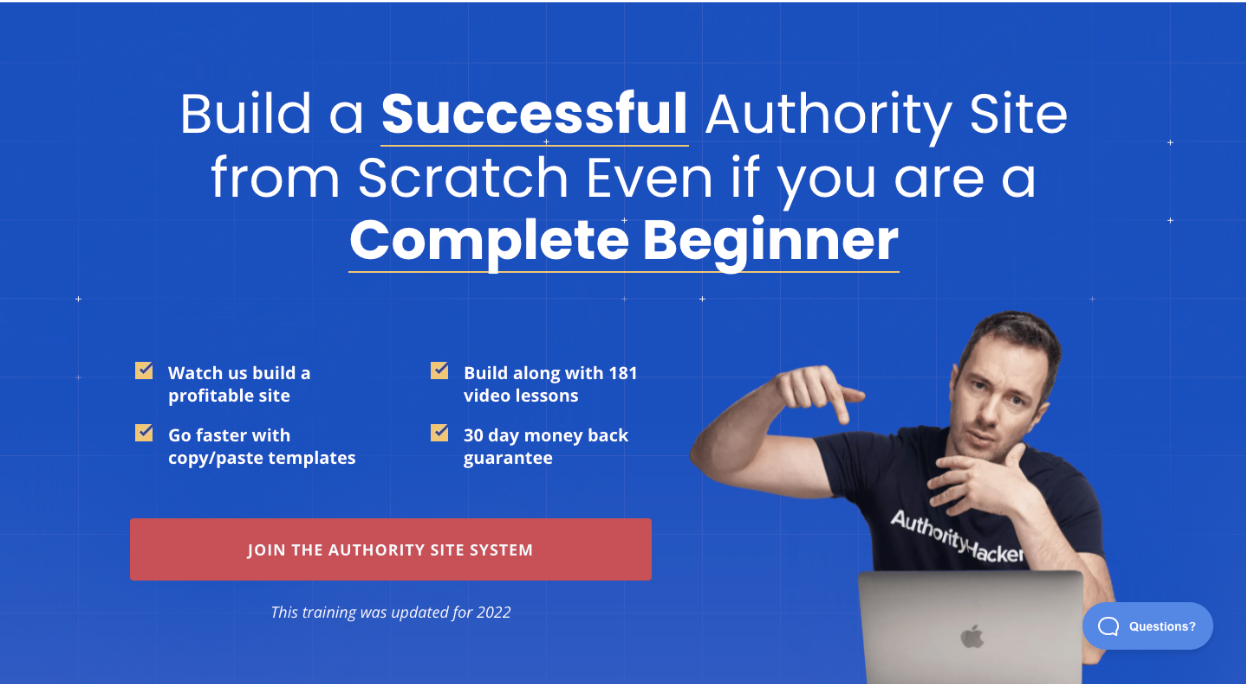 It follows up this persuasive message by listing some of the key features and benefits of its course, and adding a clear call to action at the bottom.
Product Pages
You've convinced someone to click all the way through to one of your product pages — great! 
But there are no guarantees. If your would-be customer doesn't like what they see, can't find an important piece of information, or generally doesn't feel persuaded, there's still a good chance they'll bounce back off without making a purchase.
That's why your product pages need high-quality copywriting that reassures the prospective visitor they're about to buy a quality product. 
Allbirds gets this right by speaking to the features and benefits of its footwear. It doesn't just say "our shoes are made from lightweight materials" – it explains why that matters to the wearer.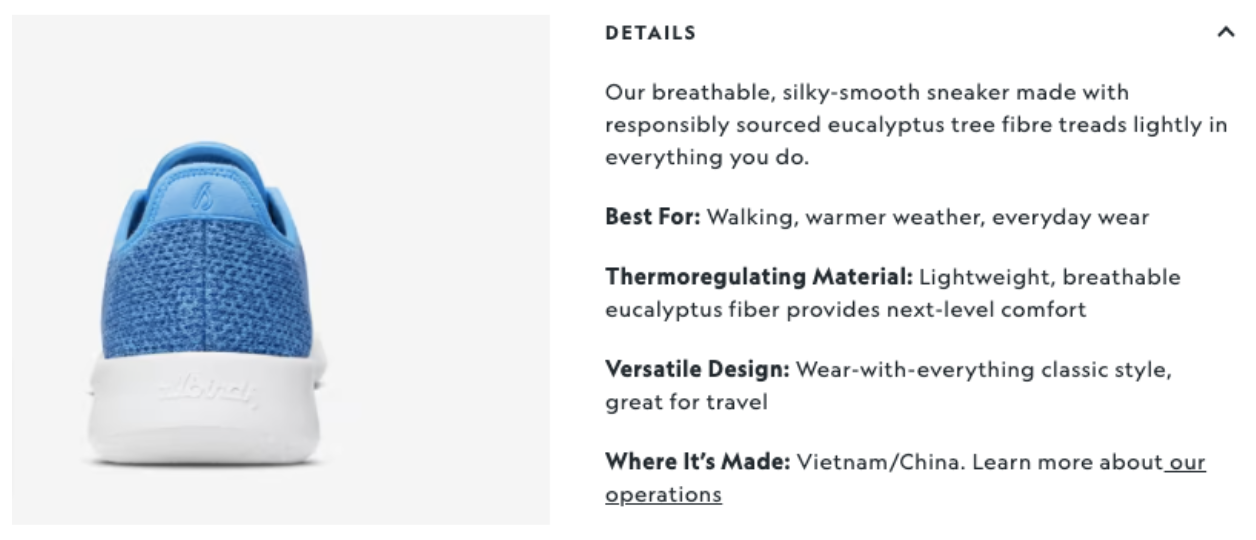 Ecommerce Emails
Ecommerce emails come in lots of different flavors. 
Brands and retailers might send them to promote a new product, raise awareness of a sale, or offer targeted recommendations based on a customer's previous purchases. 
Whatever the case, their whole purpose is to persuade recipients to buy, buy, buy.
An extremely popular example of an ecommerce email is the classic abandoned cart email. According to the Baymard Institute, the average cart abandonment rate currently stands at almost 70%, which means ecommerce sites are missing out on a massive volume of sales.
That's why many of those sites follow-up cart abandoners to compel them to complete the purchase.
Cart abandonment emails are undeniably effective, consistently seeing open rates of above 40%. But they're more likely to close the deal if you slip in some engaging, persuasive copy, like Nomad does here: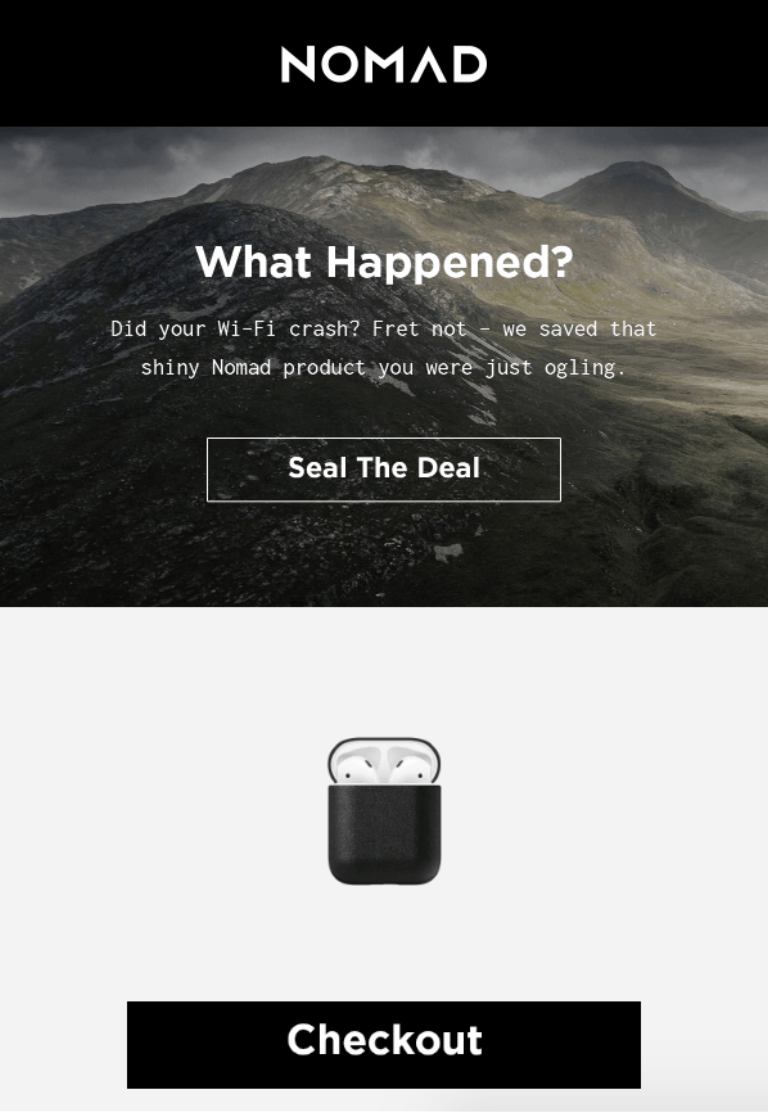 Case Studies
Case studies are kind of a gray area in the great copywriting vs content writing debate, because while they're somewhat sales-oriented, they're also about educating prospects.
On balance, we view them as more copy than content, because their primary purpose is to showcase your product or service with an in-depth client example.
Meta (FKA Facebook) has tons of case studies — sometimes referred to as success stories — on its business solutions website, demonstrating the results its customers have seen from advertising across its multiple platforms.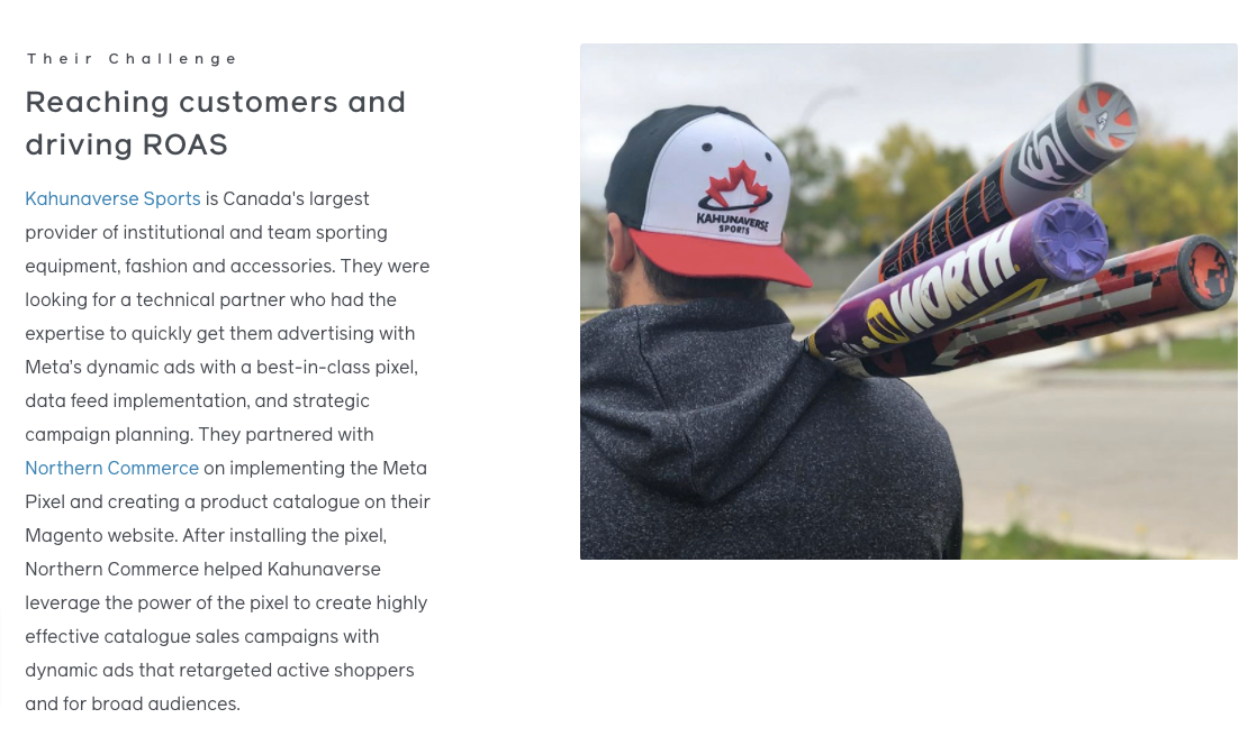 As with many other companies, its case studies are broken down into three sections:
Challenge:

The problem a customer was facing that led them to you.

Solution:

The products or services they chose (or you recommended) to overcome their problem. 

Results:

What happened after they implemented the solution.
By telling a start-to-finish narrative, Meta encourages prospective customers to picture themselves achieving those same results.
What Is Content Writing?
Where copywriting exists to drive an immediate action, content writing is more of a slow burn. It's about attracting, educating, and hopefully engaging the reader.
It's unlikely someone will make a purchase directly after reading a single piece of content. But they should definitely leave with some clear takeaways and at least a little knowledge of who you are and what you do.
5 Examples of Content Writing
Now let's take a look at some real-life content writing examples. Again, this isn't intended to be a complete list (after all, there are a lot of digital content types).
Long-Tail SEO
There are two types of keywords:
Short-tail keywords, also known as

head keywords

Long-tail keywords
As the name suggests, long-tail keywords are usually longer than their short-tail alternatives. Regardless of length, they're always more specific, which means they have lower search volumes — but are also less competitive.
Because of that specificity, people searching for long-tail keywords are often further down the buyer journey, meaning they're closer to purchasing. So while the volumes are lower, these keywords can be extremely valuable.
It's common for companies to target long-tail keywords in blog content. After all, you can't write all of your blogs about broad, highly competitive "head" keywords. 
Take Moz as an example. It sells SEO software, but if every one of its blogs was about its product, they'd get real repetitive, real fast. They also wouldn't add a ton of value.
A cursory browse of Moz's organic keyword rankings on Ahrefs shows that its blogs are targeting — and ranking for — lots of juicy long-tail keywords, such as:
What is on-page SEO

Best keyword difficulty tool

Meta tags for SEO
While those blogs give Moz's authors an opportunity to demonstrate their credentials and promote its tools, they're more about educating the reader than pushing the sale, which makes them an excellent example of content writing.
Thought Leadership
Thought leadership is one of the most popular content types, with LinkedIn research revealing that 53% of marketers are planning to increase the amount of thought leadership in their content strategies.
Why? Because decision makers love it. Indeed, LinkedIn's study shows that most buyers read it for at least an hour a week.
For content to qualify as thought leadership, it needs to include some kind of unique insight or original opinion — something people can't find anywhere else. That way, it marks the author as an expert in their field.
General Electric does this well with its Txchnologist blog, which focuses on emerging technologies and scientific developments.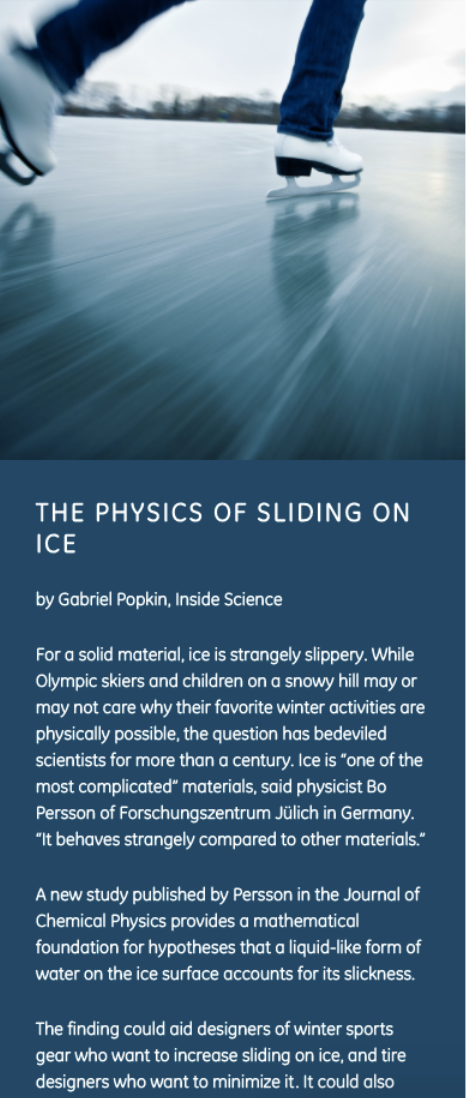 Often, those technologies and developments have little or nothing to do with the company's core business. That's not because GE has gone mad; it's because the whole purpose of Txchnologist is to show that the brand is at the cutting edge of science and tech. 
In short, proving that GE is a thought leader.
Product Explainers
Product explainers give you an opportunity to discuss the inner workings of your product (or service) and educate people about how to use it. So while they're highly product-focused, they're not sales-oriented pieces, which puts them firmly in the content writing category.
Explainers are typically targeted at people who already use your product and want to better understand its features.
For instance, Ahrefs has a whole Academy section on its site, digging into how its myriad SEO tools can be used to improve search rankings and organic traffic.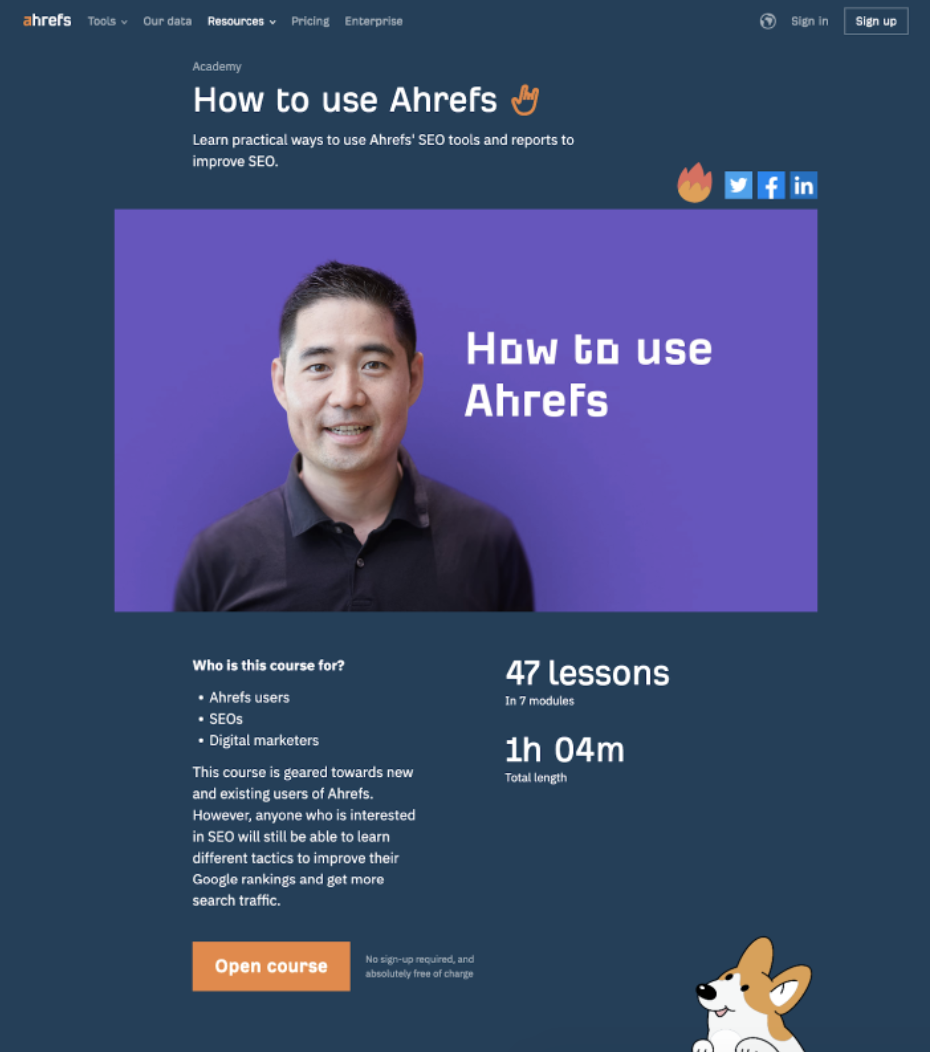 It's best to think of explainers as a retention tool rather than a sales aid. Someone's already taken the plunge and bought your product; now you want to ensure they get the maximum value from it so they keep paying!
Email Newsletters
Email newsletters aren't about driving sales; they're about engaging your audience and demonstrating your expertise. That makes them a classic example of content writing.
Whether the people on your mailing list are leads, current customers, lapsed customers, or a combination of all three, the purpose of email newsletters is the same: to keep your brand front of mind, even if they're not currently in a position to hand over any cash.
One popular way to achieve this is simply to share your latest blog content, like Think with Google does in its newsletter: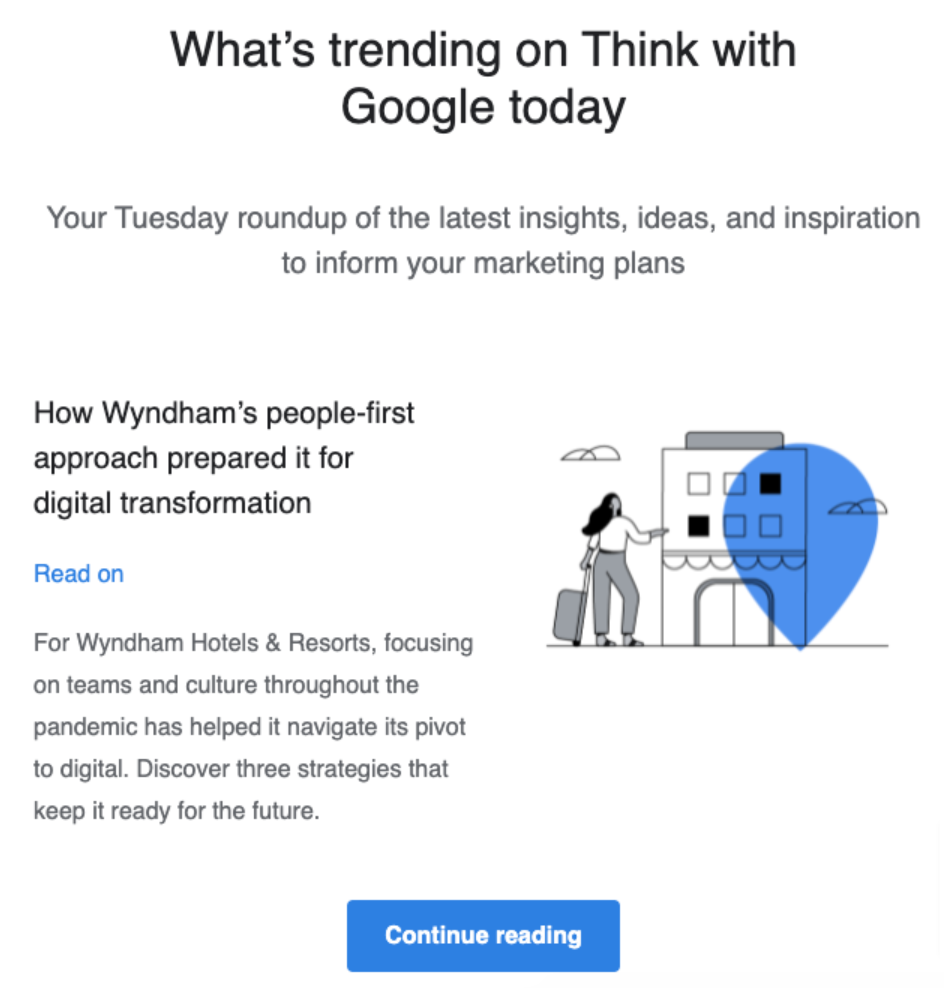 This approach has two big advantages:
It reminds people you exist

It compels them to visit your site, encouraging them to learn more about you and your products
Pillar Posts
We know what you're thinking: "What on Earth is a pillar post?"
Well, let's say your business sells insurance. You have a blog where you talk about the various insurance categories you sell. But rather than just jumbling everything together under a single blog landing page, you have separate sub-categories — each with its own landing page — for things like home insurance, car insurance, and pet insurance.
Those dedicated landing pages — known as pillar posts or pillar pages — broadly explain the top-level subject and link out to more granular articles. For instance, the car insurance pillar post might link to articles on:
The best car insurance for young drivers

How to get the best price on a car insurance renewal

The cheapest car insurance for electric cars
Each pillar post and the articles it links to are housed under a "topic cluster," while the blog posts linked to from each pillar page are referred to as "cluster content." If that sounds confusing, HubSpot explains it all in this handy graphic: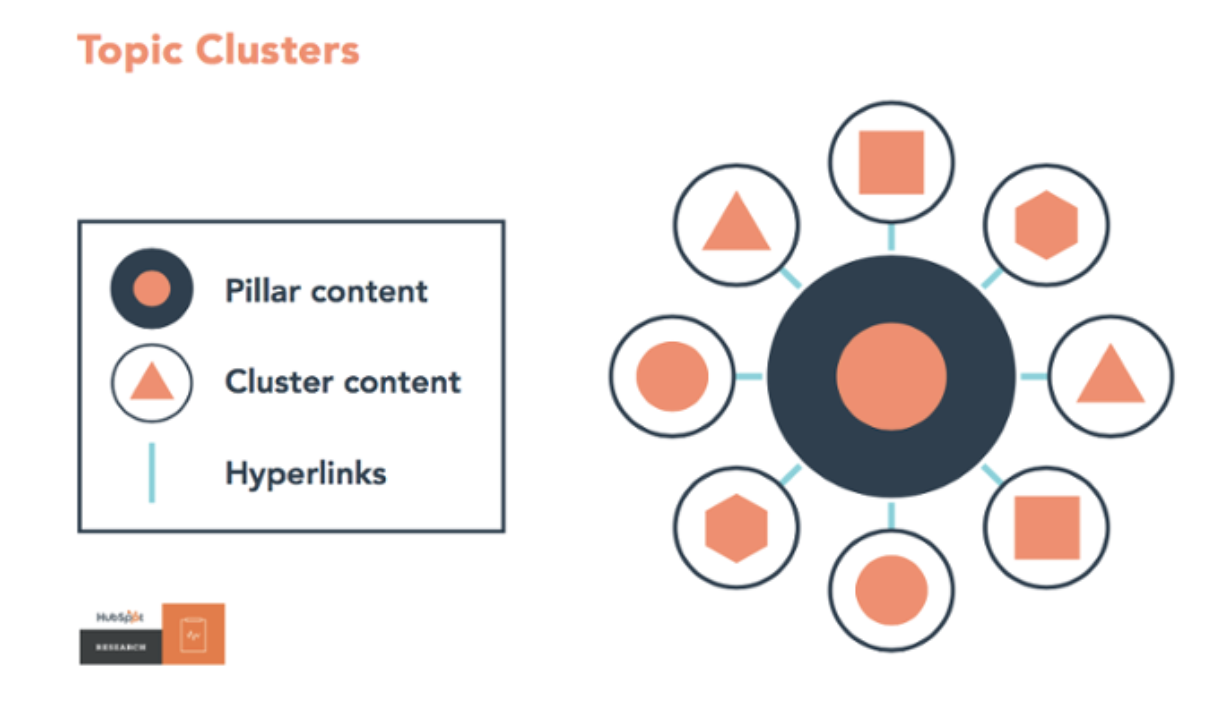 Pillar pages are purely educational; they're not intended to drive direct sales. Instead pillar pages give readers access to all the information they could possibly need on a given subject through high-level writing on the subject found on the page and links out for further reading. As such, they're a great example of content writing.
Copywriting vs Content Writing: Which Is Right for You?
When it comes to choosing between copy and content writing, the "right" decision depends on your target audience's position in the so-called marketing funnel.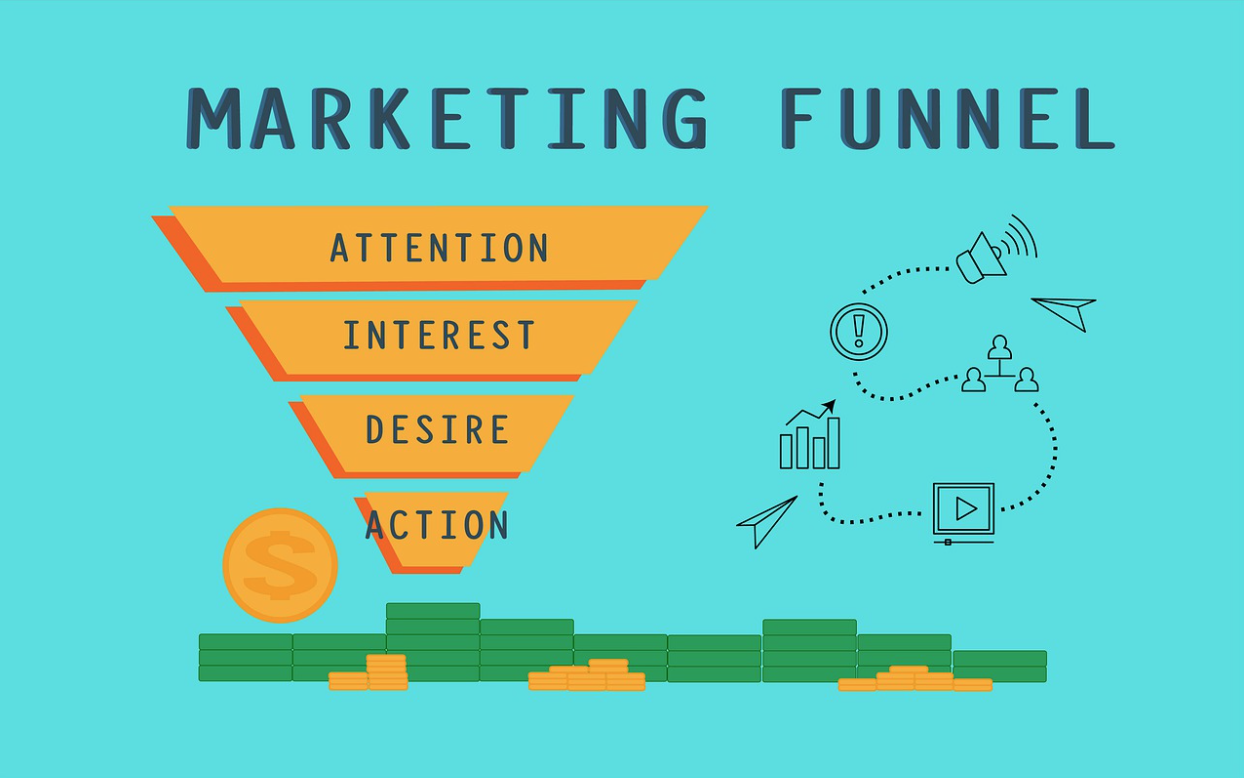 Generally speaking, copywriting thrives at the very top and bottom of the funnel. Ad copy and SEO landing pages grab the attention of new audiences, while things like ecommerce emails and sales pages aim to convert their desire into action.
On the other hand, content writing shines in the middle of the marketing funnel. Content targeting long-tail SEO keywords is fantastic for bringing in audiences who understand a little about the challenge they're facing and are looking for a way to fix it; while thought leadership, case studies, and product explainers help to demonstrate your credentials and position your product as the answer to all their problems.
To be clear, copywriting vs content writing isn't actually a competition.
One isn't objectively "better" than the other.
Rather, each has its specific uses and plays an important role in achieving your overall business and marketing goals.
Whether you need persuasive copy, engaging content, or a little from column "A" and a little from column "B", Content Conquered can help. Find out more today!