The "consumerization" of healthcare in the US is far from a new trend. But it's having an increasingly significant impact on the way patients access information about healthcare, treatment options, and potential providers.
This requires a marketing rethink from hospital groups and health systems. 
Once upon a time, it was fine to rely on comparatively "unsophisticated" methods — like print ads, billboards, and direct mail — to reach your target audience. 
Today, that just won't cut it. 
Consumers are no longer satisfied to play a passive role in the healthcare process. They're prepared to research their options through digital channels and if you're not marketing via those channels, you risk being left behind.
In this article, we're going to dig further into why content marketing for hospitals and health systems is so important. We'll also share five of our favorite hospital-specific content marketing best practices…
Create rich content targeting the medical conditions and health concerns you treat

Dedicate time to ensure your content marketing assets remain up to date and relevant

Develop a digital asset management structure to organize your content assets

Highlight your commitment to good causes and how you support them

Give your hospital a "human face" for people and patients to connect to 
…and take a look at a couple real-world examples of content marketing for hospitals done right to inspire your next campaign.
Why Is Content Marketing Important for Hospitals?
The internet offers us access to a vast catalog of health-related information. And while not all of it is reliable or useful, it's hardly surprising that a growing number of patients are tapping into it.
This isn't just opinion; there's plenty of evidence to back it up.
For starters, researchers at the University of Pennsylvania School of Medicine analyzed consenting patients' Google search histories and compared them to their electronic health records. The study revealed that health-related searches doubled in the week before patients visited an emergency department.
Meanwhile, a survey from Patients Like Me discovered widespread use of search engines like Google and Bing to access health information:
39% of patients use search engines to search for reliable health information

23% use search engines to evaluate new treatment options 

29% use search engines to access information on medication side-effects
Perhaps most significantly of all, healthcare experience management company Press Ganey found that over half (51.1%) of patients turn to the web when searching for a new primary care provider. In comparison, just one-quarter seek referrals from a different healthcare provider, and only 1 in 25 go via a benefits or insurance manager.
Press Ganey's survey also revealed that consumers leverage an average of 2.7 different online resources during their care-seeking journeys, with search engines proving comfortably the most popular option.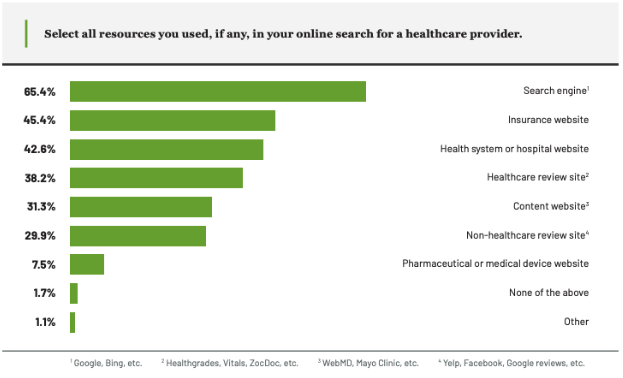 It's also important to note that "health system or hospital website" ranks at #3 on the list, with over two-fifths of consumers visiting them in their search for a healthcare provider.
What does this tell us?
It's simple: Patients are actively searching for the right hospital for them. While many are restricted to a smaller selection of hospitals based on their insurance plan, they still rely on multiple digital resources to find the necessary information to make their final choice.
Even if your hospital isn't an option for every patient, a strategic marketing campaign can ensure that patients who do qualify choose your hospital every time.
That's where content marketing comes in.
Google's search engine algorithm is based on a number of factors, including how fast your page loads, how relevant and up to date your content is, and how many backlinks your content receives. For instance, when looking at backlinks, the more high-quality external sites that link to you, the better you'll rank in search.
And what's the most effective way to build more backlinks, satisfy search intent and rank higher on Google? Publish amazing content.
To help you get it right, let's dive into a few tips and best practices to deliver effective content marketing for hospitals.
Content Marketing for Hospitals: 5 Best Practices 
1. Create Rich Content Targeting Medical Conditions & Health Concerns
The more conditions you treat, the more opportunities you have to create rich content that ranks strongly in search. There are two main benefits to creating content on health conditions and concerns:
Authoritative content positions you as a thought leader, helping you build trust

Ranking high up in Google helps you reach patients suffering from those conditions
Let's take a look at a health system that's already benefiting from this content creation. 
Ascension Health has a resource center offering information on hundreds of diseases, conditions, and symptoms. Each page contains links to multiple related conditions.
Their page on cancer care, for example, starts with a brief explanation of how they look after cancer patients: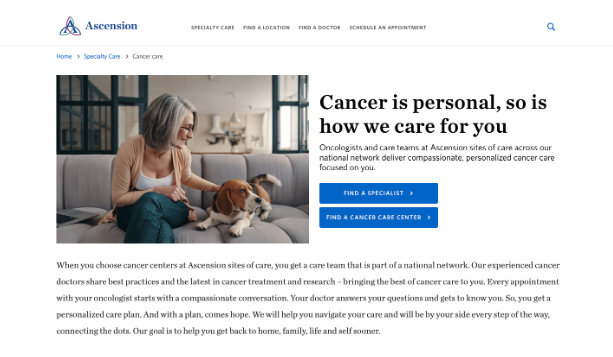 It's structured in a user-friendly manner — with regular subheadings and bullet points breaking up the text and making it easier to navigate — and is written in easy-to-understand language. This is a smart move, because if a patient is worried they might have skin cancer, they don't want to spend time scrolling past endless columns of irrelevant or impenetrable text.
Not only that, but the page also contains rich content in the form of a video explaining what to expect before and after surgery.

But this page isn't purely informational. Every piece of content on your website should play a specific part in the ultimate path to conversion.
To that end, Ascension incorporated prominent above-the-fold calls to action prompting viewers to search for specialists or care centers in their area:

Key Actions
List all the different health conditions and concerns you treat. Categorize them into groups and subgroups (e.g. Cancer > Skin Cancer > Melanoma) and create rich content for each page.

Make your content "actionable" by adding calls to action throughout the page copy, where appropriate.
2. Dedicate Resources to Keeping Content Up to Date
Content creation is rarely a one-and-done exercise — particularly in fast-moving fields like healthcare.
The information you publish can become outdated quickly as science changes and new treatments are developed. If your website contains inaccurate or antiquated information, you risk seriously eroding trust in your organization.
For that reason, it's vital you dedicate time and resources to reviewing and updating existing content assets. 
To make matters even more complicated, search engine algorithms change all the time, often causing massive fluctuations in rankings. You might be topping the search results one day, then find yourself dropping off page #1 the next.
That means you also need to invest in updating content for search.
To demonstrate our point, let's take another look at Mayo Clinic's skin cancer content hub. According to Ahrefs, it's ranked around position #1 for the term "skin cancer" for much of the past five years…

…but it took a while to reach those lofty highs. When it was first published back in 2017, it hovered around the middle of page #2, and even (briefly) dropped down to page #3.
So what's changed in all that time?
Lots of things. For instance, the Wayback Machine shows us the page's above-the-fold content originally looked like this: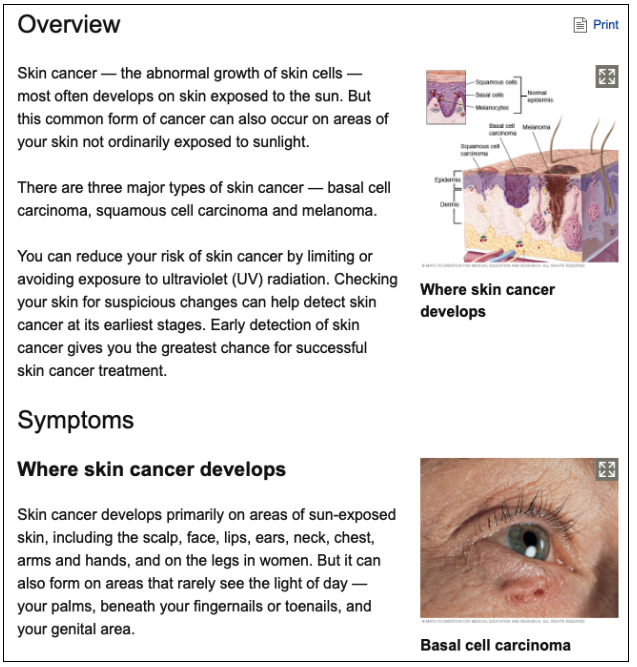 But it's since been updated to add a series of links to common skin cancer types above the "Symptoms" section: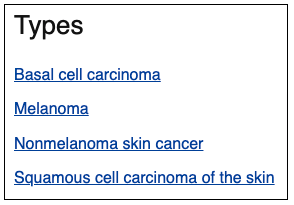 Each of those subpages links back to the main skin cancer page, thereby increasing its authority and helping it perform stronger in search.
On its own, that minor update likely had little impact on performance. But making regular improvements and optimizations over months and years can massively benefit your rankings. Indeed, one in five marketers believe updating content is the best way to boost engagement, leads, and conversions.
Key Actions
Perform a content audit to identify all your marketing assets containing time-sensitive information, like research, statistics, and medical information.

Categorize content by update frequency. Is the information on a page likely to be outdated in a week, a month, or a year?

Similarly, prioritize optimizing key traffic-driving pages to help them rank as strongly as possible.

Regularly review healthcare news and developments to ensure you have the latest information available.
3. Develop a Digital Asset Management Structure
There's one downside to creating lots of content: it inevitably requires a lot of management.
This is a problem across all industries, with research from Asana revealing that over 60% of the average marketer's time is spent on low-value tasks (like searching for relevant assets among a vast catalog of content). 
But it's not hard to see why this is a particular issue for hospitals and health systems.
Let's say you take a leaf from Ascension Health's book and create a page for every condition and health concern you cover. You might have 200+ of those pages — and, like Ascension, each might link to half-a-dozen subpages.
Pretty quickly, you're looking at thousands of pages. And that's before you've even considered other content assets like ebooks, guides, and blog posts.
Also, consider all the different ways content can be stored. Individual team members might save documents to local drives; assets can be shared using Google Drive, Dropbox, and Adobe Cloud; restricted server locations might contain content you've never even seen before.
That's why you need to invest in a digital asset management (DAM) system to store, share, and organize your ever-growing content library.
DAM solutions use metadata to quickly and easily identify content that matches specific keywords or attributes. For instance, you might use it to pull up every ebook you've ever created or search for relevant video assets to support your next blog article.
Key Actions
The best digital asset management platform will vary from one organization to another. Before choosing your DAM software, draw up a list of must-haves, such as keyword tagging, cloud storage, and file previews.

Once you've chosen a DAM system, train your team to ensure consistent classification across similar types of content assets.
4. Highlight Your Commitment to Good Causes
Gone are the days when brands could simply speak about themselves and ignore what's going on in the wider world.
Today, consumers expect you to discuss the issues that matter to them. And they want you to back up your words with meaningful action.
Environmentalism is a key issue for many of us. According to a NielsenIQ survey, almost half of consumers want brands to take the lead on creating sustainable change, while research from Ipsos found that one-third have researched organizations to ensure they meet their sustainability commitments.
So when CommonSpirit Health announced an industry-leading pledge to achieve net-zero greenhouse gas emissions by 2040, they didn't just issue a press release and move on to the next campaign. 
Instead, they built a whole website — Hello Humankindness — to detail their fight for climate action and health justice.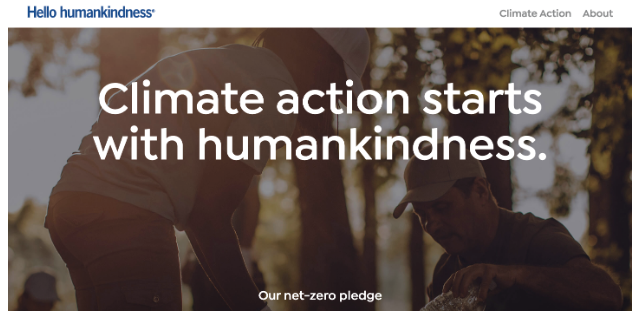 The site is packed with rich content assets, including videos and imagery: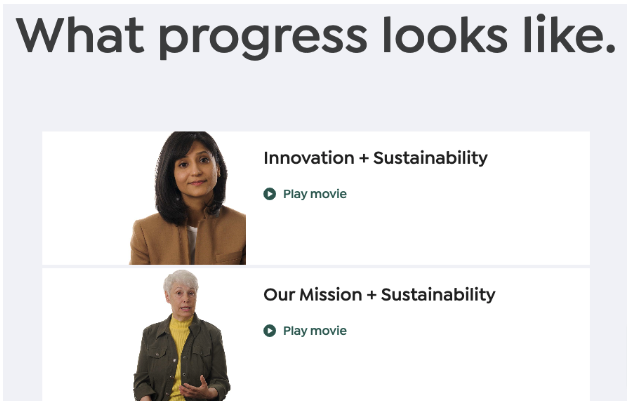 Most importantly, CommonSpirit added substance to their words by explaining how they intend to reach their ambitious target:

Key Actions
Identify good causes that are relevant to your brand and audience. If you aren't sure, survey your patients and their families to understand the types of causes they'd like you to support.

Make meaningful commitments toward your cause, create an action plan and share these with your audience.

Issue regular progress reports to demonstrate how you're putting your words into action.
5. Give Your Hospital a "Human Face"
It's near-impossible for consumers to build a meaningful connection with a faceless brand.
So it's in your best interest to give your organization a human face — a real person they can connect with. Not only does this make your brand more personable and engaging, but it demonstrates first-hand experience, a key ranking factor in Google's latest EEAT update. 
One of the best ways to share that experience? Starting a blog.
Unlike most industries, blogs are relatively uncommon on hospital and health system websites.
That makes Baylor Scott & White something of an outlier. Not only do they publish regular blog content — they have a whole website dedicated to their blog, Scrubbing In.

Whereas a lot of health-related blogs are full of jargon and scary-sounding statistics, Scrubbing In is all about real, relatable human stories, like this one: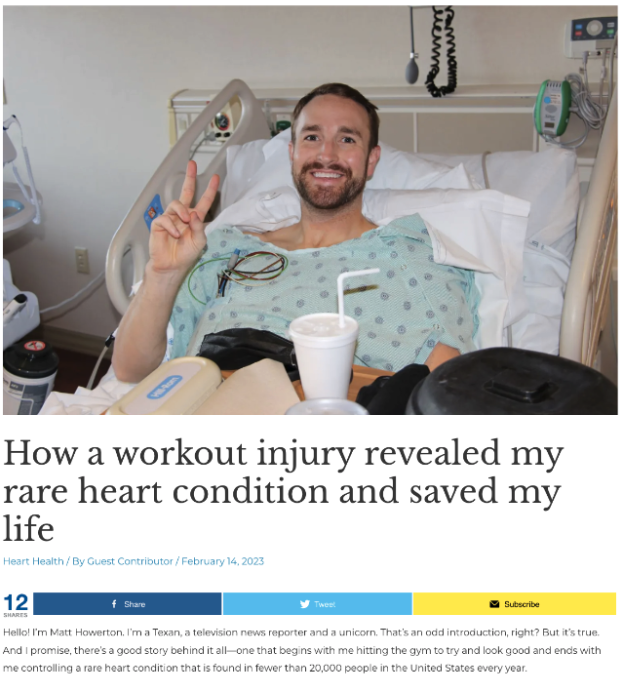 This focus on storytelling is a smart play, with research from Google and Talk Shoppe revealing that 94% of consumers believe good content tells a good story.
Scrubbing In also appears to be delivering meaningful results. According to Ahrefs, the site ranks for over 45,000 keywords and brings in approximately 30,500 organic visits a month — equivalent to about 10% of traffic on the main Baylor Scott & White website.

Key Actions
Choose a topic and purpose for your blog. Is it about showing your audience the realities of daily life at your hospital? Sharing patient success stories? Centering key figures within your organization?

Decide who is responsible for managing, commissioning, and producing content for the blog.

Ensure they have the bandwidth to handle all the extra work. The average

blog post length

runs to 2,500+ words. So whoever's in charge of your blog must have the time and resources to get everything done.

Remember to keep people-centered, first-hand experience content top of mine so anyone visiting your blog is able to connect with the "human face" of your hospital. 
Content marketing for hospitals is difficult and time-consuming. But it doesn't have to be, because we can help!
Get in touch with Content Conquered today to see how we can support you by creating high-quality, search-friendly content.