STREAMLINE CONTENT CREATION WITH AN ARTICLE BRIEF TEMPLATE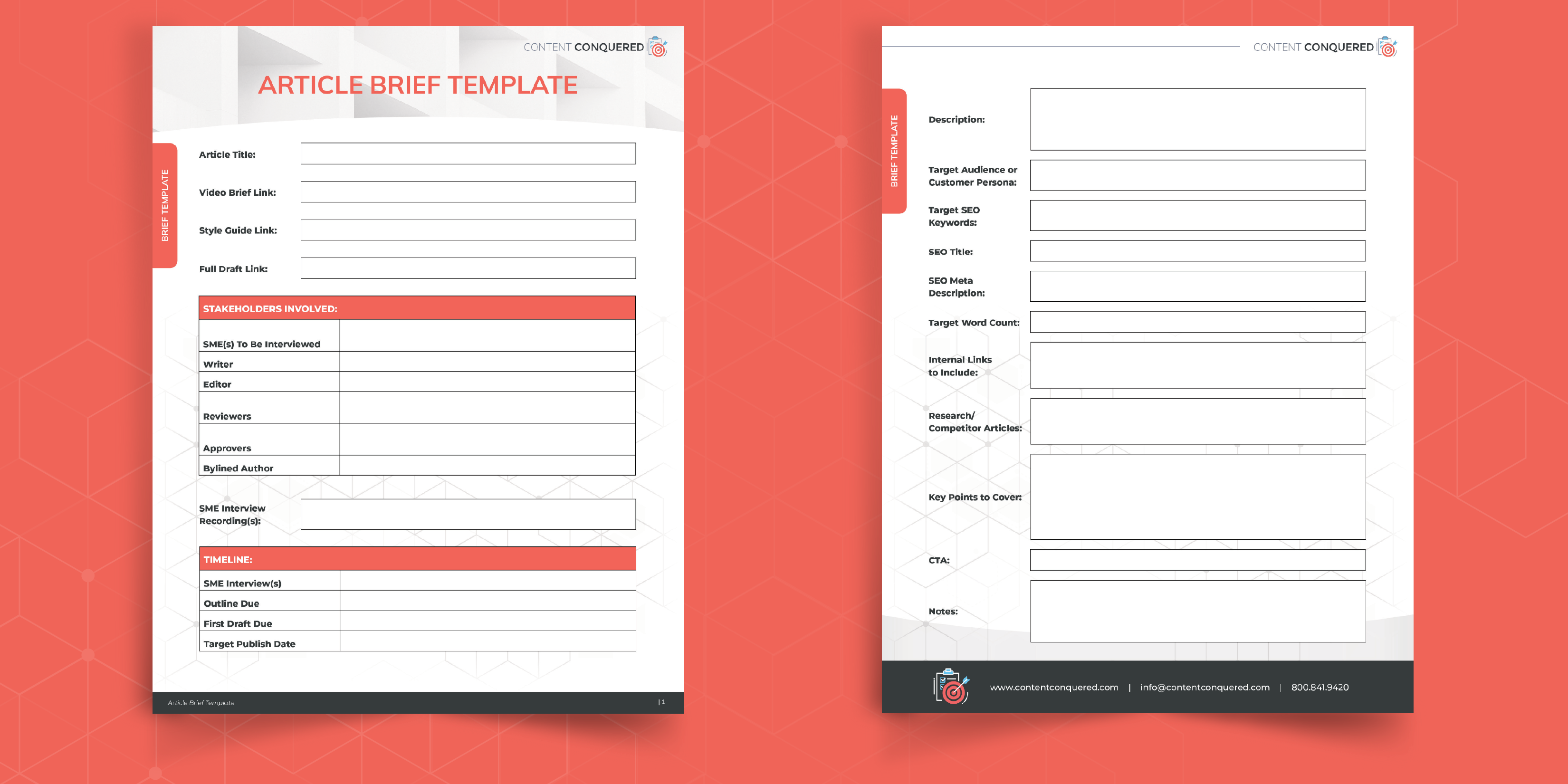 Great content doesn't happen by chance. It takes planning and preparation to craft articles people actually want to read (and to ensure resources aren't wasted on underbaked ideas).
Over time, we've refined this process into an article brief template that allows us to capture key information and communicate it effectively to our writers. Grab your free copy below to start planning content more effectively!
Why Use an Article Brief Template?
Anyone can sit down and write an article, whether or not they use a defined brief. But as we've learned, using a formal brief template has a number of benefits:
It forces you to think through your ideas up front.

Working through the different sections of our brief makes us think through who we're writing for and what we want to say to them. More than once, this initial preparatory work has caused us to rethink an article idea that initially sounded good, but that didn't hold up to further scrutiny. In this way, using an article brief also saves you the resources that would have gone into producing content that's likely to underperform.

It supports content creation at scale

. If you're only managing one writer or a handful of articles, you may not need a formal briefing process. But once your content program starts to grow, establishing a structured workflow for capturing ideas and sharing information becomes crucial to keep things from falling through the cracks.

It ensures brand consistency.

Readers like consistency, and if you've taken the time to

define a brand style or tone of voice (TOV) guide

, you need to enforce it. If you have multiple writers working for you, making sure they're all given the same types of information—and that they're all held to the same style guide shared in the brief—keeps your content from becoming too disjointed. 
Content Conquered's Article Brief Template
Grab your free fillable copy of our article brief template here, and then read on for a description of how we use each field and section in our article creation process.
Top-Level Information
The first section of the brief includes high-level information and links to resources the writer will need to work on the article.
Article Title:

List your article's working title.
Video Brief Link:

Often, we'll record a video walkthrough of our brief using Loom to give writers a bit more background information or context. If so, we'll add the shareable video link to the brief here.
Style Guide Link:

If you're expecting your writer to follow a specific style guide, link to it here.
Full Draft Link:

Once a draft version of the article is written, add a link to it in this section.
Stakeholders
Next, we define who will be involved in the article creation process to ensure that all stages of the production process are accounted for. Depending on the complexity of the article, we may not need each type of stakeholder.
SME(s) to Be Interviewed

: If our team or our writers will be interviewing internal or external subject matter experts (SMEs) to add color to the article, we'll list their names here.
Writer:

The primary writer who will be drafting the article.
Editor:

The editor who will be responsible for proofreading the article drafts.
Reviewers:

Anyone who will review the content outside of the writer and editor. This might include SMEs or other internal stakeholders who have input into the content creation process.
Approvers:

The person(s) who will be responsible for giving final approval to take the article live.
Bylined Author:

The stakeholder who will be named publicly as the author of the article. Since, in our case, this usually isn't the writer, it's helpful for us to capture this information—especially if we're responsible for publishing the content to the client's website (our Managed Content Service includes CMS uploading and publishing).
SME Interview Recording(s):

We use Zoom and Otter to record SME interviews; here, we'll include links to the Otter recordings so that our writers can both listen to the recording and view the transcript.
Timeline
In this section, we capture important dates to keep everyone on schedule. We can work forward from an initial interview or outline delivery date to calculate a possible target publish date, or we can work backward from a target publish date to determine when other stages need to be completed.
SME Interview(s):

If we'll be conducting interviews, knowing when they'll occur informs when outlines and drafts can be completed.
Outline Due:

We typically aim to have an outline completed within 48 hours of receiving all the materials and inputs needed to start work.
First Draft Due:

We're generally able to complete first drafts within a week of receiving an outline approval. That said, both the due dates for our first draft and for any subsequent drafts are influenced by when we receive that approval and the complexity of the piece.
Target Publish Date:

Tracking target publish dates gives us a sense of when individual steps need to be completed to stay on track, though they can also be flexible based on communication delays or how much back-and-forth is needed to complete the article.
Content
Finally, we get to the meat of the brief: the content specifications.
Description:

In this section, we'll include a few sentences on the purpose of the article and what it needs to cover.
Target Audience or Customer Persona:

If a client has defined audience or customer personas, we'll capture them here to help the writer understand who they're writing for.
Target SEO Keywords:

If we have a target keyword (or a few target keywords), we'll list them here to keep them front and center for the writer.
SEO Title:

If the article will use a different title for the SEO title tag than the working title listed earlier on, we'll capture it here.
SEO Meta Description:

Here, we'll write out the SEO meta description tag (though, often, this is added after the article is written).
Target Word Count:

If there is a

particular word count

we'd like the writer to aim for, we'll add it here.
Internal Links to Include:

Similarly, if we'd like the writer to link to specific internal pages for SEO or CRO purposes, we can list them in this section.
Research/Competitor Articles:

Depending on the complexity of the article, we may add a few research links or links to competitor articles to give the writer a sense of the kind of content we'd like to create. However, if the article will be relatively straightforward, we may leave it up to the writer to complete their own research. 
Key Points to Cover:

Here, we'll define anything specific we want the writer to touch on in the article, such as points our clients have mentioned or anything that's come up in our own research on the topic.
CTA:

If we have a

specific CTA

in mind for the article—such as a 'contact us' request or a link to a similar resource—we'll add it here.

Notes:

This final section serves as our 'catch-all' for any other information that hasn't fit into a previous area, but that we believe the writer needs to know to be successful with the article.
Creating Your Own Article Brief Template
Having said all of that, it's worth noting that this brief template has been developed for our purposes at Content Conquered, based on the way we work. But that doesn't mean it's set in stone.
If you aren't yet using an article brief template, grab ours and experiment with it. But once you've had a chance to play around with it—or if you're already using an established template—use it as the foundation to create your own template that's tailored to your production needs.
And let us know what changes you make. We're always refining our own processes, so if you've added a new field or section, or if you've adapted our template to a different content type, we'd love to hear about it. Reach out to share your wins or with any feedback you have on our template!