Startup marketing is all about getting the greatest possible impact from the limited resources at your fingertips.
While big, established businesses have large teams dedicated to individual marketing channels, two in five startups don't even have a digital marketing strategy, according to research from Zorka Agency and Solyanka.
That's hardly surprising. For a lot of startups, it's simply not practical to have a dedicated marketing function. Often, marketing will be a collaborative effort between the company founder — who has a million-and-one other priorities — and perhaps an intern or junior employee, who lacks the experience (and authority) to make key strategic decisions.
So how do you get the biggest bang from your marketing buck?
Content marketing for startups. Zorka and Solyanka's survey named it as the most popular startup digital marketing tactic, and for good reason.
In this article, we're going to look at three examples of successful content marketing strategies for startups:
Create thought leadership to compete with established brands

Communicate your value proposition through product comparisons

Overcome audience unfamiliarity with customer reviews
Use these best practices to build your brand, grow your customer base, and turbocharge your revenue.
3 Content Marketing Strategies for Startups
1. Create Thought Leadership to Compete With Established Brands
Let's be honest.
Unless you've created a totally new product — something the world has never seen before — you're likely going to find yourself competing with a bunch of big, well-established brands.
This is one of the biggest marketing challenges for startups. If there are one or two big players in your niche, a lot of potential customers are simply going to head straight for those brands. Your product might be better suited to their needs, but you'll never get the chance to tell them.
So what do you do?
In our experience, the best solution is to invest in thought leadership content.
There's lots of research to support this approach. 
According to Edelman, three-fifths of buyers say thought leadership helps unknown brands build credibility in new product categories, while half have discovered and bought from challenger brands after consuming thought leadership content.
What's more, LinkedIn research revealed that decision makers are spending more and more time reading thought leadership content, with most doing so for at least one hour a week. So it's hardly surprising that the same study found more than half of marketers are increasing the proposition of thought leadership in their content strategies.
One startup that's clearly aware of this is Jerry. As a startup in the car insurance comparison market, Jerry is up against some huge names. So they use thought leadership as a point of difference.
Jerry regularly publishes articles based on original data that speak to driving-related trends and pain points, such as a study into how Android users are safer drivers than iPhone owners.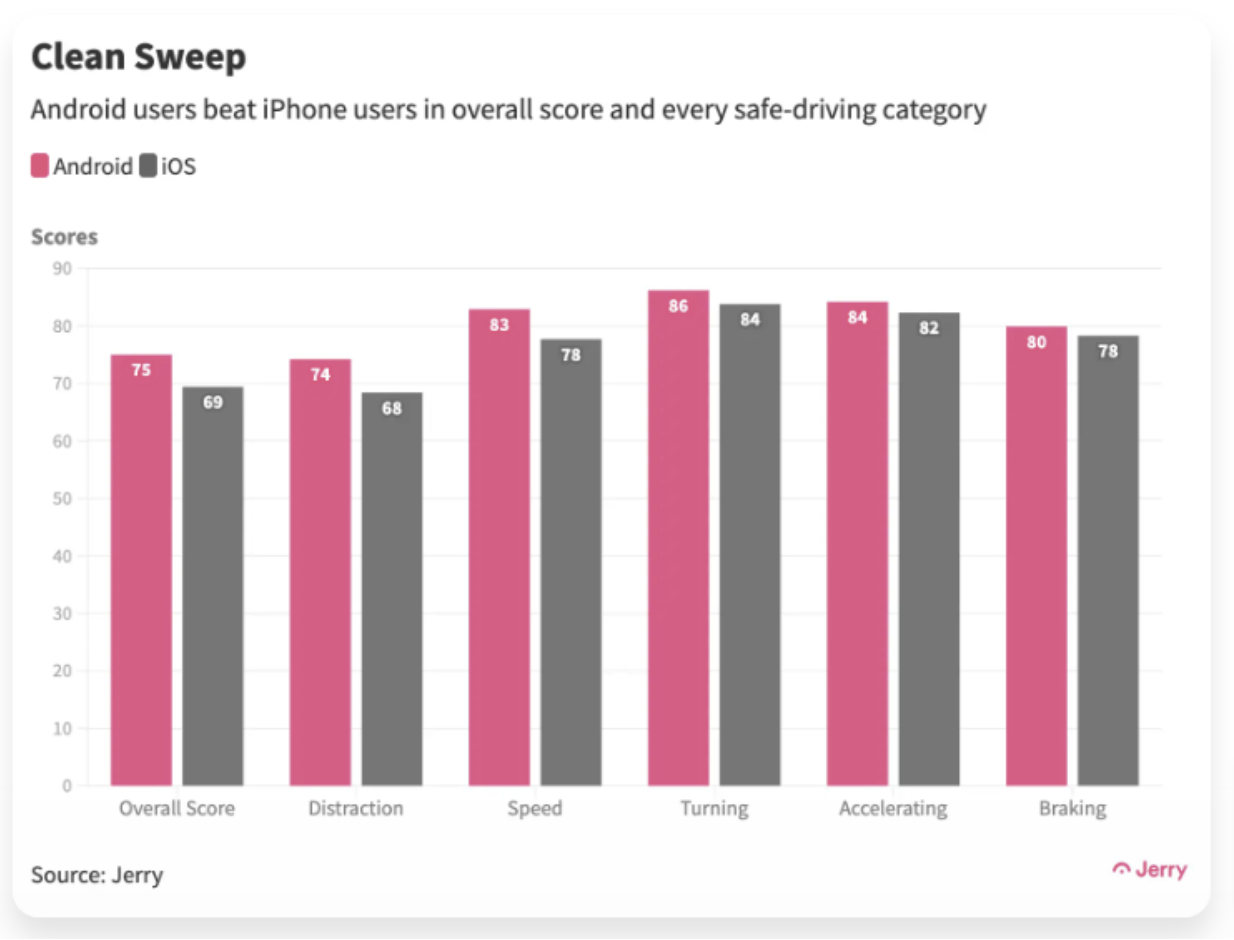 Not only did this piece of content position Jerry as an authority in their niche, but it also generated a ton of awareness, winning the brand coverage on high-profile sites like:
Key Actions
Brainstorm thought leadership themes by digging into audience pain points. What problems are your audience trying to solve when searching for a product like yours?

Create

thought leadership blog posts

based on those themes, ideally leveraging unique insights and/or data to position your company as genuine subject matter experts.
2. Communicate Your Value Proposition Through Product Comparisons
Another big marketing challenge for startups is explaining your value proposition — that is, the benefits provided by your product and the reasons a potential customer should choose it over a rival offering.
To be clear, this isn't solely a matter of clearly conveying your value. Sure, that's difficult in its own right. But it's arguably an even bigger struggle to get that messaging in front of your audience.
After all, you're a startup. The odds are the vast majority of buyers in your niche have never heard of you — and you're unlikely to outrank your competitors for the highest-value search terms, or outbid them in a PPC auction.
One solution is to create comparison content that pits your product against your bigger, better-known rivals. 
ClickUp is a big fan of this tactic. 
As a startup in the productivity software space, ClickUp is competing with the likes of Asana, Monday, and Trello — all brands that are well-known even outside their niche.
ClickUp uses this to its advantage by creating content targeting the term "[high-profile product] alternatives", such as its Asana comparison guide.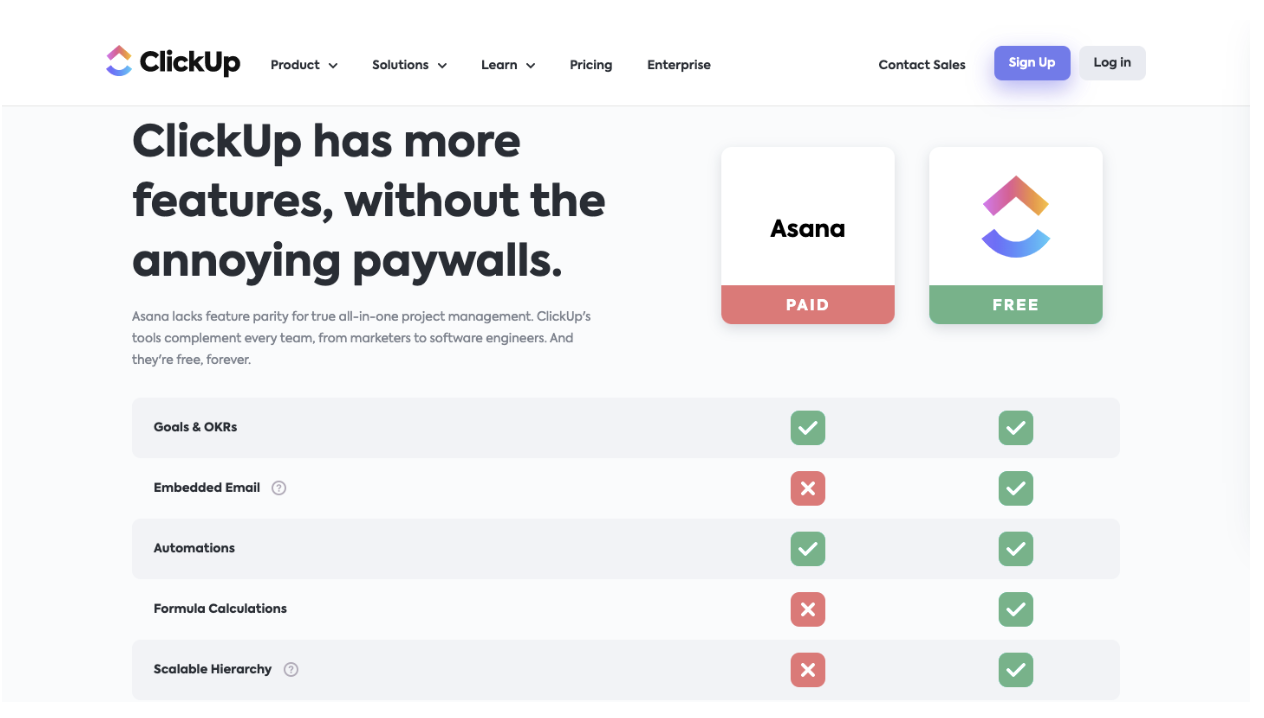 This is a smart approach, because it uses Asana's massive brand to bring traffic to its own website. 
Once people land on the site, ClickUp has the perfect opportunity to communicate their value proposition, while also spelling out all the ways in which they're better than Asana (in their opinion!).
Key Actions
Identify 3-5 of your biggest, highest-profile competitors.

Create content that compares your product to theirs, targeting a keyword like "[competitor name] alternatives."

Use this content to clearly spell out your value proposition in a way that would appeal to people searching for alternatives to your competitor's product.
3. Overcome Audience Unfamiliarity With Customer Reviews
So you've managed to tempt a potential customer away from your bigger rivals.
Congratulations!
But it's time for an important reality check. The fact is, however competitive your pricing and innovative your product, a lot of those would-be buyers still won't buy from you.
Why? Because they don't trust you. And why should they? Didn't your parents ever tell you to stay away from strangers?
When it comes to winning over a skeptical audience, reviews are your best friend.
According to Trustpilot, a staggering 93% of consumers read reviews before making an online purchase from a company they've never heard of, while three-fifths will perform a search for an unfamiliar company before buying. Few are likely to buy if they see a bunch of negative reviews on the search engine results page.
Direct-to-consumer bedding startup Brooklinen is well aware of this. Scroll down on their homepage and before you even get to their best-selling products, you're hit with a banner highlighting all the customer feedback they've captured, plus a call to action urging you to read some of those reviews yourself: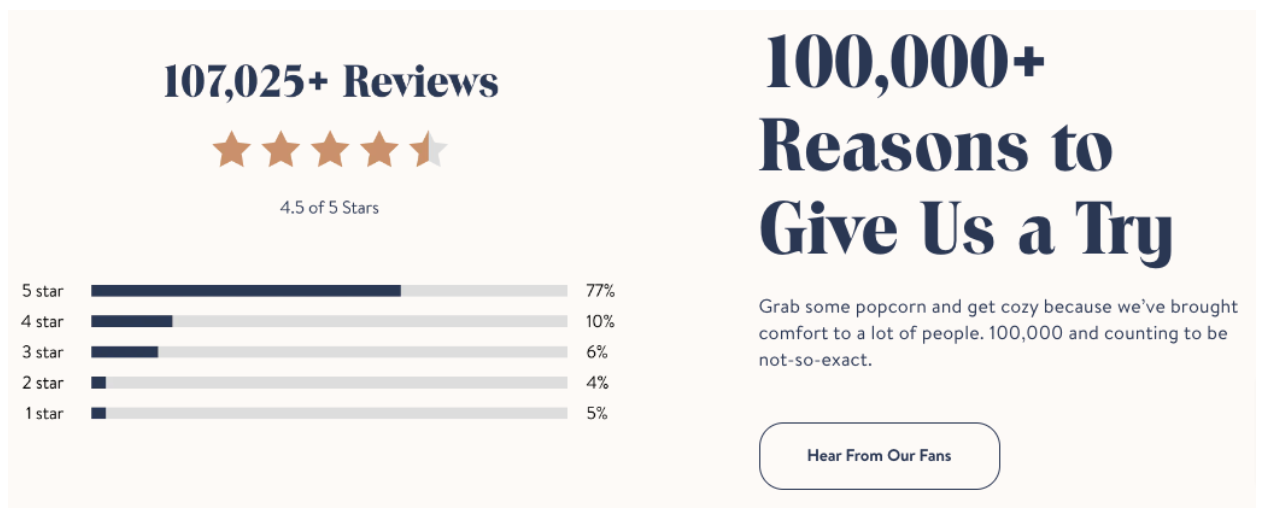 Click through and you're presented with a huge list of reviews, each incorporating:
A star rating

The customer's name

The product they bought

A sentence or two of feedback

The date it was posted

That last point is important, because 73% of buyers only pay attention to reviews written in the last month.
Pro tip: Want to generate more reviews? (You definitely should.) Every time someone buys from you, follow up a day or two later with a review request email and a link to your review platform of choice. Make it as easy as possible for your customers to become your biggest fans. 
Key Actions
Ask existing customers to review your products. If you don't have a review request process in place, implement one. 

Display the results prominently on your homepage, category pages, and product pages to build trust in potential customers who don't know your brand.
Content marketing for startups is tough. Don't have the resources to do it all yourself? Content Conquered can help! 
Get in touch with us today to see how we can help you communicate your value proposition, position yourself as a thought leader, and grow your brand.