What are the biggest challenges facing your law firm today?
If you're anything like most of our clients, we bet it's one of these things (or maybe a combination of all three):
Winning new business

Retaining (and upselling) existing clients

Attracting and retaining talent
Content marketing can help with every one of those challenges.
Yet many law firms have struggled to leverage the benefits, with just one in four law firm marketers saying they have a documented content strategy.
With that in mind, in this article, we're going to discuss 3 best practices — accompanied by real-world examples — on content marketing for law firms:
Best practice #1: Write for your audience by addressing their specific pain points and goals

Best practice #2: Refresh existing content to ensure accuracy and boost SEO

Best practice #3: Use LinkedIn ads to reach new B2B audiences
3 Content Marketing Best Practices for Law Firms
1. Write for Your Audience: Focus on Expertise or Focus on Price
Writing for your audience might sound obvious, but it's more important in content marketing for law firms than in a lot of other industries.
Why?
Because there are effectively two types of law firms: B2B and B2C.
B2B firms are targeting corporate clients, while B2C lawyers are striving to win business from consumers. Unsurprisingly, those two audiences have extremely different goals and priorities.
To give just one example, they have very different approaches to evaluating a law firm.
According to research from Wolters Kluwer, corporate legal departments cited the following as their top three criteria for choosing a law firm partner:
Ability to use technology to improve productivity/efficiency and collaboration/processes

Ability to specialize

Ability to understand client needs and partner with clients
In other words, prospective clients in the high-paying corporate world are far more interested in the value you offer than the money you charge. They are looking for a law firm that can offer industry-specific expertise and experience. 
To that end, corporate law firm White & Case goes out of its way to explain the industries it works with, its role in supporting clients in those industries, and its experience in doing so:

But things are very different in the world of B2C law firms, with Martindale-Avvo discovering that price is the number one consideration among consumers searching for a lawyer, cited by 68% of respondents.
Not only that, but another price-related concern — whether the cost would be charged by the hour or as a contingency or fixed fee — was cited as a key factor by 51% of consumers.
So it's surely no coincidence that when you land on the homepage of New York-based personal injury lawyer Rosenbaum & Rosenbaum, the word "free" appears twice above the fold: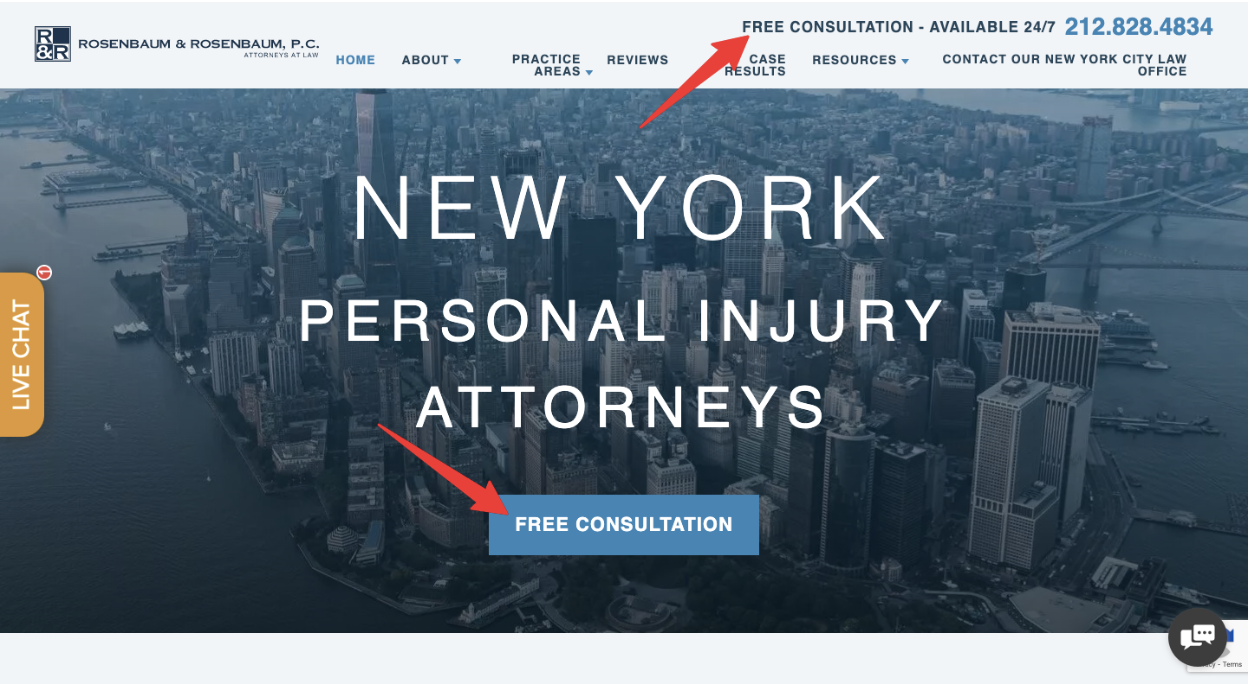 Of course, just because B2B corporate clients are more focused on industry expertise and B2C consumers are more focused on price doesn't mean that your law firm should ignore everything else. Price is not totally irrelevant to corporate clients and consumers will not always choose the cheapest lawyer, regardless of experience or skill.
But if you don't take the time to understand the motivations of your specific audience, and address them, your content marketing efforts are never going to work.
Key Actions
Profile your ideal client. Who are they? What industries do they work in? Why are they searching for a law firm? And what would persuade them to choose you over a rival?

For B2B law firms: Highlight your areas of expertise. Create specific landing pages for each industry you've worked with, including examples of past experience.

For B2C law firms: Focus on pricing. If you offer any complimentary services, feature them prominently on your website. Consider adding transparency about costs with a detailed pricing page. 
2. Regularly Review and Update Your Content
We don't have to tell you that the legal sector moves fast.
Or that changes to rules and regulations can have a massive impact on your clients.
For that reason, it's absolutely essential that you treat content creation as an ongoing process.
In other words, don't just write a blog post, publish it, and forget all about it. Instead, take the time to refresh previously published content to ensure it's still 100% relevant, useful, and accurate.
Consider the world of data protection. Laws around data and privacy are regularly updated, so it stands to reason that a law firm working in this space would want to publish a guide to the latest data protection requirements for corporations.
That guide might look a bit like ICLG's Data Protection Laws and Regulations 2021 – 2022. 
Interestingly, that guide was originally published back in 2018.
The wonders of The Wayback Machine allow us to see what the page originally looked like and compare it to the version that exists today.
As you can probably guess, there have been some pretty significant changes to data protection laws in the US over the past four years.
For instance, here's the original answer from 2018 to a question on whether businesses are required to register with data protection authorities:

And here's a totally different answer on the current page:

There's another point to discuss here too.
The fact is, updating your old content isn't just about ensuring it's still relevant. It can also help your search engine optimization efforts, because Google loves fresh content.
A new web page can be given a "freshness" score, often based on when Google first learns of its existence.
As demonstrated by this illustration from Moz, that score will degrade over time, thereby making the page less relevant for certain (timely) queries.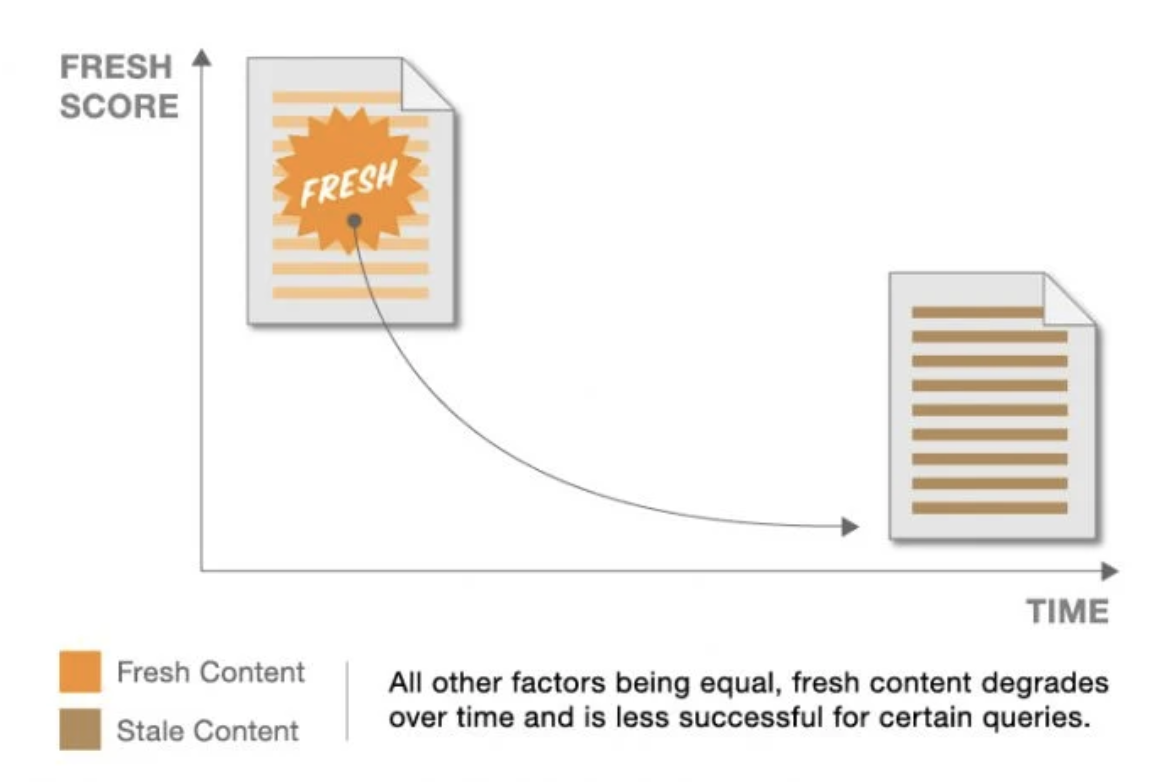 So by consistently updating otherwise-outdated content, you not only ensure that you're delivering the maximum value to your audience — you also stand to generate more search traffic.
Key Actions
Conduct regular (e.g. quarterly, half-yearly, annual) reviews to identify opportunities to refresh existing content.

Once you've found something that needs updating, add it to your content calendar.

Consider adding the date a page was updated to the top of the page so visitors can be assured they're accessing current information. 
3. Generate More B2B Leads Via Paid Social
Looking to generate more B2B leads and attract more clients?
You're not the only one.
Particularly among smaller, less well-known law firms, winning new business has always been a challenge. 
Indeed, per its 2020 Report on the State of US Small Law Firms, Thomson Reuters discovered that acquiring new clients was the most frequently cited example of a significant challenge, with 26% of respondents referencing it.
LinkedIn — home to 63 million decision makers — could be the perfect solution, provided you've got a little budget to play with.
According to LinkedIn's own figures, the platform is responsible for an astonishing 80% of all B2B marketing leads generated via social media, so if you're not advertising on LinkedIn already, you probably should be.
Latham & Watkins is one law firm that's already woken up to the benefits of LinkedIn advertising.
They regularly run ads that steer their audience toward valuable content assets. For instance, this recent advert…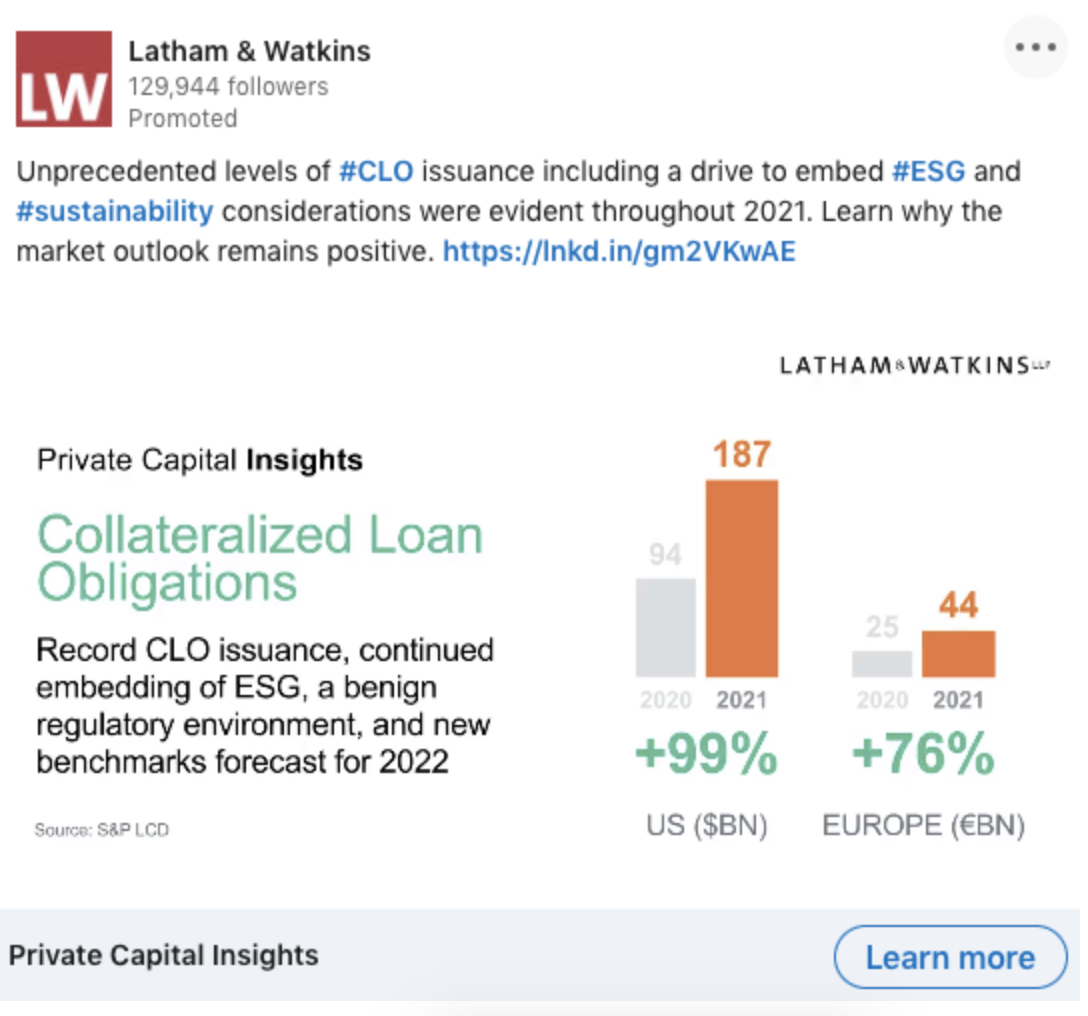 …directs users toward an in-depth report on market trends and developments affecting private capital investors.
Notice how the ad pulls out key statistics from the report? That makes the content sound a whole lot more authoritative. This clearly isn't just a bunch of uninformed opinions; it's weighty and well-researched.
It's also important to point out that this isn't just content for the sake of content; the report is designed to drive a specific action from readers.
To that end, the report finishes with a call to action prompting potential leads to click through to Latham's main private capital landing page:

After all, the last thing you want is to invest money in an ad campaign, only to generate zero sales or leads.
Key Actions
Identify a top-level subject that's of interest to your audience and turn it into a piece of content, like a blog post or explainer video.

Pick out a key stat or takeaway and place it front and center on your ad.

Include a call to action in your content, directing readers toward a key landing page or contact form.
Content marketing for law firms is a lot of work. Don't have the resources to do it all yourself? Content Conquered can help! 
Get in touch with us today to see how we can help you generate more leads and win more business.