Content marketing for higher education is tough.
According to the National Center for Education Statistics, there were a total of 3,982 degree-granting postsecondary institutions in the US as of the 2019-20 academic year.
Those colleges and universities find themselves competing to enroll close to 20 million postsecondary students.
To make matters even more complex, reaching prospective students isn't your only job as a higher education marketer (as we'll go on to discuss in the next section of this article).
So to make your life a little easier, we've compiled some of our favorite best practices and examples of content marketing for higher education, including:
Best practice #1: Help prospective students understand the costs of studying at your institution

Best practice #2: Use video content to target high school leavers

Best practice #3: Appeal to younger demographics by leveraging user-generated content

Best practice #4: Create personalized landing pages for different audience segments to boost conversion rates
But first, let's briefly discuss the importance of setting the right goals for your higher education marketing campaigns.
Defining Your Audiences & Setting Marketing Goals
Every organization, regardless of industry, serves a range of audiences.
SaaS companies might be targeting buyers across multiple verticals. E-commerce brands might be targeting Gen Zers and Millennials. Hospitality companies might be targeting solo travelers, couples, and families.
But when it comes to higher education, things get a little more complex.
In essence, you're targeting (at least) three audiences: prospective students (including high school leavers, mature students, and grad students), current students, and alumni.
The challenge stems from the fact that you're attempting to drive totally different actions from each of those broad audiences. You want:
Prospective students

to study at your institution

Current students

to remain at your institution (i.e. not dropping out or moving to a different school)

Alumni

to donate money to your institution
Before you move on to planning specific higher education content marketing strategies, you need to define who your various audiences are, as well as set specific goals.
What are they trying to achieve? How can you help? And what results are you hoping to deliver from each audience group?
4 Examples of Content Marketing for Higher Education
Figured out your audience and goals? Then let's dive into some of our favorite tips and examples of content marketing for higher education.
N.B. in this article, we'll be looking specifically at examples of content marketing for higher education that target prospective students.
1. Create Content Around Cost Of Study
Content marketing isn't just about luring people to your website; it's about giving them something useful.
To create high-quality content, you first need to figure out what your audience wants.
So what do prospective students care about? What information are they searching for?
According to a Twitter poll run by USA Today, the #1 consideration for prospective students searching for a higher education institution is cost, with 45% of the vote — twice as much as the second-biggest concern (choice of major, 21%) and three times more than the third (university reputation, 16%).
Use a keyword research tool and you'll see a wealth of university-related search queries that include the word "cost" (9,657 separate keywords with a total volume of 12,000 searches a month, according to the Ahrefs Keyword Explorer):

As you can see from this screenshot, a lot of those searches are targeted at specific institutions, such as how much does it cost to go to harvard university.
Clearly, it's in Harvard University's best interest to answer that search query in a way that's helpful to prospective students.
Rather than writing a simple blog post setting out the various costs of studying at Harvard, the institution built its own interactive Net Price Calculator to give a far more personalized — and useful — answer:

Key Actions
Create content that sets out the costs of studying at your institution — this could take the form of an interactive calculator, a quiz, or even a simple blog post.

Ensure this information is easy for prospective students to find, and that they can easily reach out to you if they have further questions.
2. Target High School Graduates with Video Content
The term "content marketing" is pretty nebulous.
It includes everything from a 280-character tweet to a 2,000-word blog post to a 30-minute explainer video (and lots of other things besides).
To make things even more confusing, each piece of content you create could be seeded on multiple platforms. That campus tour video you created might work great on your website, but would it reach more people on Instagram, TikTok, or YouTube?
That's why one of the biggest challenges in content marketing for higher education is to choose the perfect format and platform for each campaign.
Again, let's imagine we're trying to reach prospective students. This time, we'll focus specifically on high school leavers.
According to Common Sense Media's latest Common Sense Census of tween and teen media consumption, US teenagers spend an average of three hours and 16 minutes a day watching TV and videos, while 32% named YouTube as the one site they couldn't live without — comfortably more than any other website.

All of which suggests that video content is definitely the way to go if you're hoping to engage a high school-age audience, and that YouTube is the platform on which to do it.
Evidently, the University of Nebraska–Lincoln (UNL) understands the assignment.
Over the past couple years, they've created an 11-video series of campus tours — exactly the sort of content a prospective UNL student might be searching for on YouTube.
Between them, those videos have racked up more than 70,000 views at the time of writing.
One other thing to note here: just because platforms like Instagram, TikTok, and YouTube are fantastic for video, that doesn't mean you should automatically post exactly the same content to all three platforms.
To give an obvious example, long-form video content is popular on YouTube, with the platform's average video length clocking in at 12 minutes. In contrast, Instagram Stories have a maximum length of 15 seconds, while one report found that the average video length on TikTok was just over 15.6 seconds.
It's perfectly fine to repurpose elements of your video content across multiple platforms, but make sure the end result is a perfect fit for the platform in question.
Key Actions
Use video content to show what life is like for students at your institution.

Ensure your content is a good "fit" for the platform you're planning to post it on — does it have the right dimensions? Is it the right length?
3. Leverage the Power Of User-Generated Content
There's a wealth of evidence to demonstrate that younger demographics hate traditional advertising.
Research from Deloitte named Gen Z as the most likely age group to pay more for premium streaming services so they can avoid ads, while a survey from Skema Publika discovered that 18 to 24-year-olds also share a widespread distrust of traditional media.
So they hate advertising and avoid traditional media sources like the plague. That's a tough one for marketers to overcome.
The solution? User-generated content (UGC).
According to Tint's latest State of User-Generated Content report, six in ten marketers say their audiences are more likely to engage with UGC than branded content.
What's more, 64% of consumers say they're more likely to share content about a brand if it likes and reshares user-generated content.
It's not hard to see the appeal of UGC. Consumers — particularly Gen-Zers who've grown up in a world of always-on advertising — are searching for authenticity. They want to hear from people like them, not from brands.
New York University is one of many higher ed institutions to realize the benefits of UGC and how it lets prospective students see what life could be like if they went there.
NYU hosts regular takeovers on Instagram Stories, offering a glimpse into the lives of their current students.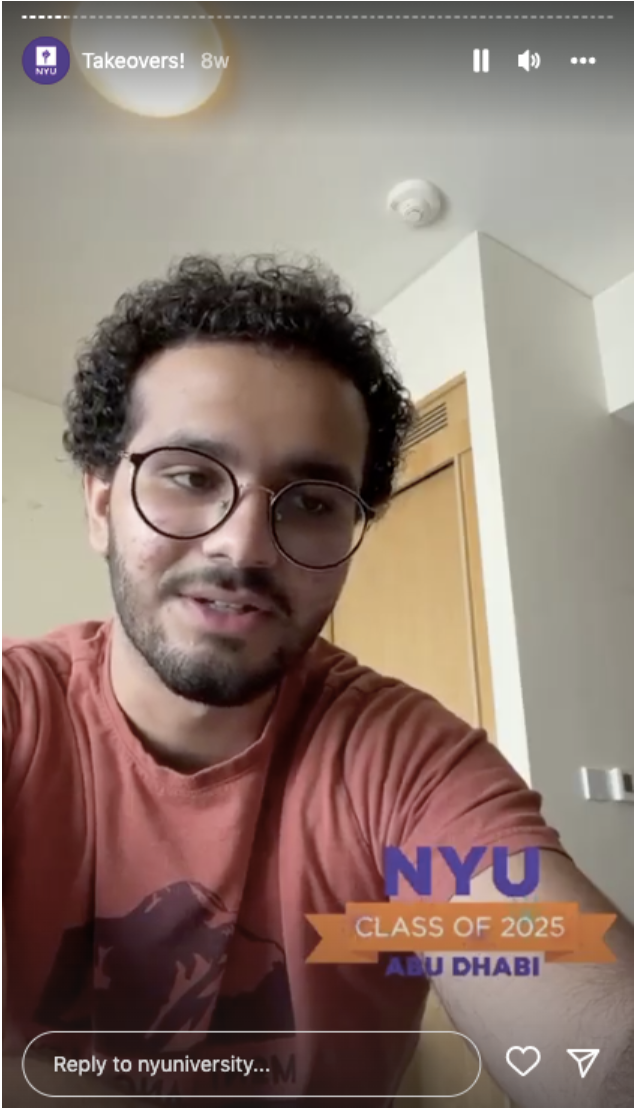 The lesson here?
Whether you're trying to engage existing students or attract new ones, UGC is more likely to cut through the noise and resonate with your audience than branded content.
However, for obvious reasons, UGC can be a double-edged sword.
Authenticity cuts both ways. It might offer a true glimpse into how brilliant it is to study at your institution, or it might draw attention to less-than-perfect aspects of university life. The sort of stuff you wouldn't want to highlight in your promotional material. There's also the risk of branded hashtags — a common means of gathering and sharing user-generated content — being overrun with negativity.
In short, UGC can be extremely powerful. But just because you're handing over the content creation reins to current students, that doesn't mean you can afford to just sit back and watch the results come in.
Pay close attention to the content that's being shared, and if big issues come to light, make sure you address them.
Key Actions
Take a leaf from NYU's book and start running student takeovers on your own social channels, lifting the lid on what it's like to study at your school.

Create a branded hashtag to collect user-generated content from current and future students, alumni, and maybe even faculty members.

Don't forget to monitor the results to ensure that your UGC campaign doesn't get hijacked by inappropriate or harmful content.
4. Create Personalized Landing Pages for Different Students & Programs
We've already discussed how higher education institutions have multiple target audiences.
Within those broad audiences, there are far more granular segments because, as you know, not all students are the same. A prospective international student will have different pain points to one based in the US; someone planning to study math will be searching for different information to a would-be art history undergraduate.
Clearly, you're never going to resonate with every one of those audience segments via a single top-level landing page. So don't even try. Instead, create dedicated landing pages for each segment-within-a-segment you're trying to target.
Sure, this means more work. But it's work that a lot of your competitors are already doing.
For instance, the University of California, Los Angeles (UCLA) has a dedicated landing page targeting potential international students, emphasizing things like:
The diversity of the campus community

The attraction of studying in a global city

The number of other international students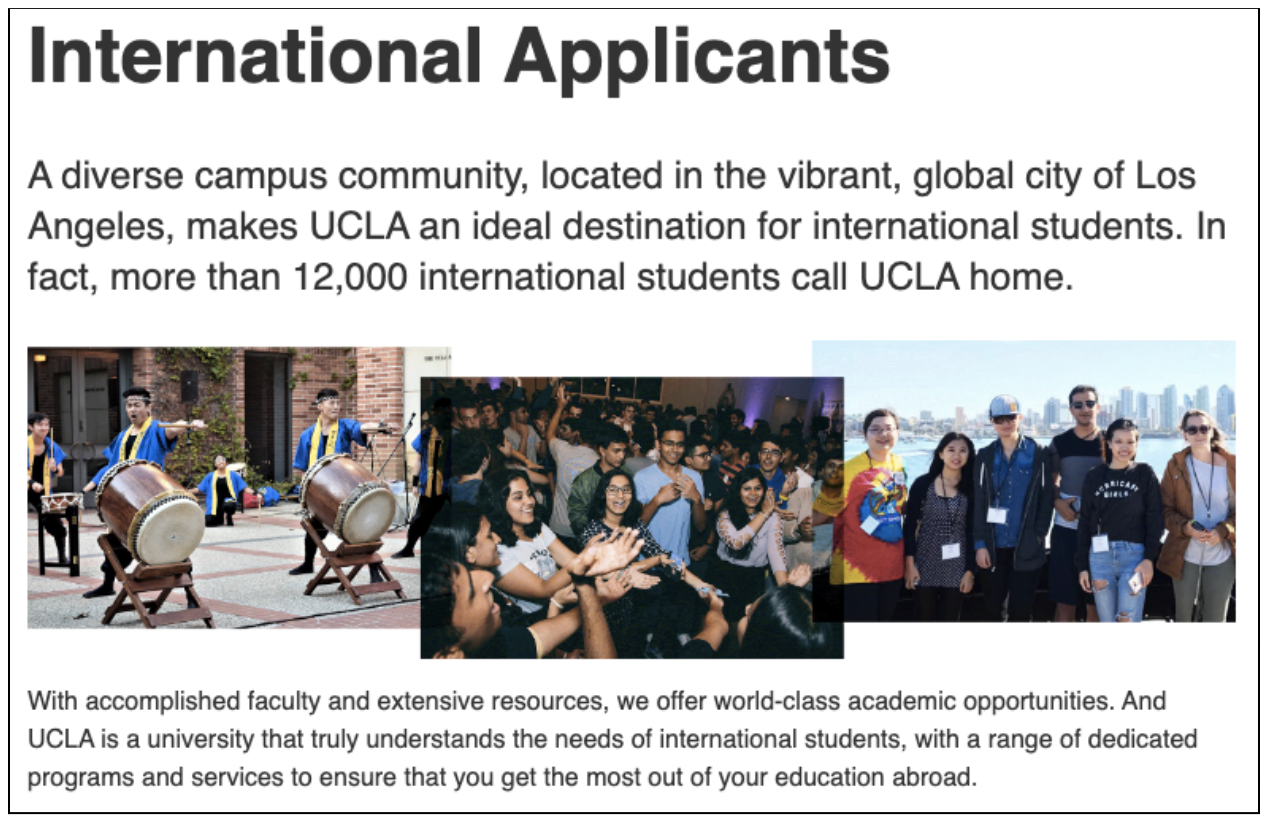 It wouldn't make sense to include that sort of information above the fold on a page aimed at all prospective students.
Inevitably, this approach means you're going to end up creating more landing pages — potentially a lot more. But the rewards are worth it. Indeed, research from HubSpot found that by increasing the number of landing pages on a website from 10 to 15, brands can see a massive 55% upturn in leads.
The lesson here: more landing pages means more personalization, which in turn means more applicants to your school.
Key Actions
Segment your top-level audiences into "sub-audiences" (and, if relevant, into

sub-sub-audiences

). For instance, you might build a landing page targeting international students, then a subcategory aimed at international students from China. 

Draw up a priority order for creating those pages, based on the value of each segment to your institution.
Content marketing for higher education is a whole lot of work. Don't have the resources to do it yourself? Content Conquered can help! 
Get in touch with us today to see how we can help you attract more new students, engage existing students, and increase alumni donations.