If you're reading this article, you likely know that people have a lot of questions about visiting the dentist.
Especially when it comes to visiting a new dentist.
Research published in BMC Oral Health revealed that half of adults have at least some level of "dental fear", while one in ten are very afraid.
Even when people don't feel apprehensive about booking an appointment or consultation, they still have a ton of potential concerns. If you can't allay those concerns, chances are they'll look elsewhere for a dentist.
That's exactly where content marketing for dentists comes in. It gives you the opportunity to attract prospective patients, demonstrate your expertise, and convert them into paying customers.
In this article, we're going to lay out five tips to help you create fantastic content marketing for dentists, each accompanied by a real-world example of dentists that are getting it right.
Best practice #1: Persuade readers with visual comparisons

Best practice #2: Research and answer frequently asked questions

Best practice #3: Add patient testimonials to key web pages

Best practice #4: Reassure patients about your expertise and experience

Best practice #5: Created dedicated pages for each service you offer
5 Content Marketing Best Practices for Dentists
1. Persuade Readers with Visual Comparisons
More than half of Americans feel insecure about their teeth, according to research conducted by OnePoll on behalf of Snow Teeth Whitening.
So it makes sense to show prospective patients that you have the skills and experience to help them achieve the smile of their dreams (or at least to feel less self-conscious about their teeth).
Words will only get you so far here. You could write an essay on how brilliant you are, but it won't be as impactful as real-life stories from your previous patients — ideally accompanied by before-and-after imagery showing the difference your work has made.
209 NYC Dental shows us how it's done: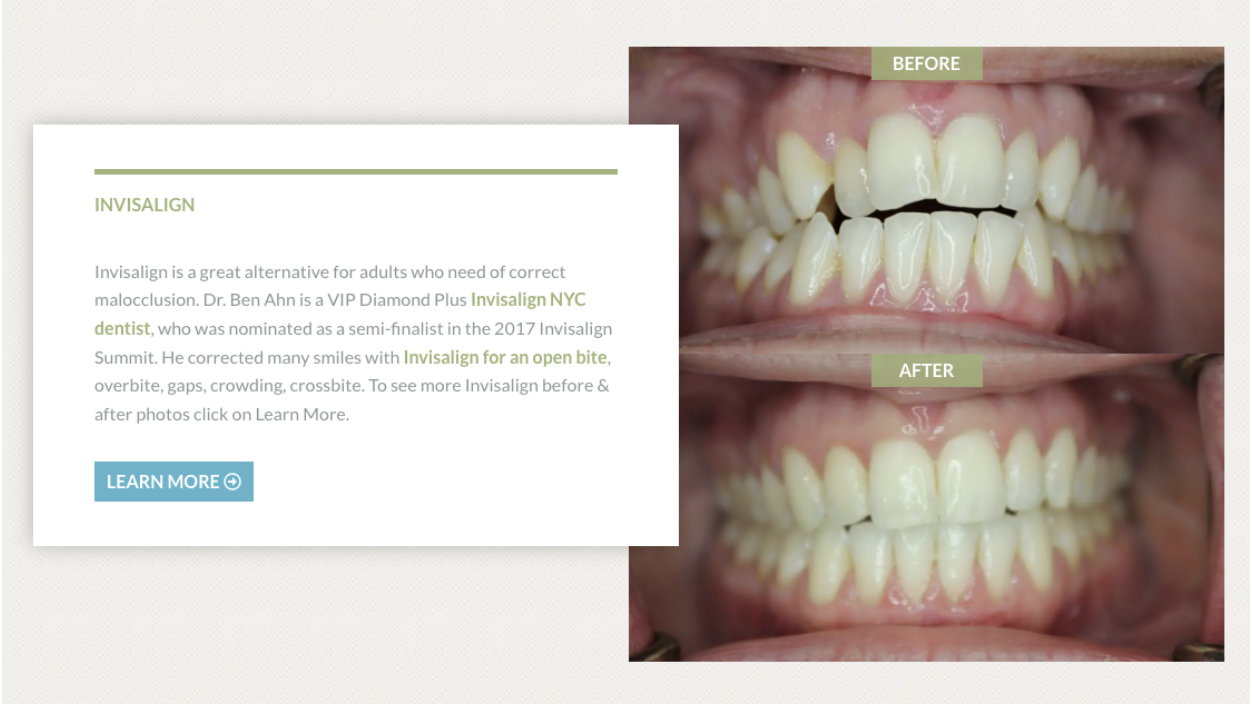 Not only do they offer before-and-after examples with visuals, but they segment those examples into the various services they offer so prospective patients can easily find an example that relates to them.
If you want to find out what difference Invisalign or porcelain veneers could make to your smile, you don't have to guess: you can see visual evidence.
That's extremely persuasive.
Key Actions
Prioritize asking patients if you can use their before-and-after shots in your marketing. Try to get examples from across your service range, rather than focusing on one or two services.

When you've built up a library of images, add them to individual service pages (more on this later).
2. Research & Answer Frequently Asked Questions
We've already pointed out that potential patients have a ton of questions about dentists.
And what do you do when you have a question? You ask Google.
Simply typing the word "dentist" into the Ahrefs Keyword Explorer reveals that there are approximately 5,500 searches per month in the US alone about how to find a dentist:

In other words, your prospective patients are asking a wealth of dentistry-related questions every single day. If you can answer those questions better than your rivals, you've got a great chance of winning their business.
To that end, San Francisco-based SF Dental has built a dedicated frequently asked questions resource hub on their site.
As you can see, their top article is about how to find a good dentist in 10 essential steps: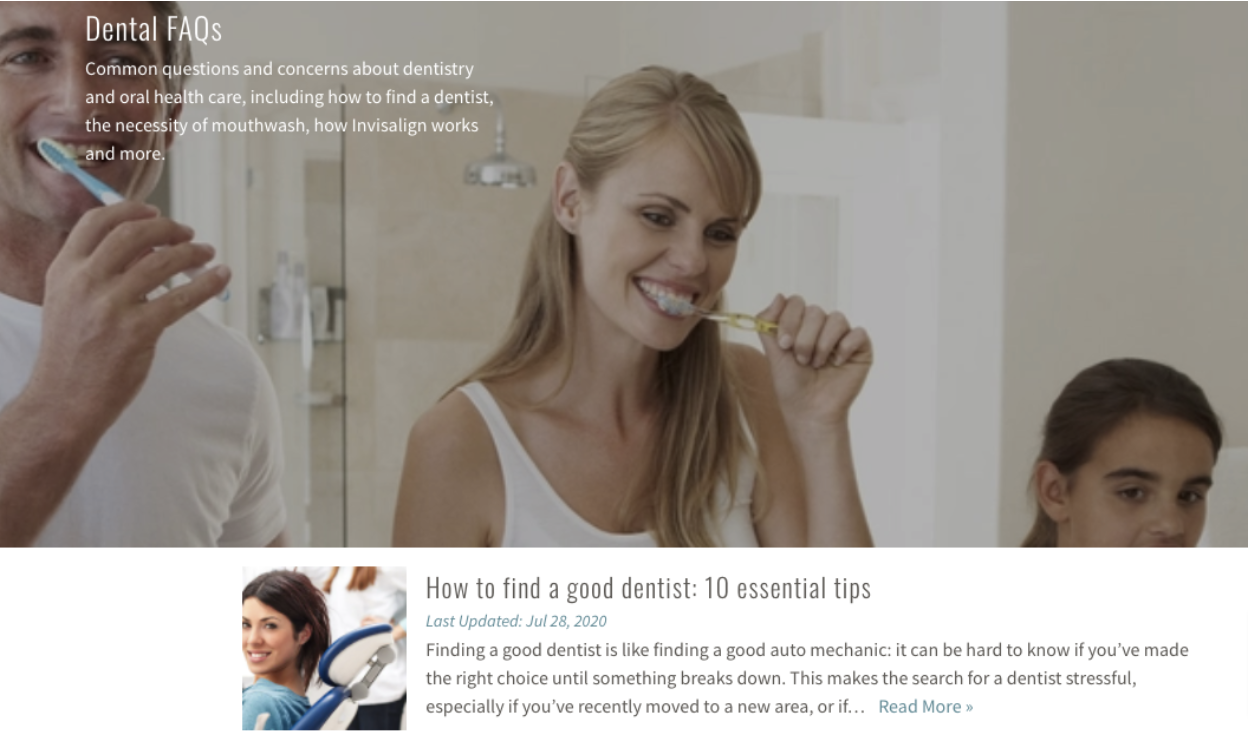 Clearly, SF Dental has done their research. And so should you.
Tools like Ahrefs and Answer the Public can help you find the types of questions that people are searching for on the topic of dentistry.
You can even take things a step further by surveying your existing customers to find out what questions or concerns they had before they first visited you.
Once you've identified a bunch of questions, answer them through content marketing and publish them on your blog or resource hub. You could also use this content on your social media pages, such as creating Reels on Instagram where you answer FAQs in video format. 
Key Actions
Use keyword research tools (e.g.

Ahrefs

,

Answer the Public

,

Ubersuggest

, and others) and audience research to find frequently asked questions about the dental services you offer.

Answer those questions through your content, either in blog posts or via a dedicated FAQ section. 
3. Add Patient Testimonials to Key Pages
We humans are a skeptical bunch.
Generally, we're not prepared to just take a brand's word at face value. Rather, we want to hear from people like us.
That's why reviews and testimonials are so important. According to BrightLocal's latest Local Consumer Review Survey, more consumers than ever before are reading online reviews, with 77% saying they "always" or "regularly" seek them out while browsing for local businesses — up from 60% in 2020.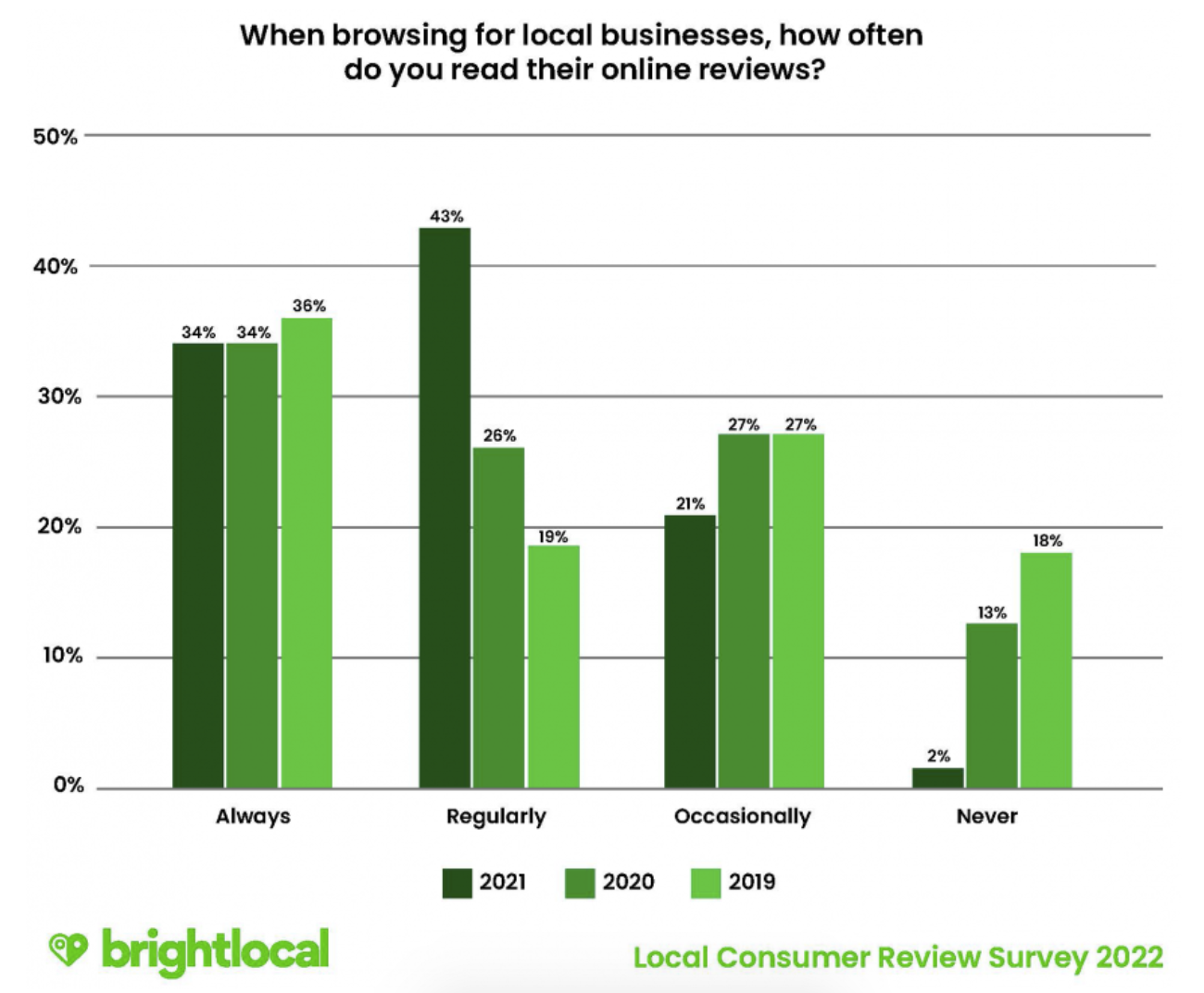 So you should definitely be capturing reviews and testimonials as often as possible.
Email patients after an appointment asking them to leave a review. While incentivizing reviews is risky – leading to biased statements and prohibited by major review sites, like Yelp and Google – you can still make leaving a review as easy as possible for patients by sending them an email with a link to where they can leave their review.   
But it's not enough just to capture reviews; you need to make use of them.
For instance, Chicago's Downtown Dental adds testimonials to their most important landing pages — those that outline the various services they offer: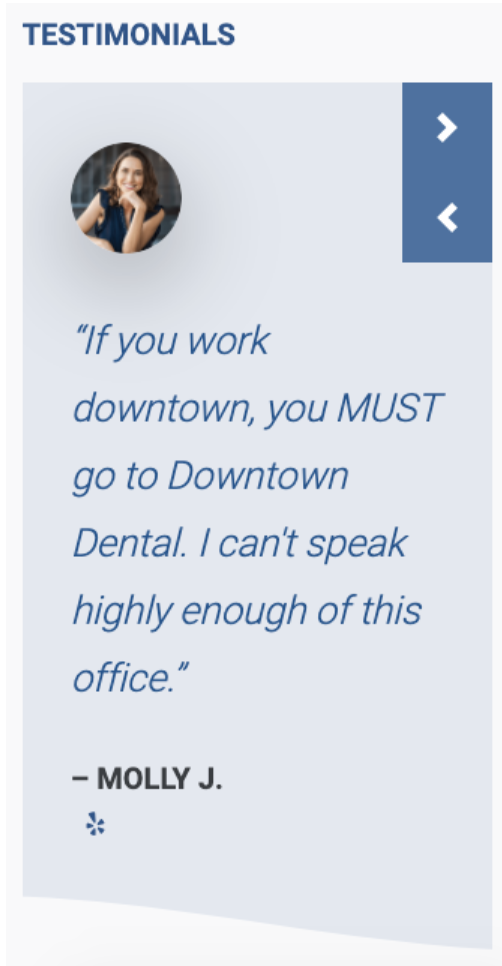 That way, when potential patients are browsing your website, they'll naturally come across the glowing words of your existing customers.
Key Actions
Start asking every patient to leave you a review via your favored review platform (e.g.

1-800-Dentist

, Google My Business,

Healthgrades

, etc.)

Add your best reviews as testimonials on your website service pages. You could also display them on your social media pages. 
4. Reassure Patients About Your Expertise
Offering visual demonstrations of your work is one way to reassure patients that you're the right choice as their next dentist. Another approach is to spell out your expertise.
You might want to talk about: 
Where you studied

What qualifications you hold

How many years you've been practicing

Which areas you specialize in
One organization to leverage this tactic well is Century City Aesthetic Dentistry. They have built a series of landing pages to introduce their team of dentists and share their credentials.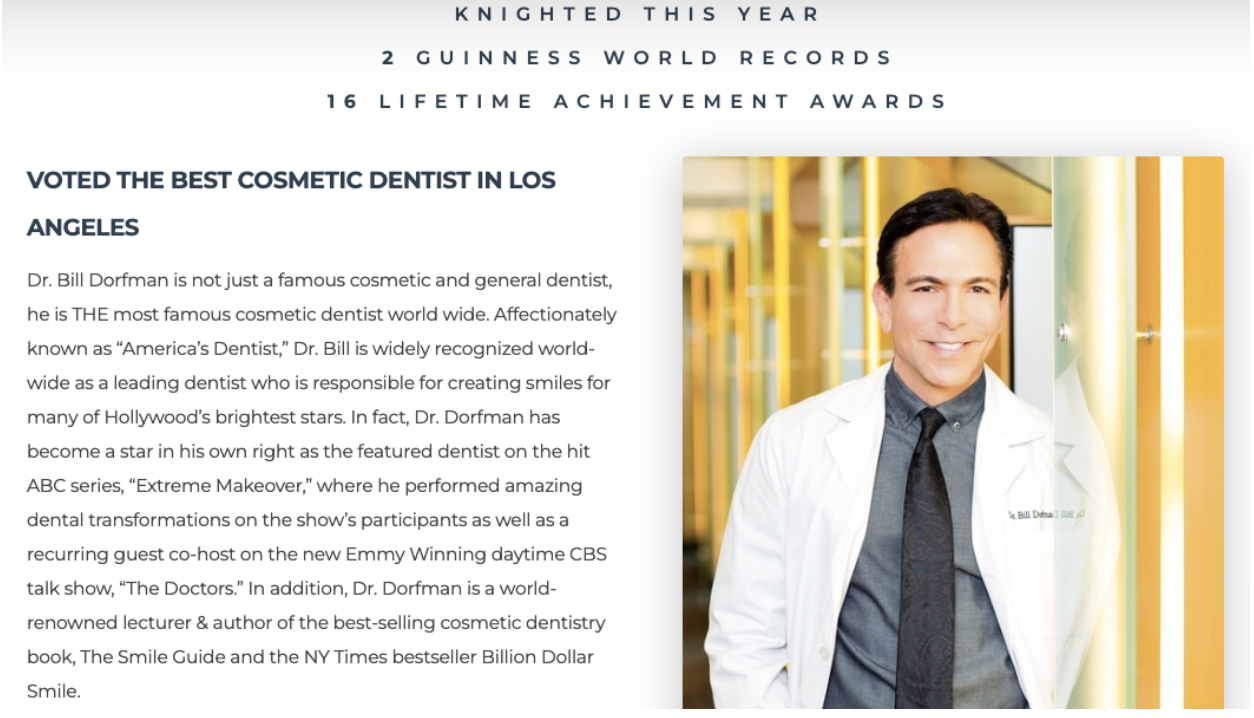 Whether or not your team has been knighted or holds any Guinness World Records, writing about their experience will help to reassure patients that they're making the right choice in coming to you.
Key Actions
Write profiles for every dentist at your practice, spelling out their qualifications and expertise.

Add the finished profiles to the "About Us" section of your website.

Link to them from your main navigation menu so they're easy to find.
5. Create Dedicated Service Pages
Chances are, you offer various dental services. Rather than merging them all into a single page (which can look pretty overwhelming to website visitors), create dedicated pages for each service.
We can see this approach being used by the Washington Center for Dentistry (WCD), which has dedicated landing pages for each of their key services:
Veneers

General dentistry

Cosmetic dentistry

Implant dentistry

Dental health

Invisalign
There are two main benefits to this approach.
First, if people who are already on your site are looking for information about one of your key services, they can navigate to the relevant page, find out what they need to know, and — hopefully — book an appointment.
As a brief aside, that's why it also makes sense to add a booking or consultation form to your landing pages, like WCD does here: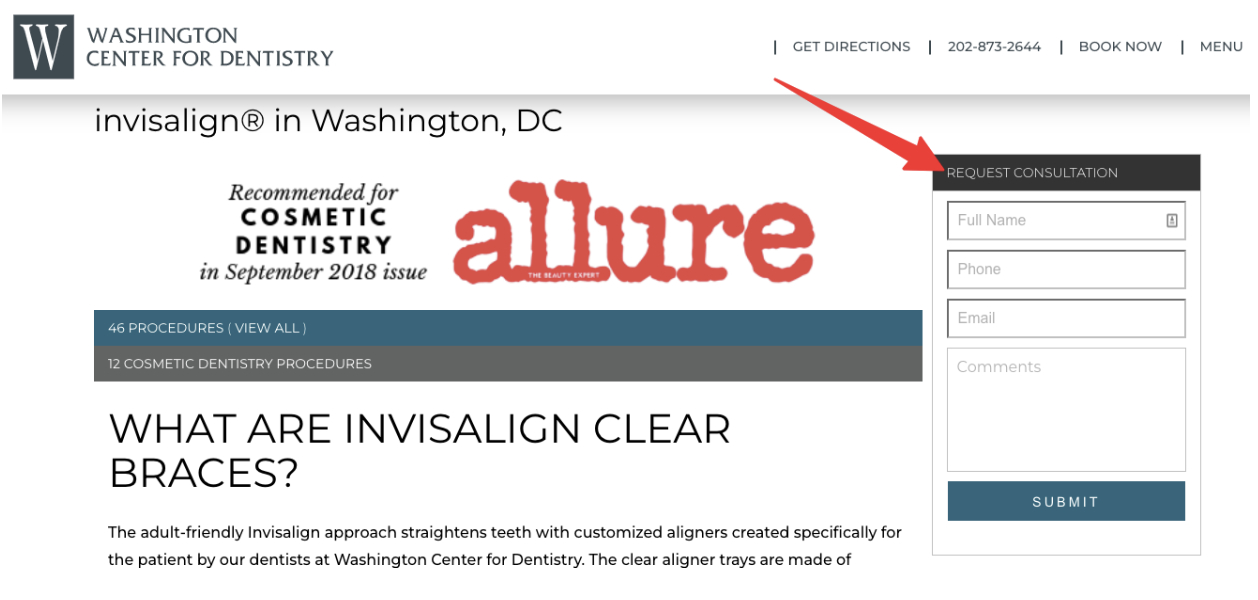 Not only that, but building dedicated service pages can boost your local SEO efforts.
Per Ahrefs, the search term "Invisalign Washington DC" attracts 70 searches a month in the US. Presumably most of those searches come from people in the Washington, DC area who are interested in getting Invisalign braces. 
What's more, because this is a local term (as opposed to one with national or global interest), Ahrefs says its keyword difficulty — an estimate of how hard it is to rank in the top 10 organic results for any given term — is the lowest it can possibly be: zero.
So by building dedicated service pages and targeting local search terms (i.e. those containing your location), you stand a good chance of ranking strongly and generating a consistent stream of qualified leads.
Meaning the next time someone Googles "Invisalign + your city's name," they'll find you. 
Key Actions
List the main services you offer to patients.

Write dedicated web pages for each of those services, explaining what the service entails, who it's for, and what the benefits are.

Aim to write 500+ words per page.

Upload your finished pages to your website as subcategories under a "parent" category called "Services" (or similar). 
Content marketing for dentists is a lot of work. Don't have the resources to do it yourself? Content Conquered can help! 
Get in touch with us today to see how we can support your marketing efforts.